• Khatira Rafiqzada is a former actress who is now married to Michael Ealy, a famous Hollywood actor.
• She is a practising Muslim and Afghan-American with ancestral backgrounds being traced to the Middle East.
• She starred in the movie "Chain Letter" and in the short action movie "Layla".
• She and Michael have two children, Elijah Rakim and Harlem.
• Her net worth is unknown, but her husband's net worth is estimated at over $3 million.
Does the name Khatira Rafiqzada sound familiar?
Chances are that you may just be hearing about Khatira Rafiqzada for the first time. The former actress became popular through her relationship and ultimately marriage to famous Hollywood actor Michael Ealy. Since her exit from the movie scene, she has become quite reserved, and is now usually only seen when making appearances alongside the more famous of the pair, Michael.
Khatira Rafiqzada's early life and Career
Born under the Capricorn star sign on 8 January 1981, in Kabul, Afghanistan, Khatira is said to be a practising Muslim and Afghan-American with ancestral backgrounds being traced to the Middle East. Her parents are said to be originally from Afghanistan, who later migrated to the United States following the announcement of an imminent war, when Khatira was a girl of twelve years of age.
She's stated on her Instagram page that her mother managed to become a teacher despite being married off at just seventeen years of age. Her experience as an immigrant has made her an activist concerning the rights of immigrants.
Before she ventured into acting, Khatira worked as a waitress, babysitter and cleaner. She made her debut appearance in the movie industry in 2009, as counsellor Ms. Garrett in the horror movie "Chain Letter", directed by Deon Taylor and alongside notable actors such as Keith David who portrayed Detective Jim Crenshaw, Cody Kasch as Neil Conners, and Nikki Reed appearing as Jessica Campbell. The movie was budgeted at about $3 million but made a little less than $600,000, however, this relative disappointment didn't stop her from starring in a short action movie "Layla" in which she acted as Zola alongside notable actors like Jawad Asephi, Jasmine Bissete and Marie-Therese in the same year.
With the way her career took off, it seemed as though she might become the next big movie star, but then she abruptly disappeared from featuring in any more films, and has been absent from the film industry ever since. Her earnings from her brief acting career have not been publicised but it is thought that she must have been paid well for her roles. Though her career was short-lived, she still makes appearances within some Hollywood circles and award shows from time-to-time, due to her husband's job as an actor.
She now prefers to live life away from the spotlight, and concentrates on raising a family with her actor husband. There is little information about her other family members.
Her Marriage to Michael Ealy and children.
There were rumours that the pair began seeing each other while the handsome actor was still married to his first wife.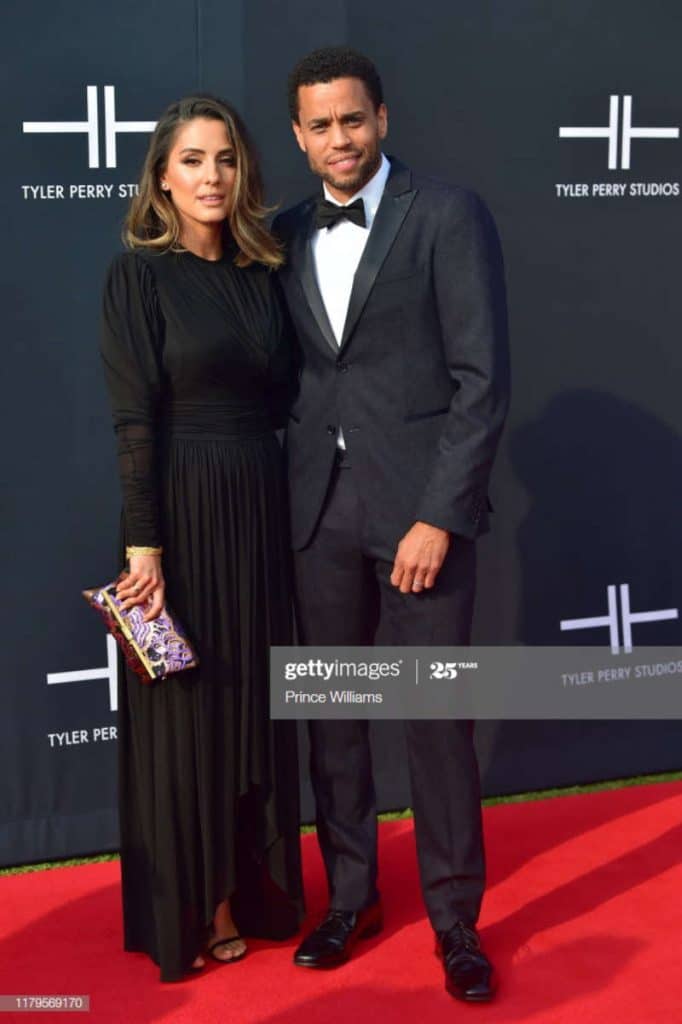 He was born Michael Brown in Washington, DC, USA on 3 August 1973, and grew up in Maryland. His mother worked at IBM while his father was involved in the groceries business. He attended Springbook High School, and after matriculating enrolled into the University of Maryland, graduating with a degree in English in 1995.
His started his acting career with several appearances on Broadway, before making his debut on-screen appearance in "Law & Order", a popular television drama series in 2000. He made several support appearances in other television roles such as "Metropolis", then got his first big break in 2002, starring in the comedy film "Barbershop" as Ricky Nash. He has since risen to prominence in the film industry, and featured in several successful movies such as "Their Eyes Were Watching God" in 2005, which secured him the Best Actor nomination in the Black Reel Award which he eventually won.
He also starred in "Sleeper Cell", " For Colored Girls", " Think Like a Man" and its sequel " Think Like a Man Too" in 2014, and several other critically acclaimed and widely successful movies, and has received other recognitions including a nomination for a Golden Globe Award.
Asides from movie roles, Michael was also the lead male in Beyonce's popular music video, "Halo", and in Mariah Carey's "Get Your Number".
Khatira and Michael met in 2008 and began a relationship which he described during an interview with Kelly Clarkson as 'more like a takeover'. He recounted their first date for which Khatira picked the day, and even asked him to kiss her, informing him that the date would be over if the kiss was bad. She credits her late mother for standing by her decision not just to attend college but to also date outside her race.
Congrats! Michael Ealy Quietly Married Longtime Girlfriend in October. Actor Michael Ealy married longtime girlfriend Khatira Rafiqzada back in October. Keep that relation … http://bit.ly/ULAGcD

Posted by The Reporters on Thursday, December 20, 2012
The pair fell in love, dated for four years, and eventually married in October 2012 in a private ceremony in Los Angeles, California, amidst members of the family and few well wishers, although details of the wedding weren't made public until December of the same year.
While speaking to "Rolling Out" Magazine in 2014, her husband advised men who were looking to settle down someday to go against the common notion of 'marrying your type' and be with someone who they love and who makes them happy, saying it was more practical and based on daily living. He added that he had learnt that time is his most precious asset. Michael also commended his wife for being able to handle some of the erotic scenes which occur rather often in the kind of movies he portrays.
He narrated an encounter between his wife and his co-star, Sanaa Lathan, at 'The Perfect Guy' premier, in which one of the steamy sex scenes left Sanaa feeling awkward in the theatre knowing that Michael's wife was seated right behind her. Khatira reassuringly placed her hand on the co-star's shoulder and muttered " awkwaaarrrdd" which broke the ice between them and got Sanaa laughing. He added that the prior relationships he had had couldn't handle it. Even his wife's friends ask her 'how do you deal with this every single project? It's ridiculous!'
Their union is blessed with two children – their son Elijah Rakim who was born on 18 April 2014 and their daughter Harlem in 2016. Speaking in November 2016 on 'The Steve Harvey Show', Ealy described the birth of his daughter as just discovering a new level of love which he never thought he could reach after the birth of his first child.
He said that he discovered a  " special kind of protective love" for her within hours of her birth, which is "as much if not more" than what he had experienced with his son.
He also dispelled rumours that he prevents his wife from appearing in movies stating that she was the one who made the decision to retire from her career and focus on tending to her family's need. The couple live a private life together with their children in Los Angeles.
Her Physical Features
The former actress is said to have stunning features, which must have caught the eye of her Hollywood actor husband. She is said to be 5ft 8in (1.73m) tall, weighs about 125lbs (57kgs), with beautiful brown eyes and long dark brown hair.
Her Net worth
Khatira's net worth as well as what she currently does for a living have not been made known to the public, but it is believed that she earned a decent amount from her profession. Her husband's net worth however, is estimated at over $3 Million, and there is no doubt that the former actress currently enjoys his fortune.
Where to find Khatira Rafiqzada
You can join her almost 15,000 followers on her Instagram page @lifeandbread on which she shares photos and videos of her beautiful family, travel and food. It's believed that she isn't active on Twitter or Facebook, because no account has been linked to her.