• Pearce Joza is an American actor of Hungarian descent, born in 200•
• He discovered his love for acting at age 4 and made his stage debut in "A Christmas Story".
• His breakthrough role was in "Z-O-M-B-I-E-S 2" in 2020.
• He is an avid singer and musician, and also has a passion for charity.
• He has an estimated net worth of $500,000 in 2021.
Pearce Joza is a young American actor, who is perhaps best known for playing Wyatt in "Z-O-M-B-I–E-S 2".
Young Pearce Joza has grown so much since his acting debut at the age of four in 2006. Find out what's going on now with the teenage actor in this article.
Early Life, Family, Educational Background
Pearce Joza Fazekas was born under the Virgo zodiac sign on 6 September 2002, into a family of Hungarian ancestry, in Durango, Colorado USA. He holds American nationality, and practises the Christian religion. Pearce is yet to reveal significant details about his parents and siblings (if any).
When Pearce turned three, his parents took him to see a stage performance of "Frog & Toad". The performance intrigued him so much that he kept asking why he wasn't allowed to be on stage. That was when young Pearce discovered a love for acting.
Like most parents, Mr. and Mrs. Fazekas supported his passion, provided he didn't go far away from home.
He made his stage debut at age four, when he played Randy in the classic drama, "A Christmas Story" in his hometown of Durango. Subsequently, he appeared in other stage productions in and around his community before he wanted to move on.
No doubt Pearce Joza has a fertile imagination, which he credits to spending his early years wandering the Colorado National Forest, which was accessible through a route behind his home. There in the midst of nature, he could have the wildest imaginations.
As for Pearce's educational background, he attended Mountain Middle School, Durango, while pursuing his acting career. While in Colorado, he was on the Junior Olympic team for snowboarding. He went on to study at the Lee Strasberg Theater and Film Institute, in Los Angeles, California USA.
The positive feedback Pearce received after his successful portrayal of The Ghost of Christmas Past convinced him that it was time to pursue an acting career on the big screens. He made his interest known to his parents, who kicked against it initially, because he was only nine. However, after two years of negotiations, they finally gave in, compromising by allowing him to try a career in Hollywood for a month, the outcome of which would influence their final decision.
So Pearce moved to Los Angeles in January of 2015, and within two weeks of arriving in Hollywood, had been booked for an independent feature film.
Career
Theater Performances
After his theater debut as Randy in "A Christmas Story", Pearce continued to land more roles in his local theater productions. He played the role of Centipede in "James and the Giant Peach" and then Miss Hannigan in drag, in "Annie".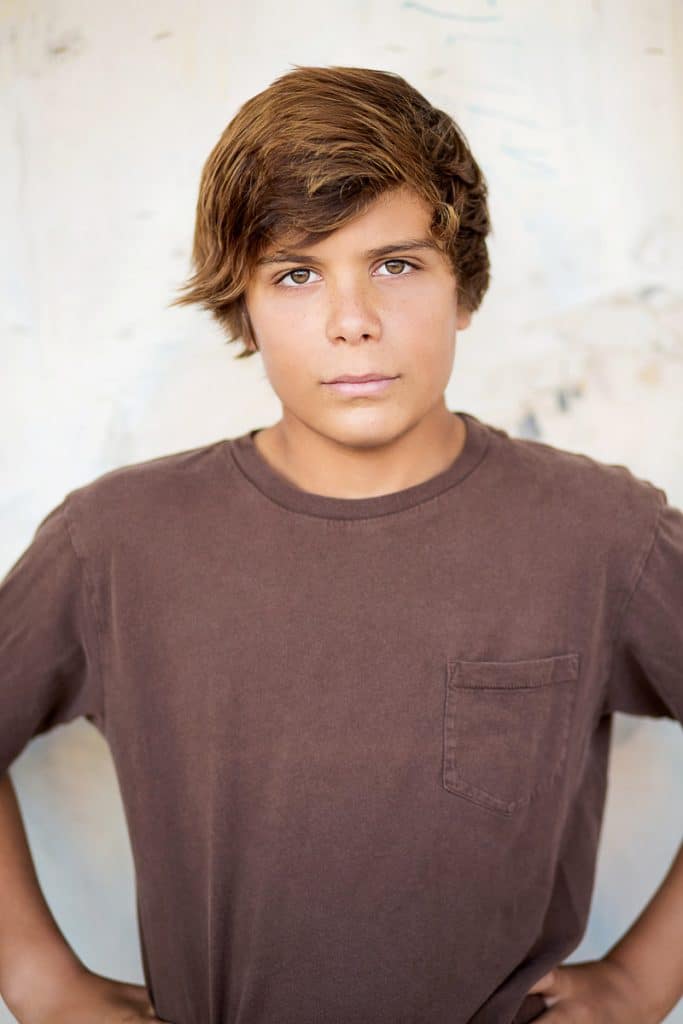 At age nine, Pearce played three different roles in an adult production of "A Christmas Carol",  portraying The Ghost of Christmas Past, Tiny Tim and Want at, the Durango Arts Center, Colorado. Some other theater productions Pearce Joa has appeared in include  "Aladdin", "Sleepy Hollow", "The Little Mermaid" and "The Aristocrats".
When he was in middle school, Pearce once performed a Jim Carrey routine in a stand-up comedy show on Open Mic Night in his hometown. He also appeared during the Hollywood Fringes Festival as Alex P. Keaton in "Family Ties", and Martin in "Frasier".
He is the only under 18 actor to have been accepted into Larry Moss's workshops in Venice, during 2014 and 2015. Then he was privately coached by Sharon Chatten in Culver City, 2015.
Film/TV Drama
Pearce made his film debut as Erin Jaeger in "Attack on Space", a short film directed by Marco Bottiglieri, starring in the YouTube audio play alongside Kelly Norton and Gabriella Pastore.
In 2015, he played Caden in "The Purgation" (2015), and also appeared in "New Girl" and "How To Beat a Bully" later that year.
2016 was's TV year – he played Daniel Davenport/Marcus in three episodes of "Lab Rats: Bionic Island", then in the same year he appeared in "Legendary Dudas" and "Angie Tribeca".
He subsequently played Spyder Johnson in 36 episodes of "Mech- X4", an American sci-fi comedy series, from 2016 to 2018.
Later on, Pearce appeared in movies such as: "Best of Seven" (2016) and "Boys on Film 17: Love is the drug" (2017).
He had his breakthrough role in 2020, when he starred in "Z-O-M-B-I-E-S 2" as Wyatt, and reprised his role in "Zombies 2: Wolf Tales" later that year, and in "Z-O-M-B-I-E-S 3" as of mid-2021.
Also in 2020, Pearce starred in the short film "Under The Lights" alongside Alyssa Jirrels and Greg Grunberg, playing the role of a teenage boy Sam, living with epilepsy. The film was directed by Miles Levin, an American filmmaker who has had epilepsy since he was five.
He also appeared in Ariel Martin's music video and two commercials for Knox Avenue and G-B Film respectively, both in California.
Musical Career
Speaking to Just Jared, Pearce Joza says singing is in his DNA. When he worked at the theater back in Durango, he also trained in musical theater, something he had always loved to do, given the fact that he's from a musical family. His mother worked behind the scenes in the music industry, while his grandfather sang at West 8th Street in Bayonne, New Jersey as a teenager.
Pearce learned to play the viola using the Suzuki method at the community theater. Pearce and some of the cast from "ZOMBIES", created the soundtracks for the film, including "Flesh and Bones", "We Own the Night", "Like The Zombies Do" and "One For All".
Personal Life, Relationship
Pearce discovered a lot of things during the creation of  "Under The Lights". He found that funding for research for seizure disorders are alarmingly low, and living with such conditions comes with stigma. Subsequently, he partnered with the Epilepsy Foundation to create awareness and raise funds toward the research of this disorder. Behind the scenes, he is creating a documentary to portray the emotional component of epilepsy  and end the stigma surrounding it.
Pearce Joza is also passionate about charity. He is known to participate in charitable work with Kylee Russel at Texas Children's Hospital from time to time.
At this time, we are unsure of Pearce Joza's relationship status. However, he had a celebrity crush on actress Maddie Ziegler.
He now alternates between the United States and Canada, for filming sessions.
Appearance, Clothing Style
Pearce has short dark brown hair and brown eyes. His height is 5ft 9ins (1.75m), and he weighs around 165lbs (75kgs). He loves to dress casually in hoodies and jeans.
Hobbies, Favorite Things and Interesting Facts
Pearce loves cats.
His favorite movie is "Eternal Sunshine of the Spotless Mind".
He loves rap and classic rock music.
He enjoys snowboarding, skateboarding and playing basketball.
Pearce's favorite color is sky blue.
Batman is his favorite superhero.
Net Worth and Salary
Pearce Joza had a successful run as a child actor, and now he continues to land more parts as he's taking more adult roles. In mid-2021, Pearce's net worth is estimated to be $500,000. Any property owned by Pearce Joza and his family is unknown to the public at this time.