• Tim Henson is an American guitarist and a member of the metal rock band Polyphia.
• He was enrolled in a music school at age seven and was into various activities in school, including plays and school band.
• His band Polyphia released demos, EPs, and LPs, and collaborated with other artists.
• He is believed to have a relationship with non-celebrity Angelica Paris, but is possibly single as of July 202•
• He is 27, has numerous tattoos and a net worth of over $1.5 million.
Tim Henson Wiki Bio
Timothy Landon 'Tim' Henson was born in Texas USA, on 19 November 1993 – his zodiac sign is Scorpio, and he holds American nationality. He's a guitarist, who's perhaps known best for being a member of the metal rock band Polyphia.
Early life and education
Tim was raised in Texas by his parents, about whom nothing's known, as he respects their privacy; as he hasn't mentioned having any siblings, he's widely believed to be an only child.
He became interested in music at an early age, and was seven when his parents enrolled him at a music school, at which he was mostly interested in playing the guitar.
Tim went on to learn to play the bass guitar and the piano, but remained mostly focused on the guitar, which is still his favorite instrument. He attended a local high school, and was into various activities during his four years there, including appearing in school plays, playing soccer, and being a member of a school band.
Tim matriculated in 2012, and hasn't spoken of his further education, but it's believed that he hasn't attended college, but focused on his career as a musician.
His band Polyphia
The instrumental progressive rock band Polyphia was founded in 2010, by Lane Duskin (vocals), Tim and Scott LePage on guitars, and Brandon Burkhalter on drums.
Lane left the band in 2012, while Brandon left in 2014, and was replaced by Randy Methe, but who quit a year later. Polyphia's current members are Tim, Scott LePage, Clay Gober (bass guitar), and Clay Aeschliman (drums).
The boys released their demo "Resurrect" in 2011, and in 2012 released their second demo entitled "Bach Concerto No. 1 in D Minor". The year 2013 saw the release of their debut extended play (EP) "Inspire", and its main single "Impassion" gained the band some popularity in the US. Its music video has been watched over 3.2 million times on YouTube since 18 July 2013, and subsequently the boys were invited to play at various events around America.
Their debut long play (LP) was released in 2014, entitled "Muse", and was re-released in the following year.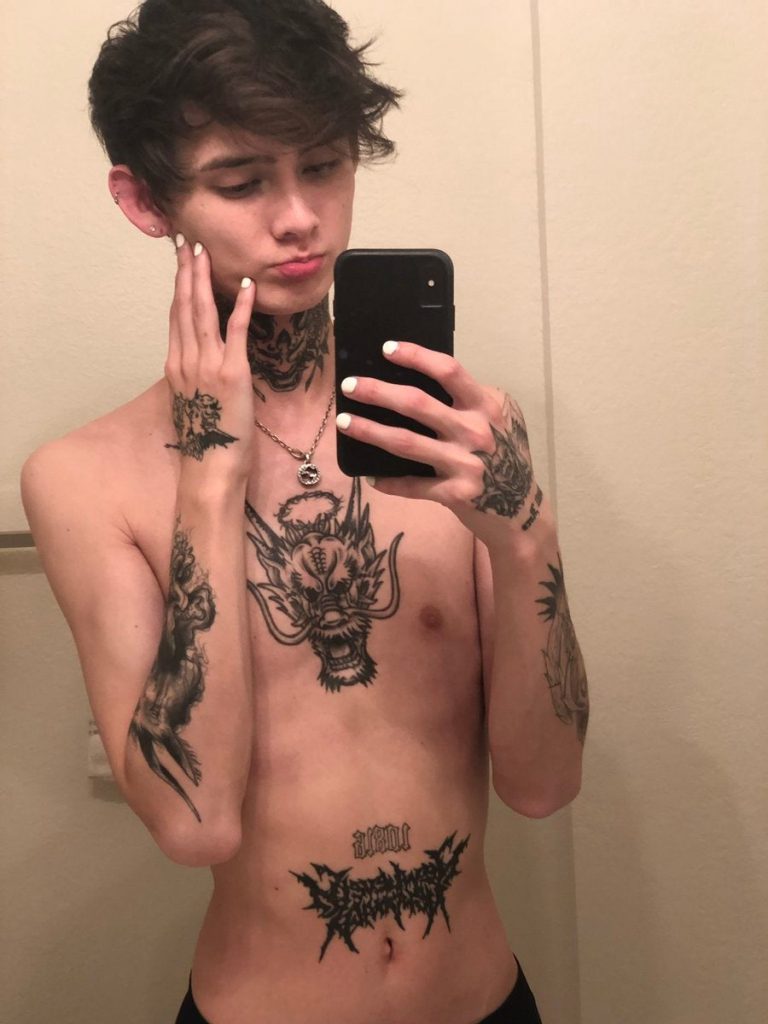 In 2016, Polyphia released their second LP, "Renaissance", and in 2017 their second EP came out, entitled "The Most Hated". Following these successes, they went on several national tours, and shared the stage with other metal and rock bands, such as August Burns Red, Between the Buried and Me, and Periphery. The boys also began collaborating with other artists, including Jason Richardson, Erick Hansei, Nick Johnston and Mateus Asato.
The year 2017 saw the release of their music video "LIT", which has since become a hit on YouTube, having been watched over 4.2 million times. In the early 2018, the boys released the music video "G.O.A.T.", which has amassed over 20 million views on YouTube, thus becoming their most popular song, and their music video "O.D." followed, today numbering over five million views.
Also in 2018, Polyphia released the music video "YAS", which has been seen over 5.7 million times on YouTube.
The boys' most recent LP came out in 2018, entitled "New Levels New Devils", and because they haven't released any LPs, EPs or albums since, there have been rumors circulating the internet claiming that the boys might have focused on other things, and could be disbanding. They still released three singles in 2019, entitled "Look but Don't Touch" (featuring Lewis Grant), "Inferno" and "Brand New Day" (featuring Babymetal), but didn't release any new songs in 2020 and 2021.
Polyphia's style
The boys initially became popular on YouTube for making guitar covers of hit songs, and their debut EP "Inspire" showed that they were mostly influenced by pop music. They became more metal-oriented in their following songs, and were soon associated with the progressive metal sub-genre called Djent.
It was after their second LP "Renaissance" that they were branded as a progressive rock band, while Polyphia then began mixing funk, hip-hop and EDM elements in their new songs.
Love life and relationships
Tim's highly secretive when it comes to his love life, but it's believed that he's still in a relationship with the non-celebrity girl Angelica Paris.
Tim was once highly active on Instagram, and often uploaded pictures featuring his girlfriend Angelica. The two could've been seen spending a lot of time together, and she often attended Polyphia's concerts. However, Tim has recently disappeared from Instagram, having removed his account from the network, and this has made many of his fans wonder if something has happened between the two, and if they are still together. Tim and Angelica began dating sometime in 2019, but may not be together anymore.
As of July 2021, Tim might be single, hasn't married and doesn't have children.
Hobbies and other interests
One of Tim's favorite hobbies is travelling, which fits in well with his career as a musician, as he has travelled all around the US, as well as to various European countries. He has also travelled for pleasure – his dream travel destination is Miami in Florida.
Tim's a huge lover of animals, with eagles being his favorites, while he's planning to have two pet dogs as soon as he's done with his travels, and has settled somewhere.
He likes to watch movies late at night, and his favorite actor and actress are Christian Bale and Natalie Portman; his favorite movies include "American Psycho", "The Machinist" and "Leon: The Professional".
Tim's physically more or less active, and occasionally works out at the gym with his colleagues, but prefers to play sports, and his favorites are tennis and soccer.
Age, tattoos and net worth
Tim's age is 27. He has short brown hair and brown eyes, his height is 5ft 4ins (1.62m) and he weighs around 110lbs (50kgs). Tim has numerous tattoos inked all over his body, and is easily recognizable for his large neck tattoo.
As of July 2021, his net worth has been estimated at over $1.5 million.