• Trace Cyrus is an American musician and actor
• He is best known for being the guitarist and backing vocalist of the pop rock band Metro Station
• He has starred in many music videos and composed music for movies and TV series
• He has been engaged multiple times, but is currently single
• He is 32 years old and has an estimated net worth of over $2 million
Trace Cyrus Wiki Bio
Trace Dempsey Cyrus was born as Neil Timothy Helson, in Ashland, Kentucky USA, on 24 February 1989 – his zodiac sign is Pisces and he holds American nationality. He's a musician who's probably known best for being the guitarist and the backing vocalist of the pop rock band Metro Station.
Childhood and education
Trace was raised in Ashland alongside his half-sisters Miley Ray Cyrus who's a famous American singer-songwriter and actress, and Noah Cyrus who's also a famous singer-songwriter. Baxter Neal Helson is Trace's biological father, while his mother is the American actress and film producer Leticia Jean 'Tish' Cyrus. After Leticia married her second husband Billy Ray Cyrus, an American singer-songwriter, he adopted Trace which is also when Trace changed his name to what it is today.
He spent part of his time in Thompson's Station in Tennessee as his parents lived there, and he then began touring and singing with Billy Ray. Trace attended La Canada High School, but dropped out in 2006 and moved to Burbank in California, where he worked at a shopping mall.
His band Metro Station
In 2005, Trace and the American singer-songwriter Mason Tyler Musso met as their siblings starred together in the teen comedy series "Hannah Montana", and they decided to create a band. The two welcomed Blake Healy as their bassist and keyboardist, and Anthony Improgo as their drummer. They started off by uploading music onto their MySpace channel, and then found themselves topping the MySpace Music Unsigned Band Chart.
After gaining recognition, they signed their first contract with Columbia Records, and in July 2007, the magazine "Alternative Press" named them amongst '22 Best Underground Bands (That Likely Won't Stay Underground for Long)'.
In September 2007, their debut album came out entitled "Metro Station", but failed to attract a lot of attention, however, their single "Shake It" which was released in March 2008, managed to peak at #10 on the Billboard Hot 100 Chart, as well as amongst the top 10 songs on Australian, Canadian and German charts. The single then helped make the band's debut album become popular, as it topped the Top Electronic Albums by the end of 2008.
In March 2010, Trace and Mason left the band as they wanted to pursue solo careers, and Metro Station was thus put on a hiatus, however, Mason returned to it, and on 31 May 2011, their new single "Ain't So High" was released.
Trace rejoined the band on 13 August 2014, and they then released the single "Love & War". On 14 October 2014, their extended play (EP) was released entitled "Gold". On 30 June 2015, they released their second studio album, "Savior" comprising 18 songs, and the boys spent the following two years touring with various artists and bands, including Never Shout Never and Waterparks.
In 2017, Metro Station broke up again, but reunited in 2019, while their most recent single "I Hate Society" was released in 2020.
Acting credits
Trace has starred in most of the Metro Station's music videos, and in 2018 he played Mack in the romantic drama movie "Already Lucky", written and directed by Matthew Cassani, and which starred Scott Bender, Alyssa Brayboy and Rafael Cabrera. It follows the lovers Ian Murphy and Layla who are both having problems at work, and who split because of this, while Ian then meets Evelyn who's very positive and friendly.
Trace has been featured in various talk-shows, such as "Entertainment Tonight" in 2008, "Boogie" and "Hit The Road" both in 2009.
Composing music for movies and TV series
Trace has written soundtracks for two movies and three TV series.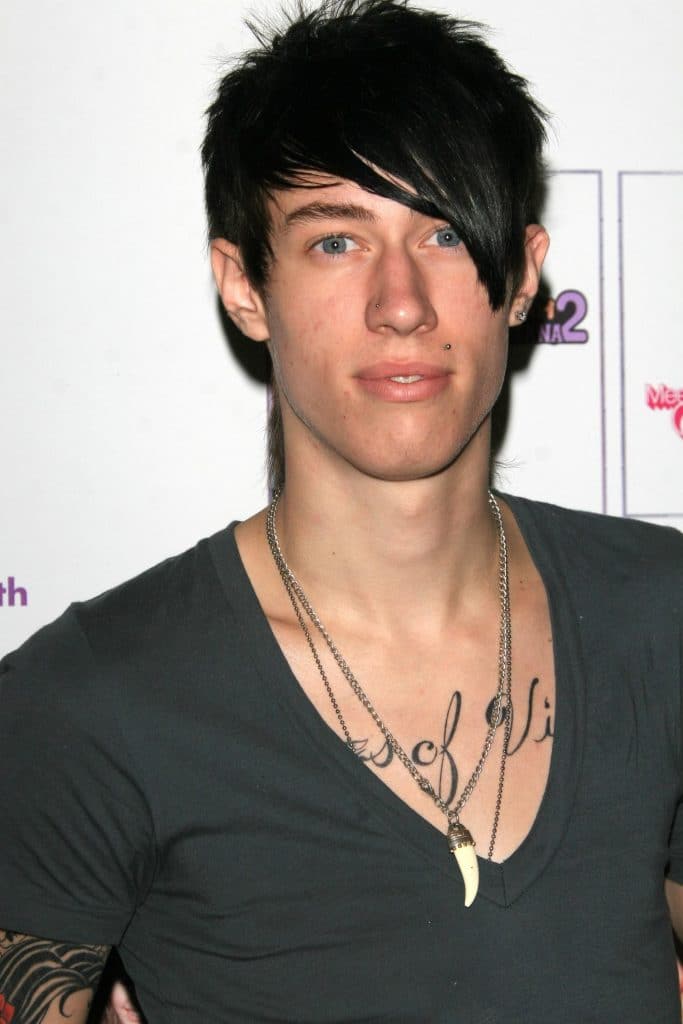 In 2008, he wrote two songs for the crime drama movie "Fragments" and the romantic comedy "The House Bunny", and in 2010 as well as later in 2013, his song "Shake It" was played in several episodes of the dancing competition show "Dancing with the Stars". In 2010 and 2011, Trace's song "Shake It" was played in three episodes of the documentary series "20 to 1".
He has composed music for many Metro Station songs, making his debut in 2008 with "Shake it". Three of his following works were on the 2013 "Every Time I Touch You", the 2014 "She Likes Girls" and the 2014 "Love & War". Most recently, in 2017 he worked on the song "Bury Me My Love".
Love life and girlfriend
In 2005 Trace began dating Hanna Beth Merjos, who's a model and an Instagram star, as she's followed by over 270,000 people.
The two were together for three years before splitting for unknown reasons in 2008.
In 2009, Trace dated Demetria Devonne 'Demi' Lovato for a couple of months; she's a famous American actress and singer, who gained recognition after portraying Mitchie Torres in the 2008 musical movie "Camp Rock", as well as in its 2010 sequel. Her net worth's today estimated at over $40 million.
In 2011, Trace became engaged to the American actress Brenda Song, and although they called it off in 2012, the two dated on and off for the following five years.
In 2018, Trace became engaged to Taylor Lauren Sanders, an American model and Instagram star with over 60,000 followers on the network.
In 2018, they called off the engagement for unknown reasons.
Since his split from Taylor, Trace has been single, so as of April 2021, he hasn't married and doesn't have children, although there are rumors circulating the internet claiming that Trace has a child with an unknown woman.
Hobbies and other interests
Trace's passionate about travelling, and his career as a musician has taken him all around the world and to each continent at least once, with the exception of the Antarctic. He's also interested in tasting new cuisines, and this works well with his travelling.
He's a huge animal-lover and a supporter of the organization People for the Ethical Treatment of Animals (PETA). In 2012, he supported PETA's anti-fur campaign Ink Not Mink.
Trace is a huge fan of old movies and a couple of his favorite actors are the late Marlon Brando, Robert De Niro and Al Pacino – his favorite movies include the trilogy "The Godfather", "Scarface" and "Sleepers". He's hoping he'll eventually be able to work more on his own acting career.
He's physically active, and has several training sessions at the gym each week.
Age, height and net worth
Trace's age is 32. He has long black hair and blue eyes, his height is 6ft 3ins (1.91m) and he weighs around 185lbs (85kgs). As of April 2021, his net worth has been estimated at over $2 million.
Trace has many tattoos and both his arms and entire chest are covered in them.