• Caleb Hyles was born in Montgomery, Alabama, USA on October 14, 1991.
• He is a YouTuber, singer and social media star.
• He attended Auburn University and obtained his Bachelor's degree in 2013.
• He is married to Kara Howell, and they don't have children.
• As of June 2021, his net worth is estimated to be over $500,000.
Who is Caleb Hyles?
Caleb Hyles was born in Montgomery, Alabama USA, on 14 October 1991 – his zodiac sign is Libra, and he holds American nationality. He's a YouTuber, singer and a social media star, who's perhaps known best for his eponymous YouTube channel, which he launched on 27 December 2009. It's today subscribed to more than 1.5 million people, and numbers over 410 million views of all his videos combined. Caleb's most focused on uploading his covers of popular songs, while he also enjoys uploading short animated videos, in which he's most often dubbing the lead character.
Caleb can often be seen collaborating with other popular YouTubers, such as Jonathan Young, Brian Hull and Malinda Kathleen Reese.
Early life, family and education
Caleb was raised alongside his brother in Montgomery, by their parents who prefer to be left out of the spotlight, thus not a lot is known about them. It was Caleb's mother who got him into singing, as she made him a member of a children's church choir, and after he was told that he's good at singing, Caleb continued on.
He attended a local high school in Montgomery, and was interested in various activities as he practiced singing and playing the guitar, appeared in a couple of plays, and also enjoyed playing soccer. Upon matriculating in 2010, Caleb enrolled at Auburn University, from which he obtained his Bachelor's degree in 2013.
Early YouTube career
Caleb's career on the internet was launched when he and his brother created their YouTube channel "CrAzYbRoS". The boys were initially mostly focused on uploading videos, which featured them singing and dubbing their favorite animes, with Caleb's favorite being "Tora Dora".
He soon launched his own channel, and stopped collaborating with his brother on "CrAzYbRoS".
Most popular YouTube videos
Caleb's mostly popular for his singing skills, but also for his dubbing of animes, and his sense of humor. We're going to mention three of his most popular YouTube videos, which have helped him attract many subscribers.
Caleb's most popular video – "Let It Go – Male Vocal Cover – Frozen (Soundtrack)" – has been viewed close to 14 million times since 24 January 2014, and features him covering the popular songs from the Disney animated movie "Frozen".
His second most popular video "THE WELLERMAN COLLAB (feat.@Ten Second Songs, @Jonathan Young, @pellekofficial, @NateWantsToBattIe )" has been viewed over 13 million times since 30 January 2021, and features him and his friends covering the sea-shanty "The Wellerman".
Caleb's third most popular video – "Steven Universe – Other Friends (Male Cover by Caleb Hyles)" – has been seen close to 12 million times since 21 September 2019, and features him singing the song "Other Friends" from the popular animated movie "Steven Universe".
Caleb's quite active on various popular social media networks. He's amassed close to 40,000 followers on Instagram, and has uploaded close to 900 pictures, with the vast majority of these having been taken during his everyday life. He launched his Twitter account in October 2011, and it's today followed by over 1,500 people, while Caleb has tweeted more than 10,500 times. He mostly tweets about the new merchandise he's selling, and keeps his fans updated about his latest videos.
Caleb's also active on Facebook, and has over 35,000 followers, while he tends to update it at least once a month.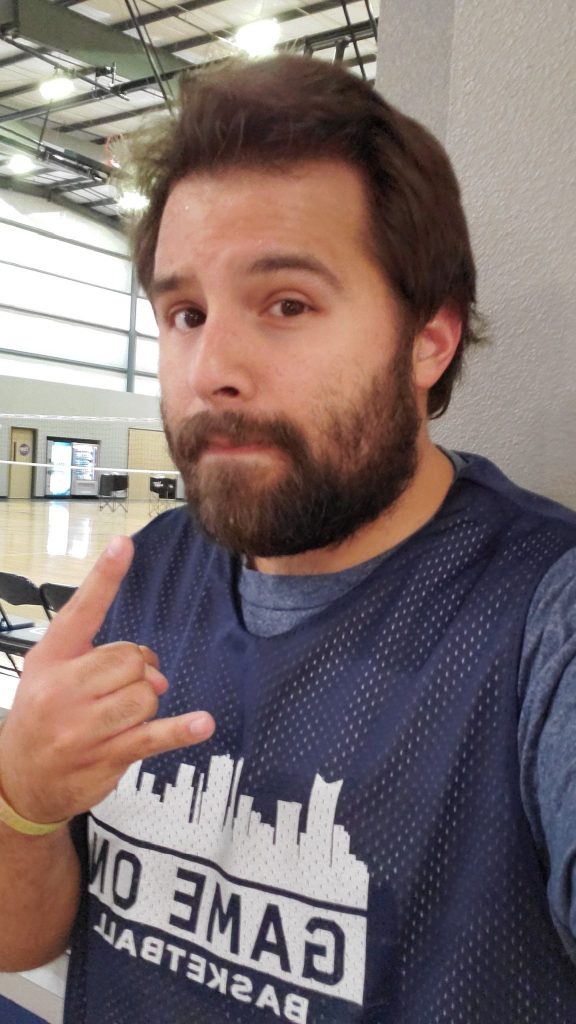 He's a bit more popular on TikTok, having gathered close to 65,000 followers, and over 450,000 likes of all his videos combined, most of which feature him lip syncing.
He also has a Patreon account which offers four subscription options, and has 234 patrons – the website states that he earns around $400 per video.
Career as a musician
Caleb's today a member of the band From the Dark, and is also pursuing a solo career in music, having released four albums. His voice can be heard in the song "Don't Tattle On Me", which is based on the horror video game "The Living Tombstone", and in the song "Hero", featured in the series "RWBY".
Love life and wife
Caleb's more or less secretive when it comes to his love life, while it's widely known that he's today a married man. He met his future other half, Kara Howell, back in 2011 – neither has spoken of how they met, but it's believed that it was on a blind date. The two dated for close to five years, before exchanging vows in a private ceremony, attended by their closest friends and family members in 2016. They don't have children together, and it appears as Caleb and Kara rather want to focus on their careers.
Kara holds a Bachelor of Arts degree in English language and literature from The University of Texas at Arlington (2008-2010), and a Master of Arts degree in teaching English as a second or foreign language, from Columbia International University (2012-2013).
She has worked for various companies and organizations, such as Jenni Roberts Photography, Kind Health and "Texas Living Magazine", and since January 2014 has been co-creative director at Caleb Hyles Music.
As of June 2021, Caleb's married to Kara Howell, and they don't have children.
Hobbies and other interests
Caleb loves to play video games, and has played them on various consoles, including PC, PlayStation and Xbox. He's today mostly focused on playing on PlayStation 5, which he has just recently bought.
He's an avid golf player, and also enjoys playing billiard and darts with his friends.
Caleb likes to travel, and has been to various US states with his wife, while the two have also travelled overseas and visited European countries such as France, England and Italy. He also likes to taste various cuisines, and his favorite's Italian food.
Caleb enjoys watching animes in his spare time, and his favorites are "Pokemon", "Cowboy Bebop" and "Fullmetal Alchemist: Brotherhood". He also likes watching Studio Ghibli animated movies, with two of his favorites being "Laputa: A Castle in the Sky" and "Porco Rosso".
Caleb's also into watching Hollywood movies, but finds only a few of them worthy of his time. His favorite actors are Robert De Niro and Al Pacino, while a couple of his favorite films are the trilogy "The Godfather", "Scent of a Woman" and "Taxi Driver".
Age, height and net worth
Caleb's age is 29. He has short brown hair and brown eyes, his height is 5ft 11ins (1.8m) and he weighs around 187lbs (85kgs).
As of June 2021, his net worth has been estimated at over $500,000.