• Frank Fritz was born in Davenport, Iowa, as the younger sibling to his only daughter.
• His career started off as a fire inspector in his hometown and included the neighboring suburbs.
• He is best known for his role as one of the two hosts of the 'American Pickers' reality television show and his book, 'How to Pick Vintage Motorcycles'.
• He has had two run-ins with the law, dealing with an intoxication charge and a contract breach.
• As of 2021, his net worth is estimated to be $4 million dollars, coming from his reality show and antique sales business.
It seems that a love for antiques, and the knowledge and eye to acquire and restore the best pieces has set the path to success for the knowledgeable Pickers star, Frank Fritz. Chosen as one of the two hosts to head the ''American Pickers'' reality television show,  and being equipped with a track-record in antique collections, has familiarised him with the nooks and crannies of the collector's world, making this lucky bugger a source to be reckoned with. His aim through his travel is to buy antiques at cost prices, and thereafter resell them for at least a marginal profit.
Early life, Family, Educational background
Emerging from a town set beside the Mississippi river in eastern Iowa, "American Pickers" star Frank Fritz was born and raised in the historic town of Davenport. Parents Bill Fritz and Susan Zirbes welcomed their bundle of joy on the 11th October 1965, making Frank the younger sibling to their only daughter.
These siblings would prove to be the only children out of this relationship, as their parent's marriage wasn't long lived. An inevitable break-up was imminent, as infidelity on his father's side was the cause of their broken home. This resulted in a troubled adolescent Frank, who threw himself into part-time work, and the occasional collection of valuables. This gesture didn't sit well with his parents as they were flabbergasted by some of the items he used his earnings to acquire.
His mother remarried his stepfather, Richard Zirbes, a tyre salesman, when Frank was nine years old. Sadly, on the 17th December 2013, he lost his mother.
He attended Sudlow Intermediate School in his early years, and later completed his schooling by matriculating from Bettendorf High School in Iowa.
Career
Being amongst those chosen to host the impressive ''American Pickers'' show, it would seem that luck was on his side as to the choice of his co-host. Mike Wolfe, the other half who makes up this show, is said to be a close friend of Franks, as they attended school together, and have been inseparable ever since. It would seem that these two have set the path in collecting, and successfully restoring antiques, as they seem to be the pickiest cronies around.
Although the dream of being an established collector would come 25 years later, Frank Fritz's career path started off as a fire inspector in his hometown in Iowa, and included the neighboring suburbs. The nagging itch at the tip of his fingers, to reach out and collect valuables, never subsided.
In the time spent in serving his community, the volcano inside him slowly scaled the ash walls every time he collected a fire-fighting trinket. Yes, this fire inspector's desire was not lying dormant.
It took a little bit of pushing, and a handsome profit from an unpredicted antiques sale that erupted the volcano inside of him, resulting in him doing a complete flip on his fire inspectors career, and diving into the prospect of a collector, with his newly opened store, ''Frank's Finds'' in 2002. Savanah Illinois would prove to be the gold mine of the beginnings of this antiques collection store.
It would be another eight years later, after becoming well acquainted with and acquiring some most sought after valuables from throughout US, that his show "American Pickers" would take off. With an impressive 3.7 million views on the day of its debut, this show was sure to strike a win.
Premiered on January 18th 2010, on the History channel, the series debuted, and is still flying high 22 seasons later, although Frank is said to have taken an undetermined break from the show, as a result of health issues.
He has run into success time and again, gaining even more recognition with the release of his book, 'How to Pick Vintage Motorcycles', in which he shares his knowledge and learning experiences that he has acquired from all the vintage motorcycles he has bought along the way. It is said to be an advantageous read to those who have similar acquisitions.
Personal life, lawsuit and weight-loss
Frank Fritz's close relationship to his childhood friend and co-host of the reality show 'American Pickers' has sparked some ugly rumors, as speculation towards his sexuality was discussed by many.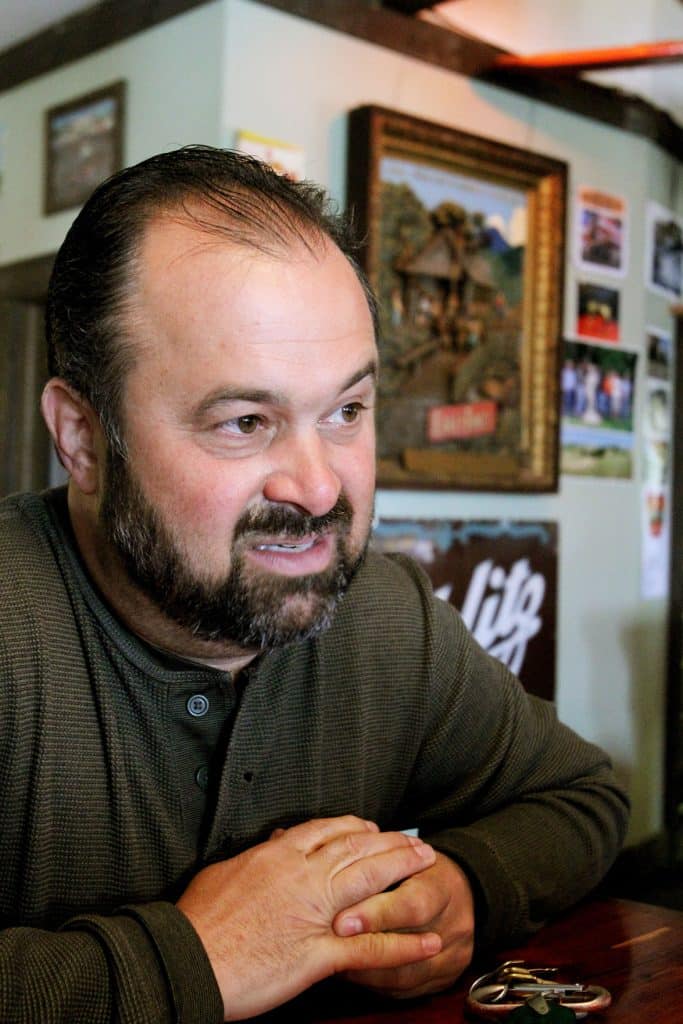 The onscreen chemistry that was apparent on the show made for much unnecessary scandal, as this gentleman is known to be in a relationship with a women that he holds dear to his heart. Although he has never been married, he refers to his fiancé Diann Bankson, her daughter Paige, and granddaughter Eulalia, as his family. Diann serves to be a huge helping hand in Franks antique business.
Sometimes, even the rich and famous get up to mischief, and when they're found out, the news platforms are in uproar. Such was the case for this darling picker, on that fateful 30th July 2017 day, when all hell broke loose as he veered his car into the oncoming lane due to high levels of alcohol and drug intoxication.
He pleaded guilty to the charges, and accepted a plea deal in his hometown of Davenport. He was fined the maximum $625, received a year- long unsupervised probation, and was admitted to a substance evaluation program to ensure that he received the necessary treatment.
His second run-in with the law came when he was accused of breaching a contract in his antique sales business which resulted in Frank paying a $1000 fine, as he rejected the right to appear in court, or respond to this matter.
Battling the dreaded Crohn's disease, that manifests itself as an inflammation of the bowel, for more than 30 years, Frank had to drastically change his diet to manage the advanced symptoms of his illness.
The change in diet resulted in his noticeable healthier appearance that was conversely due to a decline in his health. Known to have always been on the heavier side in physical appearance, his weight-loss was received with praise until the reason for it was revealed by the star himself. He explained that the reduction in his food consumption due to the aggravation of his disease resulted in a healthier looking physique. He has stated that he is also battling with anxiety.
Hobbies and interesting facts
It was known from an early age that this tough guy had an adventurous mind, always exploring, and collecting anything that he deemed valuable.
His daily ritual as a child was to collect beer cans and stones, and whenever he had the chance, he would go stamp hunting. His love for motor bikes led him to acquire his first Harley Davidson when he was a teenager, as doing part-time work helped him to save up enough money to fulfill his dream of one day owning a bike. It seems that he was born with a golden eye that can see the valuable sparkle in the dullest of things. He has accumulated a multitude of these possible assets that are personal to him, and they are therefore kept amongst his favorite things.
Appearance, dress style
Known to always be sporting a sweater and jeans, it seems that the comfortable casuals are a daily routine for this collector.
He is said to be caught in gentlemen attire only when he makes an entrance in grand events , such as those spruced with red carpets. Appearances really don't matter in the eye of the most witty collector, as he knows the worth of underlying value.
Net worth
As of the start of 2021, Frank Fritz is said to have a net worth of $4 million dollars. This is an acquired worth from his reality show, and that of his antique sales business. He is said to have accrued wealth from possessions that increase in value as they age. It seems that this spot-on dealer has kept the best collectables for himself, and is said to still be always on the hunt for those hidden treasures.