• Amy and Tammy Slaton are sisters from Dixton, Kentucky, USA and reality TV personalities who have appeared on the TLC reality weight-loss show "1000-lb Sisters".
• As of early 2021, their combined net worth is over $500,000.
• They were raised by their single mother in Kentucky, and have a brother and a sister.
• Amy has shared make-up tutorials on her YouTube channel, while Tammy has made videos about her weight issues.
• Amy is married to Michael Halterman and they are expecting their first child.
Who are Amy and Tammy Slaton?
Amy and Tammy Slaton are sisters from Dixton, Kentucky, USA. Amy was born on 28 October 1987 under the zodiac sign of Scorpio, and Tammy on 27 July 1986 under the zodiac sign of Leo. They are reality TV personalities, recognized for making appearances in the TLC reality weight-loss show "1000-lb Sisters". Besides that, they are known for making comedy content for their official YouTube channel. Amy has also shared make-up tutorials and amassed almost 300,000 subscribers, while her sister Tammy has attracted more than 90,000 subscribers.
How rich are they, as of now? Amy and Tammy Slaton Net Worth
As of early 2021, the combined net worth of the Slaton sisters is over $500,000, acquired through their successful involvement in the entertainment industry. Moreover, they're increasing their wealth through advertisements, sponsorships, and YouTube monetization.
Early Life, Family, Nationality, Ethnicity, Education
Amy and Tammy Slaton spent their early years in their hometown in Kentucky, raised by their single mother, Darlene Slato'.
The name of their father remains a mystery. They also have a brother named Chris, and a sister whose name hasn't been disclosed. The sisters hold American nationality and belong to White Caucasian ethnic group. Regarding their education, they attended Union County High School in Morganfield, Kentucky.
Gain Weight and Health Issues
While their mother was busy working various odd jobs to make ends meet, their grandmother looked after them.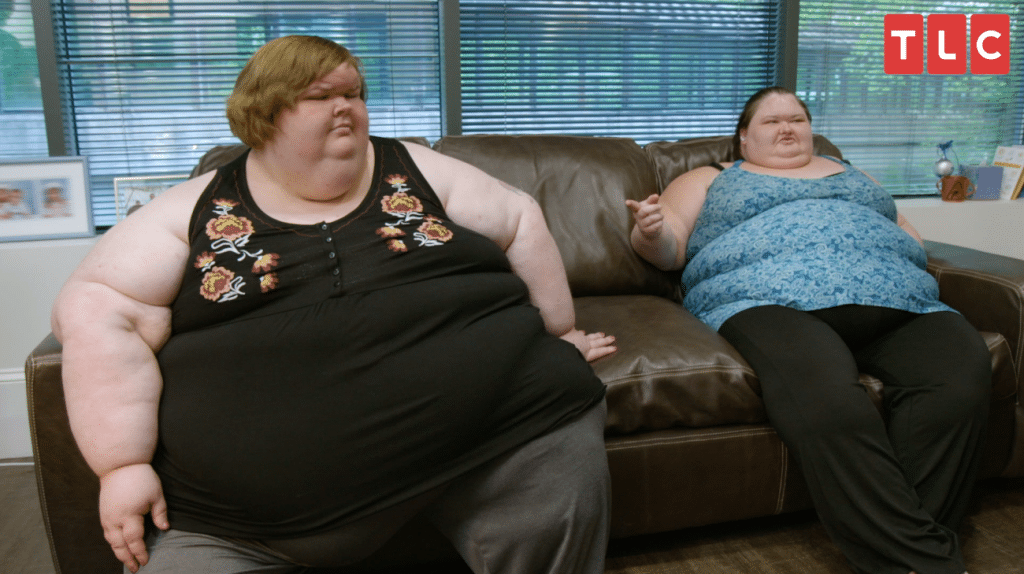 Following the death of their grandmother, Amy and Tammy started gaining weight since her mother didn't have time to prepare healthy meals for them, so they would often eat packaged or junk food. As time passed, the sisters gained more and more weight, and their subsequent obesity led to many health issues, such as chronic diabetes and heart problems – Tammy couldn't even walk without the help of a walker, and once tried to commit suicide.
YouTube Comedy Content Creators
The Slaton sister rose to prominence on YouTube.
In 2011, Amy launched a channel which was initially created to be a collaborative account of two sisters, called 'Slaton Sisters'. They started to upload videos three years later – their first video, entitled "New slaton sister vlog", was released in January 2014. Later that year, Amy and Tammy gained enormous popularity when their video entitled "Chubby bunny challenge" went viral. It encouraged them to continue to make more funny videos and challenges, and as time passed, they attracted more attention and an increasing fan base.
Since Amy primarily ran the channel, she eventually expanded content and started creating other kinds of videos, such as make-up tutorials and DIY. The most popular videos on the channel are "The power of makeup", "Trying new makeup", and "Bake with me".
Tammy continued to feature in her sister's videos, besides which she launched her own self-titled YouTube channel in March 2018, and two months later uploaded her first video "I'm baking a cake". Some of the most viewed videos on her channel are "Day one of my diet", "Talking about my weight", and "Where have I been", to name a few.
Reality TV Stars and "1000-lb Sisters"
Amy and Tammy Slaton's career skyrocketed when the TLC reality weight-loss show "1000-lb Sisters" premiered on 1 January 2020. The name of the show stemmed from their combined weight which is over 1000lbs (454kgs), since Amy weighed around 406lbs (185kgs), while Tammy weighed 605lbs (274kgs) when the show started. The series follows the efforts of the obese sisters to lose weight, and lead healthy life. The show is currently in its second season.
In the first season, the Salton sisters had to adhere to a strict diet plan to lose weight, and qualify for bariatric surgery. By the end of the season, Amy had succeeded in that and underwent surgery; she now weighs around 276lbs (125kgs). Her sister Tammy initially lost some weight and was down to about 350lbs (159kgs), but when the pandemic started she regained weight, to more that she had before. She now weighs approximately 644lbs (292kgs).
Personal Lives of the Slaton Sisters
While Tammy is single at the moment, Amy is a married woman, having met her future husband Michael Halterman while she was attending high school. He works as a mill operator for Shamrock Technologies. After several years of dating, the couple tied the knot at a wedding ceremony which took place on 15 March 2019 in Nashville, Tennessee. They are currently expecting their first child, a baby boy.