• Katelyn Jae is a singer and the wife of country music singer and song writer, Kane Brown
• Katelyn grew up in Philadelphia, PA and attended college at Berklee College of Music
• She has been singing and writing her own songs since college and won the first season of Yobi.TV
• She and Kane Brown have been married since 2018 and have one daughter, Kingsley Rose
• Katelyn has an estimated net worth of $500,000, while Kane's is estimated at $6 million.
Katelyn Jae is a singer, but probably better known as the wife of country music singer and song writer, Kane Brown.
Early life, family, educational background
Katelyn Rose Krapf was born 19 June 1992 under the Gemini star sign, in Philadelphia, Pennsylvania, USA; she has two older brothers. Her parents separated and divorced when she was young, and her mother moved on and remarried former US Representative for Pennsylvania's 6th congressional district, Jim Gerlach. Katelyn attended Downtown High School in Chester County, then West Chester University in Pennsylvania, although she didn't graduate.
She later enrolled at Berklee College of Music to study music management. She told Nicki Swift that "I thought it'd be beneficial for both of us to really understand the industry. It definitely made me more independent and confident. I learned everything from the legal side to publishing and songwriting.
Career
Katelyn showed an interest in music from an early age; she performed a cover of Celine Dion's "My Heart Will Go On" when she was 11 years old, and upon hearing her sing her choir teacher convinced her parents to take her singing ability seriously. Soon her parents had her taking piano and vocal lessons, and the young singer pursued a career in music under the moniker Katelyn Jae.
During college she began singing and writing her own songs, and made it to the top five of the "International Model and Talent Association" conference in 2008. In 2010/2011 she represented her country at the "Avon Voices Global Singing Talent Search", and also auditioned for "The Voice" and "American Idol" TV shows. She won the first season of Yobi.TV, a talent network and production company, and in 2014 released a video for her song "24KT".
Personal life
Katelyn met country musician Kane Brown in 2015 when she attended one if his shows. In the millennial style, Kane slid into Katelyn's DMs shortly after that first meeting. and the rest is history.
The pair became engaged in 2017, Kane revealing that he popped the question while the two were watching a horror movie, completely ruining the romantic proposal he had planned. They wed in front of 200 guests in October 2018, and the following year the twosome became a family of three with the birth of their daughter, Kingsley Rose in October.
Who is Kane Brown?
Kane Brown  is a singer and songwriter who gained popularity through his music on social media. The song "What Ifs" from his self-titled debut album, reached number one on the Billboard Country charts.
Kane Allen Brown was born on 21 October 1993, in rural Northwest Georgia USA.
He is of mixed race with a caucasian mother and an African American father, but was raised by his mother alone due to his father being in prison since 1996. Brown's mother struggled to make ends meet, and so the family moved around constantly and were sometimes homeless. He told People Magazine in a 2018 interview that he didn't really grasp that he was bi-racial until he was called the N-word when he was around eight years old.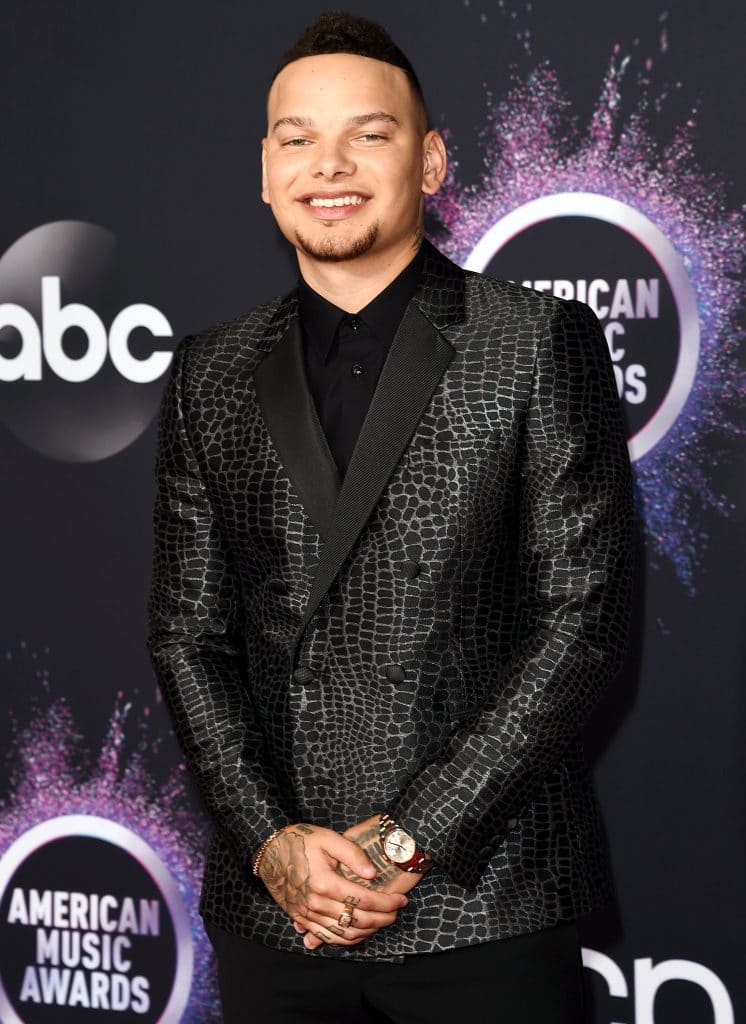 Kane grew up listening to different genres of music. In 11th grade, he performed Chris Young's song "Gettin' you Home", and began singing country music from thereon, and entering talent competitions. He auditioned for "The X Factor"  and "American Idol",  and in 2014 began posting videos of song covers he had done onto his social media. He gained numerous followers on Facebook too, and shortly afterwards signed to Zone 4.
Brown used kick-starter and crowdfunding to produce his 2015 EP entitled "Closer".
The EP reached number 22 at the Top Country chart, and sold more than 3000 units in its first week. In 2016 he signed with Soy Music Nashville, and would later release another EP entitled "Chapter 1", which debuted in the top 10 on US Billboard 200, and top three on the Top Country Albums Chart.
In 2020 the musician held drive-in concerts at over 200 theaters across the country, and would later perform in a half-time show for Thanksgiving Football. Brown announced his engagement to singer Katelyn Jae during his 2017 concert in Philadelphia.
Katelyn 's hobbies, favorite things and interesting facts
Her favorite food is Italian
Loves to read
Enjoys listening to music
She is an avid traveler
She loves to go shopping
Her favorite actors are Tom Cruise and Jennifer Lawrence.
Appearance, clothing style
Katelyn is a beautiful woman with long brunette hair and brown eyes. She stands at 5ft 7ins (170 cm) and weighs 120lbs (55kg). Katelyn and Kane Brown are both very active on social media and share peaks into their lives as a couple and as parents. Kane also uses his social media accounts to share music and collaborations.
Net worth and salary
Katelyn's net worth is estimated to be around $500,000, while her husband's net worth is reputedly over $6 million, from his booming career in music.