• Judge Frank Caprio is a lawyer, politician and the chief municipal judge of Providence, Rhode Island.
• He attended Providence College, and then the Suffolk University School of Law.
• He has appeared in four TV shows including "Caught in Providence" and "The Wendy Williams Show".
• He is married to Joyce E. Caprio and they have five children together.
• He has an estimated net worth of over $1 million.
Who is Judge Frank Caprio?
Francesco 'Frank' Caprio was born in Providence, Rhode Island USA, on 23 November 1936 – his zodiac sign is Sagittarius and he holds American nationality. He is a lawyer, politician and the chief municipal judge of Providence, but who might be known best for his role in the reality TV series "Caught in Providence".
Early life and education
Frank was raised in Federal Hill alongside one older and one younger brother, by their father Antonio Caprio who immigrated to the US from Teano in Italy, and their mother Filomena Caprio who came to the US from Naples, Italy. Frank's father worked as a milkman and a fruit peddler to support the family, while his mother was a housewife.
Frank attended Central High School, and during those four years also worked various jobs, including being a shoe-shiner and a dishwasher. He was interested in sports, especially wrestling, and became a state wrestling champion in 1953 aged 16. Upon matriculating in 1954, Frank enrolled at Providence College from which he graduated with a Bachelor's degree in 1958. He was also a member of the National Guard for six years (1954 – 1960).
Judge Frank Caprio's career
After graduation, Frank worked at Hope High School teaching American government, and soon became interested in law. He eventually found himself simultaneously teaching at Hope and attending the Suffolk University School of Law.
In 1962, Frank joined the Providence City Council, staying with them until 1968, and then spent the following seven years teaching and working as a lawyer. In 1975, he became a Delegate to the Rhode Island Constitutional Convention, and has since become a Delegate to five Democratic National Conventions. In 1985 he became a Providence Municipal Court Judge, and held the position until retiring.
Other works
Frank served as the Co-Chair of the Rhode Island Statue of Liberty Foundation in 1983, while the foundation helped gather money for the restoration of both Ellis Island and the Statue of Liberty. He co-founded the Antonio 'Tup' Caprio Scholarship Fund, which offers scholarships to teenagers who are interested in law but might not be able to afford to study it at a college.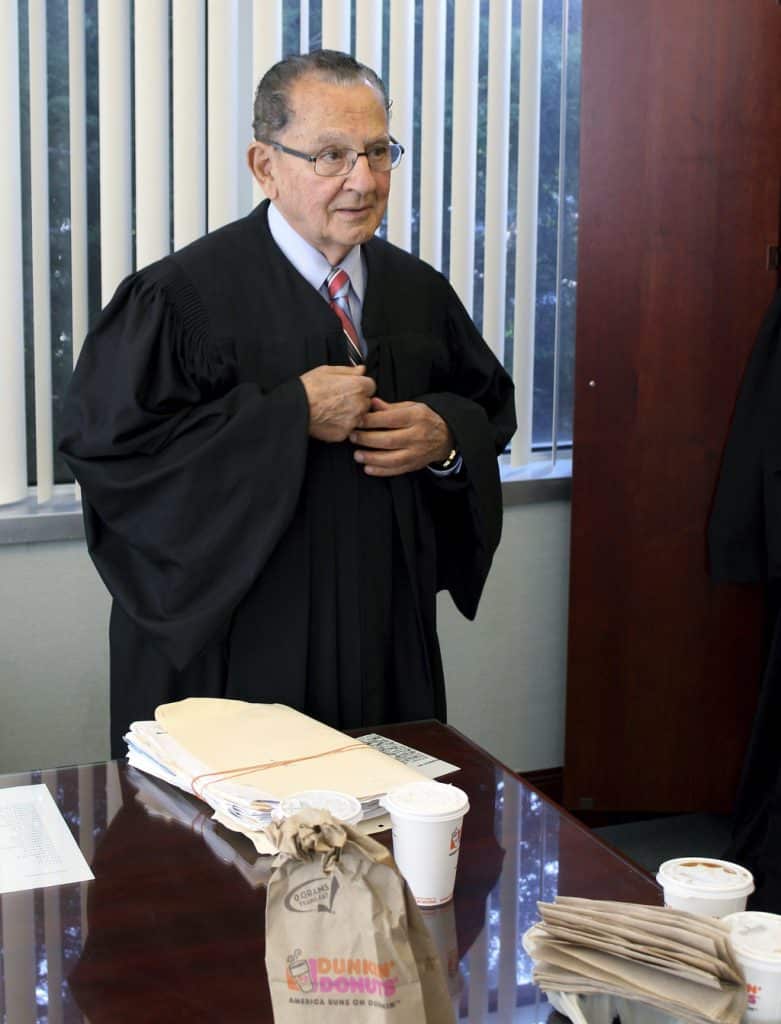 Today, Frank serves on the Providence College President's Council.
In 2016, the University of Rhode Island rewarded Frank with an Honorary Doctorate of Public Service. In 2018, Frank attended the Rhode Island International Film Festival, at which he won a Producer's Circle Award.
Being a huge fan of the American professional baseball team the Boston Red Sox, Frank was invited to throw the first pitch on 25 July 2019 – the Red Sox won the match against the New York Yankees.
Roles in TV series and shows
Frank only has a single acting credit: in 2007, he portrayed a municipal judge in the episode "The Lonesome Death of… 4:7-8" of the critically acclaimed crime drama series "Brotherhood", created by Blake Masters, and which starred Jason Isaacs, Jason Clarke and Annabeth Gish.
It follows the lives of two brothers, one of whom is a politician while the other is a gangster – the series won four awards while it was nominated for five others.
He has appeared in four TV shows, including "Caught in Providence". In 2018, he appeared in a single episode of "The Wendy Williams Show", as well as in a single episode of the news talk-show "Celebrity Page". Frank has also appeared in several episodes of the reality series "Parking Wars".
Many videos taken from Frank's courtroom have been uploaded onto the internet, and Frank became popular in 2017 thanks to these. In 2020, one of his videos uploaded onto YouTube was viewed close to 45 million times.
Love life and relationships
Frank is quite a family man, who prefers to keep his personal matters to himself and his family away from the media's attention. It's known that he has been married to his other half Joyce E. Caprio for more than five decades, and that Joyce has given birth to their five children. They welcomed their first son Frank T. on 10 May 1966 and he is today a politician and a banker. Their second son, David A. followed on 5 June 1967, and today works as a politician and a lawyer. In the following 10 years, Joyce gave birth to their daughter Marissa Caprio Pesce, and two sons John and Paul.
Frank and Joyce today have seven grandkids as well two great-grandkids.
Frank hasn't talked about any other women he might had dated before meeting Joyce, and as of January 2021, he is married to Joyce E. Caprio and they have five children together.
Hobbies and other interests
While baseball is his favorite sport, Frank also enjoys watching football and basketball, and is keen on watching European soccer. It was a close friend of his who asked him to watch a soccer match together, and Frank has since been a fan.
He likes to travel, and believes every person should visit Europe, Asia and Africa at least once to have a clearer picture about life in general. He has visited nearly every US state, and has been to various European countries with two of his favorites being France and England.
Frank has many friends and this is because he is, allegedly, an easy-going person with a big heart as some have described him.
He likes to watch old movies in his spare time, and a couple of his favorite actors and actresses are Marlon Brando, Paul Newman and Katharine Hepburn, while his favorite movies include "The Godfather", "A Streetcar Named Desire" and "On the Waterfront".
Age, net worth and salary
Frank's age is 84. He has short brown hair and brown eyes, his height is 5ft 8ins (1.73m) and he weighs around 150lbs (68kgs). As of January 2021, his net worth has been estimated at over $1 million.
Frank's son Frank T. Caprio
Frank enrolled at Harvard University in 1984, and obtained his Bachelor's degree in economics in 1988, and his Doctor of Law (JD) degree in 1991 from Suffolk University Law School.
As soon as he obtained his JD, Frank founded the Caprio Law Firm at which he has been a partner since.
He worked in the field of law for the following 15 years, and in 2006 became the Treasurer of State of Rhode Island, serving as the Chairman of State of Rhode Island Commission holding the position until 2010. In 2011, he became a partner at the Private Credit / Private Equity Chatham Capital Company, and has been working with them to this day.
In January 2020, Frank and his brothers founded the Caprio Brothers investment company, and have since been working together.