• American Choppers was an American reality television show about a father and son-owned motorcycle workshop.
• The show primarily focused on their custom chopper-style creations, but also showcased their high-strung arguments between the father and son duo.
• The feud escalated and resulted in a lawsuit when the father fired his son from the company.
• The show ended and the father and son pursued their own ventures, but personal issues hindered their success.
• It is unlikely that their relationship will fully recover, but fans can still watch the re-runs of the original show.
'American Choppers' was an American reality television show that aired on Discovery Channel, debuting in March 2003 and returning again to air in 2018. The show followed the daily activities of Orange County Choppers, a father and son-owned motorcycle workshop, which specialised in designing and creating custom chopper-style motorcycles.
While the show focused its entertainment on the many creations of the workshop, and all the effort that went into creating the masterpieces, most fans and followers stuck around for the high-strung arguments and drama between the father and son duo, Paul Teutul Senior and Paul Junior.
A Family Feud
It seemed as if the family proprietors of Orange County Choppers searched for just about anything to argue about, which unfortunately made the audience think that all the drama might come from a script. However, considering how their feud escalated in the years that followed, and that they both eventually filed lawsuits against one another, it would be safe to say that the drama was real.
Of course, the dedicated viewers of 'American Chopper' could recount every argument that unfolded in the workshop, which rose from their creative indifference to Senior's lack of patience with his son, and Paul Jr's lazy behaviour.
However, there are some secrets to their feud that few might know. In 2008, following an exceptionally heated argument between Senior and Junior, the oldest Teutul simply decided that he'd had enough.
The argument once again sparked because of Junior's bad habit of showing up late for work, and Senior explicitly expressed how tired he grew of young Paul's behaviour. Saying that he was not going to let him get away with this anymore, Senior confronted Junior in his office, where the argument took a turn for the worst.
Following an angry outburst during which Junior threw a chair, among other equipment, Senior gave his son the sack, even though he may not have had the final say.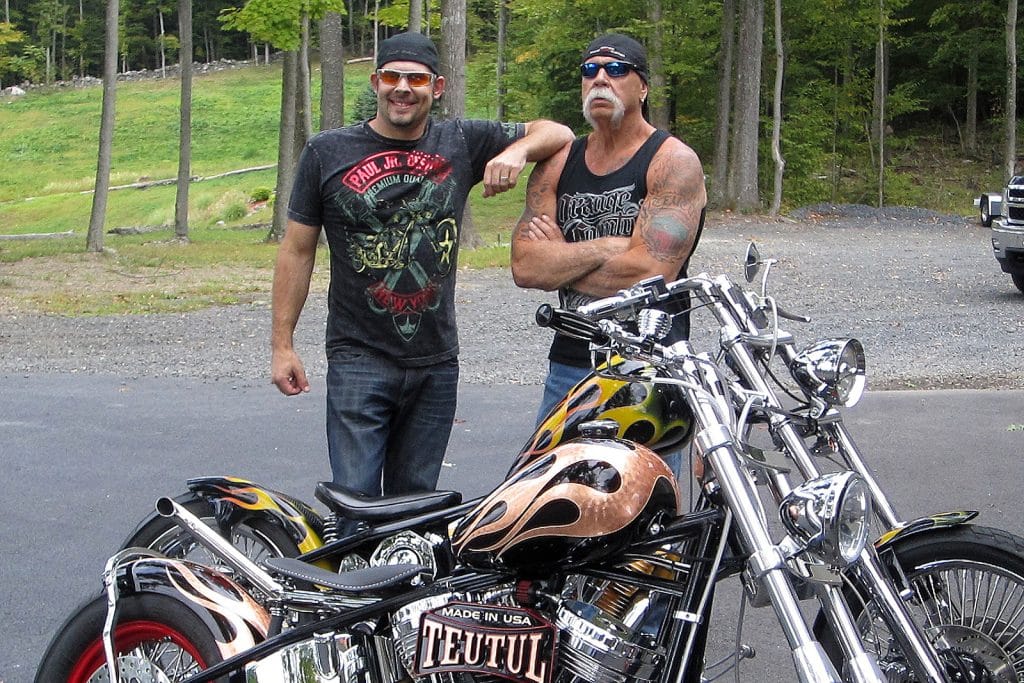 According to their contracts with Discovery Channel, the publisher should have the final say about who remains in the show and who has to go. Even more, Teutul Junior owned 20% of the company, which undoubtedly complicated Seniors' decisions.
Nonetheless, Junior left without too great a dispute, but it later resulted in a lawsuit with which Senior attempted to regain the full ownership of Orange County Choppers. Before leaving, Junior made a bold claim, stating that if not for his participation, Orange County Choppers would fail, and, as events unfolded, it seemed that he was right.
Shortly after Junior left, the show was cancelled, and Senior found himself facing major financial difficulties. Although he agreed to a year-long non-competitive clause, Junior eventually opened his own custom building workshop, which led to a spin-off creation from the original show.
Unfortunately, the new show – 'American Chopper: Senior vs Junior' – didn't achieve as astounding a success as the original, and after two years on air, it was cancelled. During the production of the new show, the Teutul father and son never spent much time together, despite competing with each other and appearing in the same show.
Things became so bad between them, that Senior even refused to attend Junior's wedding.
In the years that followed, Pauly Junior published his memoir, in which he went as far as to call his father something of a monster. The feud would last for ten years, as only in 2018, at the prompting of Discovery Channel and the renewal of 'American Choppers', did they reconcile.
What Started The Feud?
From start to finish, there was never any true indication of what started the bad blood between father and son, but according to them, working together was the downfall of their relationship. Even though it seemed that their relationship problems started long before the filming of 'American Choppers' began, both Senior and Junior admitted to a variety of magazines and media outlets that occupational stress was the real, final strain on their father-son relationship.
Junior's memoir, however, may contain more details of their past relationship, and what might have prompted their dispute, but one would have to read it from a critical point of view. Despite working together on a few odd projects, the two leading Tuetuls do not seem to have any plans of working together. In an interview with People magazine during their latest joint project in 2018, Senior stated that they are both better off doing their own thing.
However, Teutul Senior admitted that his family is the most important thing, as it seems, especially for the fans who kept flooding his Instagram account with requests to restore the peace in his family. Paul Senior explained that the family is getting back together, but like all things, though their relationship endured change, that placed things on a whole new level.
Teutul went on to discuss becoming a grandfather to Junior's three-year-old son, stating that Junior has grown considerably over the years. According to him, the bottom line is that things would be getting back to normal between them, and that they will spend more time together, so long as it isn't work-related. Teutul also agreed that working together was the downfall of their relationship, but he wasn't willing to give that up again.
How Are They Doing Now?
It might take the leading Teutuls some time to rebuild their relationship, and considering how much time and many memories they lost during the ten-year feud, they have many obstacles before them.
Regardless, it seems both parties want what is best for the family, and seem to give their best in making things work again.
In the years that passed, the Teutuls all sought their own fortune and new horizons. Junior started a custom-building workshop which has been doing great, while Senior, though struggling financially, started new ventures that, at least, seem promising.
Senior also faced a lot of legal issues since the ending of 'American Choppers', which unfortunately added to his financial failure, so much so that Senior eventually filed for bankruptcy.
#MerryChristmas!! pic.twitter.com/fy4g7r1qly

— Paul Jr (@WhereIsPaulJr) December 26, 2020
Even though things don't look good for all the Teutuls, fans and viewers no doubt wish them the very best, and hope that their relationship might someday recover. Unfortunately, the chances of seeing them work together again, especially in front of the camera, remain slim. As such, the likelihood of seeing another 'American Chopper' season air, aside from the odd joint project, is a dream that might never come to fruition. Fortunately, fans can always relive all the drama and excitement, watching the innumerable re-runs.