• Dannielynn Birkhead is an American model and reality TV personality born in 2006.
• She is the daughter of the late American model, actress and TV personality Anna Nicole Smith.
• She has been featured in various TV shows, has a net worth of over $500,000 and is 5ft 2ins tall.
• Her mother Anna Nicole Smith was an American actress and model born in 1967.
• Anna Nicole Smith died in 2007 at the age of 39 in Florida.
Who is Dannielynn Birkhead?
American model and reality TV personality Dannielynn Hope Marshall Birkhead was actually born as Hannah Rose Marshall Stern in Nassau, The Bahamas on 7 September 2006, making her zodiac sign Virgo. She's probably known best for being the daughter of the late American model, actress and TV personality Anna Nicole Smith.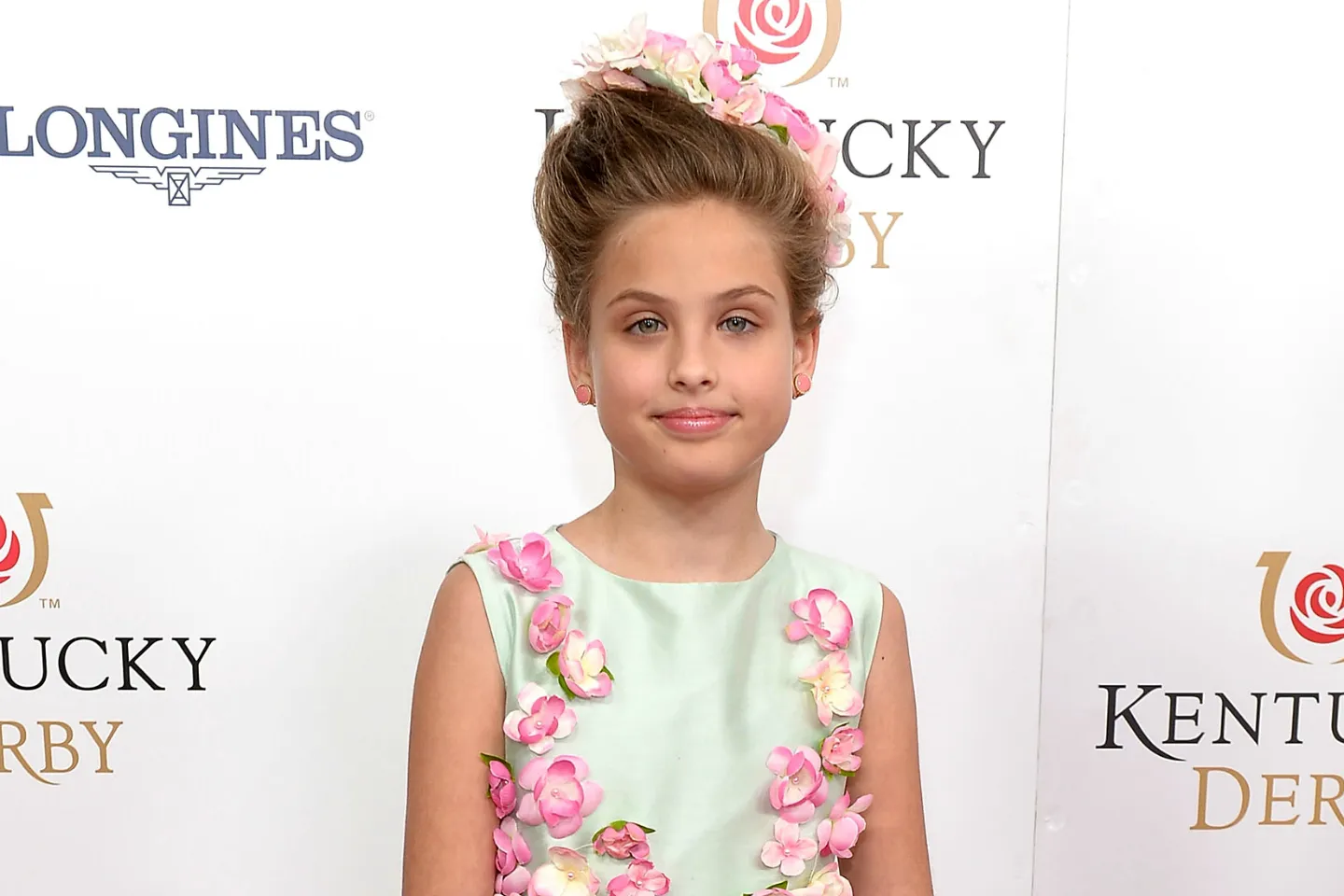 Education and early life
Dannielynn was raised in Nassau by her father, American celebrity photographer Larry Birkhead. Anna Nicole's promiscuity was brought into focus immediately, as the question over Dannielynn's paternity arose as Anna had listed her partner, American lawyer Howard Kevin Stern as Dannielynn's father, while Larry, American-German businessman Frederic von Anhalt, and Anna's bodyguard Alexander Denk all believed that they were the real father. Larry brought the challenge to court, and a DNA test showed that he was the father.
Dannielynn was only five months old when her mother overdosed on drugs, and died on 8 February 2007; she was the sole heir to Ann's estate, worth over $700.000. When Dannielynn was 16 months old, she underwent surgery to fix her vision disorder known as strabismus; to support his daughter, Larry also wore an eyepatch so that he and Dannielynn could 'play pirates together'.
Dannielynn's currently attending a local high school in New York State, from which she should be matriculating in 2025.
Dannielynn's career
Dannielynn was only six years old when her modeling career was launched, as she posed for the children's line Guess? Clothing; co-founder of Guess? Paul Marciano stated in an interview that Dannielynn reminded him much of her late mother, as both had 'that playful spirit'.
In 2013, Dannielynn was featured in the documentary movie "Life After Anna Nicole: The Larry & Dannielynn Story", and was in 2014 featured in the episode "Larry Birkhead/Helio Castrovenes" of the reality show "Celebrity Wife Swap".
From 2008 to 2019, Dannielynn was featured in nine episodes of the talk-show "Entertainment Tonight"., and appeared in a 2016 episode of the talk-show "Access Hollywood". Most recently, in 2021, she appeared in the episode "Tragic Beauty: Anna Nicole Smith" of the documentary series "20/20".
Interesting facts and hobbies
Dannielynn's a fan of horse racing, and she and her father have been attending the Kentucky Derby every year since 2008; it was at the event that Larry and Anne met for the first time. In 2021, Dannielynn was spotted attending the derby while wearing a Jovani Fashion turquoise pantsuit and a flower fascinator; in the following year, she wore the same outfit that was worn by famous American singer-songwriter Janet Darmita Jo Jackson at the 2003 Kentucky Derby.
Dannielynn isn't active on Instagram, but a fan page has been launched by a girl named Diana Paisano, and is today followed by close to 10,000 people – there are close to 80 pictures and videos uploaded onto it.
Dannielynn enjoys being physically active, and is today taking both dancing and acting lessons, while she also plays tennis at school.
Her favorite actresses are Pamela Anderson and Angelina Jolie, and some of her favorite movies include "Blonde and Blonder", "Naked Souls" and "Hollywood & Wine".
Height, eyes and wealth
Dannielynn's age is 16. She has blue eyes and brown hair, is 5ft 2ins (1.58m) tall and weighs about 115lbs (52kgs).
Dannielynn's net worth's been estimated at over $500,000, while her mother Anna's net worth, at the time of her death, was estimated at more than $1 million.
Who was her mother Anna?
American actress and model Anna Nicole Smith was born Vickie Lynn Hogan in Houston, Texas USA, on 27 November 1967, meaning that her zodiac sign was Sagittarius. She had 15 acting credits, and is perhaps still remembered best for her playing of Tanya in the 1994 crime comedy movie "Naked Gun 33 1/3: The Final Insult", which Peter Segal directed, and which starred George Kennedy, Priscilla Presley and Leslie Nielsen. It follows police officer Frank Drebin who's trying to prevent terrorists from detonating a bomb at the Oscars; the movie won three awards.
Anna was raised in Houston as an only child, by her father Donald Hogan who passed away in 2009, aged 62, and mother Virgie Arthur (nee Tabers) who died in 2018, aged 67. Anna studied at Durkee Elementary School prior to progressing to Aldine High School; aged 15, she was sent to live with her aunt in Mexia, Texas and thus transferred to Mexia High School. She failed to complete her high school education, dropping out during her final year.
Anna worked various jobs and did a bit of modelling in the following couple of years, and was in March 1992, aged 24 featured on the cover page of the magazine "Playboy", then became the Playboy Playmate of the Month in May of the same year. Anna went on to become a Guess jeans supermodel, and the year 1993 saw her pose for the clothing company H&M, and appear on the cover page of the magazines "GQ" and "Marie Claire".
She made her debut film appearance in 1994, playing Za-Za in the fantasy comedy "Hudsucker Proxy", and some of her following roles were in the crime action thriller movie "To the Limit", the  episode "Wilde Again" of the comedy series "The Naked Truth" both in 1995, and the 1996 action thriller film "Skyscraper". Anna appeared in the 1998 music video "Third Eye Blind: Jumper", and the following year saw her appear in an episode of both the comedy "Veronica's Closet", and the fantasy comedy "Ally McBeal".
Recreating Anna Nicole Smith's ICONIC Von Dutch outfit https://t.co/eWffiaWK52 pic.twitter.com/LuzYJvY3Vq

— 💗sienna💗 (@xoxowari) April 14, 2021
In 2005, she played a supporting character in the musical crime comedy movie "Be Cool", directed by F. Gary Gray, and which starred John Travolta, Uma Thurman and Dwayne Johnson. It follows actor Chili Palmer who's decided to make the transition from acting to making music, and the film won one of its 14 award nominations. Anna's final role playing the lead character Lucy in the 2007 science fiction comedy "Illegal Aliens".
Her first husband was American cook Billy Wayne Smith; they married on 4 April 1985 when Anna was 16 and Billy 17. She gave birth to their son Daniel Wayne Smith on 22 January 1986, but they separated in 1987, and divorced in 1993. She began dating 86-year-old billionaire businessman James Howard Marshall II in October 1991, and they married on 27 June 1994; although Anna denied this, most of her fans believe that she only married James because of his money. The marriage ended when James died on 4 August 1995.
Anna was addicted to prescription medications, and a psychiatrist who had met her in April 2006 claimed that she was suffering from borderline personality disorder. Her son Daniel died on 10 September 2006, from an accidental drug overdose, and as reported, Anna sadly didn't survive much longer. Her relationships are too confusing to list, but apart from her previously identified boyfriends, Finnish-Canadian fashion executive Peter J. Nygård was mentioned as her partner at the time.