Brooke Hyland:
• 23-year-old American singer and dancer, featured in Lifetime reality show "Dance Moms" from 2011 to 2014
• From a family of dancers, started dancing at Abby Lee Dance Company at a young age and left in 2014
• Released debut single "Summer Love Song" and self-titled album in 2012
• Launched YouTube channel in 2016 and accumulated over 232,000 subscribers
• Moved to Austin, Texas in 2021 and works as a Brand Ambassadorship in Public Relations/ Influencer Marketing
• Estimated net worth of $500,000
Brooke Hyland is a 23-year-old American singer and dancer, possibly best known for her acrobatic moves in Lifetime's reality show "Dance Moms", from 2011 through 2014.
Read this biography to learn more about the multitalented Brooke Hyland and the controversy which led to her departure from "Dance Moms".
Early Life, Family, Educational Background
Brooke Marie Hyland was born under the zodiac sign of Aquarius on 30 January 1998, in Murrysville, Pennsylvania USA, to parents Kelly and Randy Hyland. She is of American nationality, and white Caucasian ethnicity.
Brooke has a younger brother, Josh, and sister Paige. Their parents raised her and her siblings in Pittsburgh, where they had their early education.
Brooke Hyland comes from a family of dancers, so it was no surprise that she took dancing as her profession early in life. Brooke started dancing at the Abby Lee Dance Company at a tender age, and finally left the institution in 2014.
As per her education, Brooke matriculated from Franklin Regional high school in 2016, then went on to study at the University of Ohio, where she majored in Marketing and Management Information Systems. While in college, Brooke landed a job through a connection working as a marketing intern for an insurance company, helping the company expand its client base.
She also worked as a Learning Community Leader on campus.
Upon her graduation from college, Brooke toured Europe with some of her friends from college, before moving to Los Angeles.
Career
Dance Moms
In 2011, she starred in the reality TV show "Dance Moms, created to showcase the training and talents of the aforementioned Abby Miller's students. It included the dancers' mothers, and how they factored into the training of their children.
Of all the dancers at the Abby Lee Dance Company, Brooke Hyland was the oldest, and appeared on the show alongside her younger sister Paige and her mother Kelly. Before the show, everyone knew Brooke as Abby Miller's favorite dancer on the team.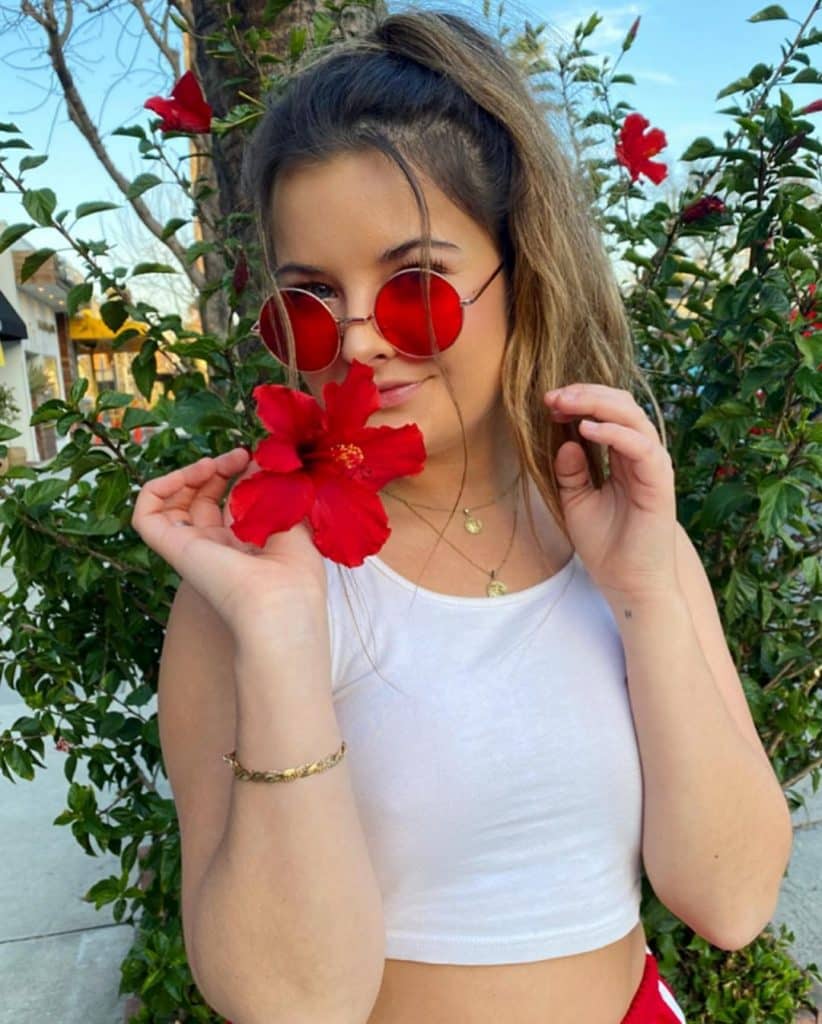 However, as time passed, Brooke gradually lost interest in dancing, and her relationship with Abby experienced a decline, perhaps sparked by Kelly Hyland and Abby Miller having an altercation backstage during the filming of the show's fourth season. In January 2014, Kelly was arrested on the charges of assaulting Abby Miller in November 2013. Kelly pleaded 'not guilty' during a court trial, and all charges were dropped after further deliberation. The Hylands soon left the show; the episode featuring Kelly's altercation with Abby Miller aired on 11 February 2014.
Brooke revealed that being on "Dance Moms" changed her life.
Although it was strenuous, it taught her the right work ethic. After the show, Brooke and her sister quit dancing, but she still stays in touch with some of the "Dance Moms" cast.
Musical Career
Apart from being an accomplished dancer, Brooke Hyland is a pop singer. In 2012, Brooke released her debut single, "Summer Love Song", and subsequently her first, self-titled album.
Some of her popular releases on Spotify are "I Hurt", "Mean to Me" and "Wonder", having about 1 million streams in total. She has over 5,000 monthly listeners on Spotify and over 52,000 followers.
YouTuber
When Brooke left "Dance Moms", she amassed a large following – both haters and admirers alike.
Her newfound fame prompted her to launch her YouTube channel in 2016, subsequently creating a Question & Answer video to acquaint herself with her new subscribers.
Her most popular videos are; "Hyland Sisters Q&A", "Reacting to Dance Moms" (2021), and "What I've been up to since Dance Moms" all in 2021, and having 1.1 million, 872,000, and 398,000 views, respectively.
Brooke's YouTube content focuses on fashion and lifestyle. At other times, she makes videos of herself reacting to her moves in "Dance Moms". She often collaborates with her sister to create fascinating content for her channel.
Since creating her YouTube channel, she's accumulated over 232,000 subscribers, and attracted over 6.2 million views on all her videos combined.
Public Relations/ Influencer Marketing
Upon her graduation from Ohio University, Brooke accepted a role with a fashion brand, working in an entry-level position in the Public Relations and Marketing department.
She soon moved up the corporate ladder to join the team on the Brand Ambassadorship program. The scope of her job at the company included pitching to social media influencers that the company would love to collaborate with.
Personal Life, Relationship
The Hyland parents recently separated – Brooke's father still lives in Pittsburgh with his son Josh, while his estranged wife, Kelly Hyland, lives in Florida. Brooke and her siblings are now adults, so their parents' separation doesn't affect them as much.
In a YouTube video, Brooke and Paige shared that 'they had come to terms with their parent's separation, and it was for the best.'
In the early months of 2021, Brooke relocated to Austin, Texas, because the lifestyle in Los Angeles was just too fast-paced for her. She now lives with her cat and a roommate in Austin, Texas. Her younger sister Paige visits often, but prefers living in Pittsburgh.
Brooke Hyland keeps her love life away from social media; she is yet to declare an interest or a relationship with anyone at this time.
Appearance, Clothing Style
Brooke Hyland has long brown hair and hazel eyes. She is 5ft 1in (1.56m) tall and weighs around 103lbs (47kgs). She likes to dress in a trendy fashion, mostly wearing crop or tank tops with a pair of baggy jeans.
Hobbies, Favorite Things, and Interesting Facts
Brooke enjoys outdoor activities such as walking in nature and hiking.
She loves to swim as well.
She is adventurous, and likes participating in fun and dangerous activities.
She also loves hanging out with friends.
Spicy food and seafood are her favorite kinds of food.
Brooke loves traveling.
She is an ardent supporter of the National Hockey League's Pittsburgh Penguins.
Her favorite color is yellow.
Net Worth and Salary
As of mid-2021, Brooke Hyland has an estimated net worth of $500,000, while her sister Paige wealth is reputedly over $2 million. Brooke doesn't own property yet, as she still lives in a rented apartment in Texas. We will be sure to update this information once there's a change in the situation.