• Callum Robilliard Turner is a talented British actor and model born in 1990 in London.
• He attended St Thomas More Language College and graduated from Middlesex University with a bachelor's degree.
• He broke into the modelling industry in 2010 and starred in "Fantastic Beasts: The Crimes of Grindelwald" in 2018.
• He was in a relationship with his onscreen sister Vanessa Kirby from 2015-2020 and was recently seen with Shailene Woodley in 202•
• His net worth is estimated over $2 million.
Who is Callum Turner?
Callum Robilliard Turner is a talented British actor and model, born on 15 February 1990, in Hammersmith, London, UK. He's been active in the industry since 2010, and gone on to great things including his depiction of Theseus Scamander in "Fantastic Beasts: The Crimes of Grindelwald". But what about his family? Does Callum have children or a girlfriend? Keep reading to find out!
Callum's Early Years & Career Beginnings
Callum grew up in Chelsea, London. His intriguing middle name is a tribute to his mother's friend, poet and contemporary artist David Robilliard, who suffered an untimely death in 1988 at just 36 years of age.
Callum kept away from negative influences, and cites Shane Meadows's teen drama "A Room for Romeo Brass" as the reason he turned his life around for the better. Although we have little information on Callum's father apart from his name, Lex, Callum credits his mother Rosemary with inspiring him to become an actor, and nurturing his love for film.  As for education, the actor attended St Thomas More Language College, and went on to graduate from Middlesex University with a bachelor's degree.
In 2010 at the young age of 20, Callum broke into the modelling industry, shooting for prestigious companies such as Reebok, Burberry, and Next.
In the same year he collaborated with the University of Hertfordshire's Film and Television program with a role in the short student film "Think of England". In 2011 and 2012, Callum stuck to short films with his roles as Tony in "Zero" and Scott in "Human Beings", as well as trying out theatre with a role in "The Color of Home".
Later on, the thespian explored other genres which helped make him the household name he is today.
Callum's Notable Roles
In 2014, Callum joined the cast of E4 drama "Glue" and depicted Eli. The drama's gripping plotline centered around the investigation of a teenager's death in the British countryside.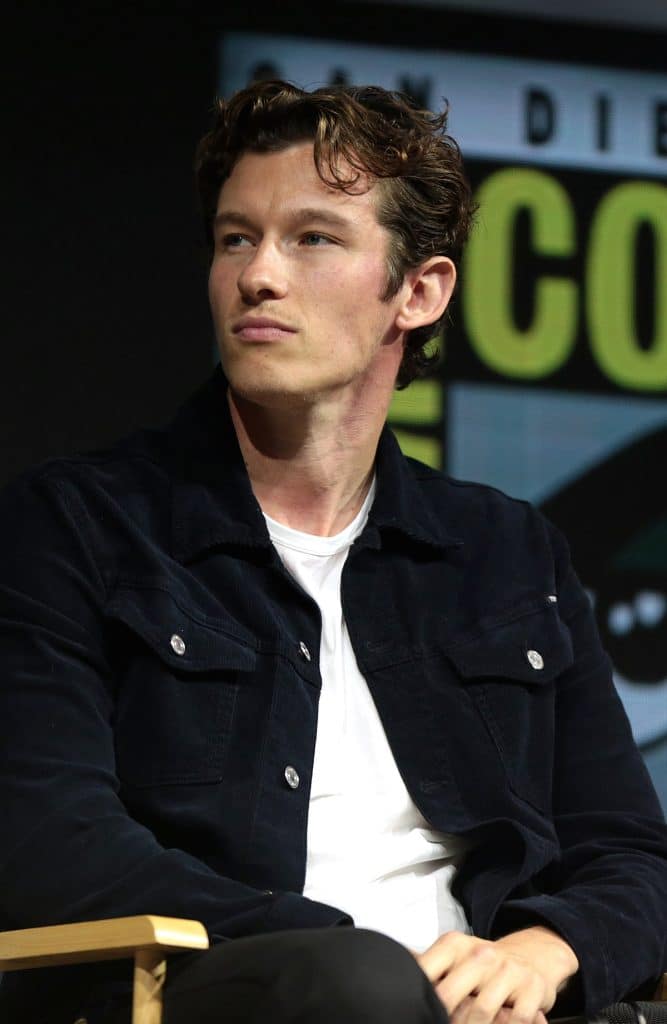 The series ran for one season with eight episodes, and was described as a "whodunnit that will blow your mind". It premiered in 2015 in Australia, and thus broadened Callum's audience.
It's undeniable that 2014 was a good year for Callum, because he also starred in "Queen and Country", another drama which was screened at the Cannes Film Festival. The film was the long-awaited sequel to "Hope and Glory", with many returning cast members. Callum played the part of Bill, a young man who falls in love with a beautiful girl with mental problems named Ophelia. Critics branded the movie "graceful and bittersweet", and some suggested a third volume of the franchise.
In 2018, Callum starred alongside Eddie Redmayne, Ezra Miller, Johnny Depp and others in "Fantastic Beasts: The Crimes of Grindelwald". The fantasy movie, written by J.K Rowling and directed by David Yates, went on to become the tenth highest-grossing film of 2018, pulling in over $650 million worldwide. It was also nominated for two awards at the 72nd British Academy Film Awards, in the Best Special Visual Effects and Best Production Design categories.
Callum's last big role was in 2019 when he joined the cast of "The Capture", a BBC One drama series of six episodes. Callum portrayed the main character, Lance Corporal Shaun Emery, who was accused of kidnapping and murdering Hannah Roberts.
Some critics feel the underrated series didn't receive the popularity it deserved, with Sarah Hughes of The Guardian stating that "if there were any justice, everyone would be talking about "The Capture" right now." For his performance, Callum was nominated for a British Academy Television Award in the Best Actor category, and was also selected to receive a Breakthrough Brits award in 2014.
As for future projects, Callum is set to appear in "The Last Letter from your Lover", currently in post-production stages, and is filming the third film in the Fantastic Beasts franchise, revisiting his role as Theseus Scamander.
Callum's Private Life
Callum was previously dating his onscreen sister Vanessa Kirby.
The pair met in 2014 filming "Queen and Country", and began dating the next year. Before Callum, Vanessa was in a relationship with another of her old co-stars Douglas Booth, after they worked on "Great Expectations" together. The couple dated from 2011 to 2013 and were notoriously lowkey, so it comes as no surprise that Vanessa also kept details of her relationship with Callum under wraps.
In 2017, it was rumored that Vanessa was dating Tom Cruise when photos of them kissing came out. It turns out that they were just filming a scene for "Mission: Impossible – Fallout", but the images created quite a stir due to the age gap – Cruise was 56, Kirby was 29 – and Cruise's fame and messy personal life.
In the end, to put a stop to the rumors, Vanessa was forced to come out and admit that she'd been in a relationship with Callum for two years.
Despite the good relationship between Callum and Vanessa, they broke up in 2020 due to conflicting schedules and "gradually growing apart". It looks like the actor wasted no time, because in January that year he was seen with his "The Last Letter from your Lover" co-star, Shailene Woodley, in a bar in Soho.
The pair were dancing and having fun, but that's not all. Onlookers claim they were "all over each other", and left together after just 45 minutes.
"It was clear that they were all alone," added one anonymous source – "They later hit the dance floor." At the time, Shailene was dating Australian rugby player Ben Volavola, and she's currently engaged to NFL star Aaron Rodgers. As for Callum, we don't know if he's currently dating anyone.
Callum's Net Worth
Reliable sources confirm that Callum's net worth is estimated at over $2 million, which isn't bad going when taking into account the sporadic gaps in his career. With new projects set to come out in the next two years, the figure is set to grow considerably.