• Chad Kroeger is a Canadian singer and guitarist, known best for being the frontman of the pop-rock band Nickelback
• Kroeger grew up in Hanna, Alberta and was introduced to music by his mother
• Kroeger and his bandmates formed Nickelback in 1995 and released their first full-length album in 1996
• Their third album, "Silver Side Up" (2001) was a surprise breakthrough for them, selling more than 10 million copies worldwide
• As of late 2022, Kroeger's net worth is estimated at $80 million
Chad Kroeger Wiki Bio
Chad Rober Kroeger, born in Hanna, Alberta, Canada, on 15 November 1974, is a Canadian singer and guitarist, known best for being the frontman of the pop-rock band Nickelback. Chad joined the group in 1995, and they have since continued to tour and record for more than 20 years now. He has also written songs for other artists, and briefly ventured into solo music.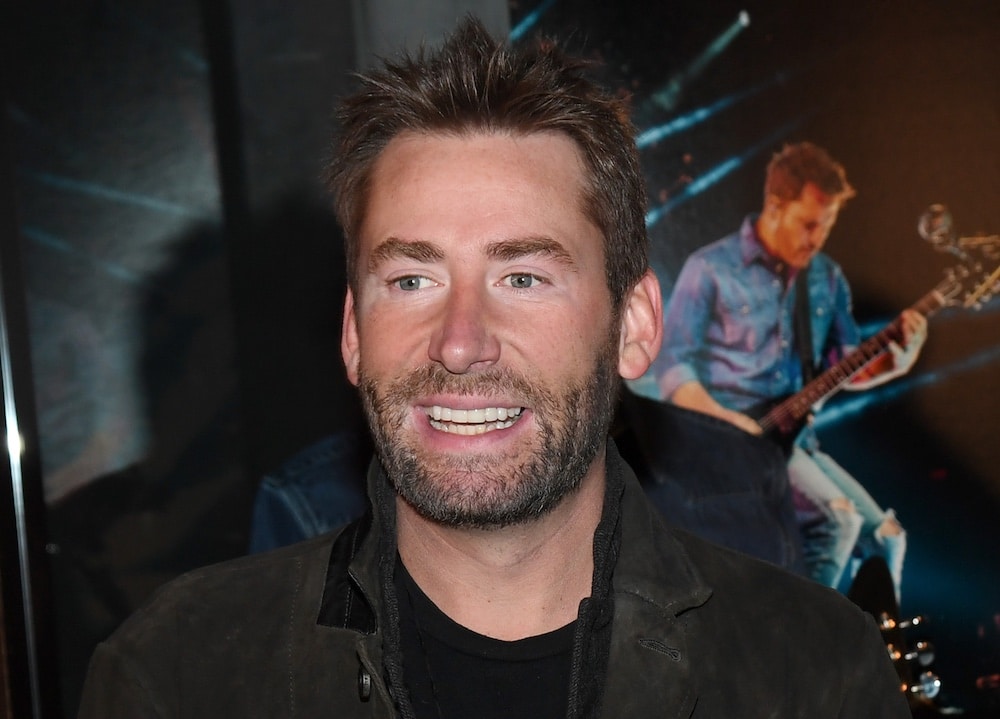 Early life and career beginning
Chad came from an esteemed family. His maternal grandfather, Henry, was a Member of the Legislative Assembly from 1975 through 1987, and was also a musician playing in a local band called Tory Blue Notes. For his contribution to Hanna, the town's water filtration plant was named after him.
Chad and his younger brother, Mike, were raised solely by their mother, Debbie, as their father left when they were toddlers. Debbie worked at a bakery and was also an amateur pianist. She was the first person to introduce Chad to music, and bought him his first guitar when he was 11 years old.
Chad's hometown of Hanna is a small hub for farmers and oil riggers, with a population of just  3,000 people. There weren't a lot of things to do for young people in town, so Chad turned to alcohol and delinquency at a young age, and at one point spent two months in a juvenile detention center. He skipped a lot of classes, and never matriculated high school.
In the early 1990s, Chad, his brother Mike, their cousin Brandon, and their friend Ryan formed a cover band called Village Idiots, which would later be known as Nickelback. In the beginning, the band mostly performed covers of songs by rock bands such as Metallica and Led Zeppellin. They played a lot of their early gigs at a local strip bar known as 'The Nash', and quickly became local celebrities.
Nickelback
In 1995, Chad, Ryan and Brandon moved to Vancouver to join Mike, who was playing in a metal band. They formed Nickelback, releasing their debut extended play (EP) entitled "Hesher" in the following year. At the time, Chad worked as a barista in a Starbucks café, where coffee cost $1.95. When returning change to customers, he would often say 'here's your nickel back', which inspired him to name the band Nickelback.
Also in 1996, Nickelback released their first full-length album called "Curb" through an independent label. As they were promoting their album in local bars and venues, the band caught the attention of a talent scout working for Roadrunner Records and EMI. After three years of negotiations, Nickelback was finally signed in 1999. In the following year, they released their second studio album "The State", which spawned two Top 10 rock hits: "Leader of Men" and "Breathe".
Their third album "Silver Side Up" (2001) was a surprise breakthrough for four young boys from Canada. It sold more than 10 million copies worldwide, and spawned the hit single "How You Remind Me", becoming the second Canadian band in history to top the charts in both Canada and the US, previously The Guess Who, with their song "American Woman" released back in January 1970. According to Chad Kroeger, the incredible success of "How You Remind Me" was no accident; before writing the song, he studied hundreds of chart-topping songs to find out what each of them did right. He said that their song sold so well because it was about a universal subject – love, and had very memorable hooks.
In 2002, Chad and the former Saliva frontman, Josey Scott, released the "Spider-Man" theme song "Hero". The song was a worldwide commercial success, charting in the top ten in 11 countries. Nickelback's following album, "The Long Road" (2003) was also a huge commercial success, gaining the status of certified 3x Platinum – in 2011, "Billboard" magazine included it in their "200 Albums of the Decade" list.
Nickelback changed drummers several times in their early days. In 2005, they finally settled with the former 3 Doors Down drummer, Daniel Adair. Their first album with Daniel on the drums was "All the Right Reasons" released in October 2005, which reached the #1 spot on the Billboard chart, and produced some of the biggest hits in the band's history, such as "Photograph", "Far Away", and "Savin' Me".
The band spent most of the following two years on the road, touring across the world. In 2006, they won their first award – an American Music Award for best rock album. This surprised the band members, who only came to the ceremony to present one of the awards, expecting that the best album title would go to the Red Hot Chili Peppers.
Nickelback has since released five more studio albums, but none of them have achieved the commercial success of their first few albums. Their latest album, "Get Rollin'" came out in November 2022 after a five-year break. Compared to their previous work, this album features a heavier sound, inspired by bands such as Slayer.
On today's show…

Chad Kroeger and Ryan Peake of the Canadian band Nickelback will join the boys in-studio ahead of the release of their new album Get Rollin'! @TSN1050Radio 🍁🇨🇦 pic.twitter.com/c2jBFTAk2o

— OverDrive (@OverDrive1050) September 22, 2022
Despite their undeniable commercial success, Nickelback has been subjected to a lot of criticism from rock fans and music critics, mainly citing the band's simplistic tunes and lack of lyrical depth as the reason behind their disdain. In the 2010s in particular, it seems that the whole Internet had turned against them, with memes mocking their music becoming more and more prevalent. The band have since evolved their sound, and embraced the jokes about their early work.
Aside from being a member of Nickelback, Chad has also been a founding member of The Suits XL since 2001. They released their debut album in 2006, through their independent label 604 Records, which landed them a nomination for a Canadian Indie Award.
Marriage with Avril Lavigne
Chad was married to fellow Canadian rock star, Avril Lavigne from 2012 through 2015. The two met In February 2012, when they were supposed to work on new music together. Their professional relationship quickly turned into something more, and the two eventually started a romantic relationship.
After only a month of dating, Chad proposed to Avril with a famously large 14-carat diamond ring, and the couple married on Canada Day (1st of July) the same year, in a small gothic-themed ceremony in Chateau de la Napoule near Cannes, France. However, issues in their relationship surfaced in 2014, when media outlets reported that the two were considering a divorce. The divorce was finalized in September 2015, but Chad and Avril have stayed on amicable terms and still consider each other as close friends.
Avril has since been connected with the billionaire Phillip Sarofim, and the musician Pete Jonas. As of late 2022, she's engaged to the American musician Derek Ryan Smith, better known as Mod Sum.
Chad's love life has been more of a secret since the divorce, the singer keeping a low profile. He currently appears to be single, and hasn't been married or engaged again.
What is he doing now?
In September 2022, Chad made headlines for revealing the real pronunciation of his name, which shocked many of his fans who seem to have been pronouncing it wrong for years. Although most people tend to say his last name as 'Kr-oh-ger', it's actually pronounced as 'Kroo-ger'. As for why he hadn't corrected this mistake earlier, Chad says: 'I never get time (…) It's so far in by the time I get to say something, I don't actually do it, cause I'm gonna look like such a dick.'
Right now, Chad Kroeger is in the middle of promoting Nickelback's newest album, ironically saying that he's 'ready for the world to hate us again'. Not long after the release, it was announced that Nickelback is to be inducted into the Canadian Music Hall of Fame in March 2023, joining the likes of Celine Dion, Neil Young and Alanis Morisette.
As of late 2022, Chad's net worth has been estimated at a whopping $80 million.