• Orhidea Latifi, also known as Kida, is an Albanian singer born in Rahovec, Kosovo in 1997.
• She holds a Bachelor's degree in economics from the University of Prishtina.
• Her music is a mix of pop, R&B and hip-hop, with Balkan music influences.
• She is currently signed with Sony Records France and has amassed over 1.8 million followers on Instagram.
• As of July 2021, her net worth is estimated at over $500,000.
Kida Wiki Bio
Orhidea Latifi – aka Kida – was born in Rahovec, Kosovo on 21 December 1997 – her zodiac sign is Sagittarius, and she holds Albanian nationality. She's a singer, perhaps known best for singles such as "Mke Rrejt", "Premtimet" and "Boni Zo".
Early life and education
Kida has two sisters named Njomza and Gresa. When she was four years old, she and her family moved to Prishtina, Kosovo, as her father found a job there. She expressed interest in music at an early age, and her parents encouraged her to go to a music school. However, in 201, she graduated from the University of Prishtina with a Bachelor's degree in economics.
Kida is currently still living in Prishtina with her parents.
Career in music
Kida released her debut single "Murder" in January 2014, with the accompanying music video featuring inserts from her debut concert performance at the DMX concert stage in Prishtina. The lyrics were written by Soulkid, and the song was produced by Zzap And Chriss.
In April of the same year, she released her second single in collaboration with the Kosovar rapper MC Kresha, entitled "Come Back Na", with the music video produced by Imagine Films Productions. With the song, she entered three music competitions – "Zhurma Show", "Kosova Fest" and "SVFM". Also in 2014, Kida released two songs in Albanian, "O'njar" and "M'ke Rrejt".
On 21 March 2015, Kida released a music video for her song "Boni Zo", and three months later she collaborated with the rapper Mozzik on his song "Promises", which they performed at "Top Music Awards" and "Zhurma Show" music festivals. In December of the same year, she released her first hit song "S'ki Ide", which reached the #4 spot on the Albanian charts.
In the following year, she released three more hit singles, "Mi Amore" featuring Ermal Fejzullahu, and "Ja Kem Nis" and "Uh Baby" in collaboration with Xhensila, with the latter being her first song to reach the #1 spot in the Albanian charts.
In 2018, Kida released five singles, including "Ti", "Merri Krejt" and "Ka Je".
She also represented Kosovo at the second edition of the Mediterraneanvision Song Contest, held in Athens, Greece in March 2018, placing 13th in the finals with her song "Anderr". In July 2018, we saw her compete at the Mediterraneanvision Song Contest again, this time with the song "Bileta", but unfortunately she didn't qualify for the finals. In the same year, she joined the singer Rita Ora on her European tour.
Mediterraneanvision Song Contest (MSC) is an international song competition inspired by Eurovision Song Contest, featuring the members of the Mediterranean Broadcasting Union.
Each participating country sends one song, which has to be an original song which has been performed live on television. Unlike Eurovision though, the songs aren't performed live at MSC, and the trophy is usually given to the songwriters, instead of performers. The first edition of MSC was held on 26 December 2017 in Athens, Greece.
In 2019, Kida released four singles – "Deja Vu" featuring Lyrical Son, "Tela" featuring Ermal Fejzullahu, "Malli", and "Moti". "Deja Vu" and "Tela" both reached the #1 spot on the local charts, with the music video for "Tela" being Kida's most popular song on YouTube, with more than 86 million views.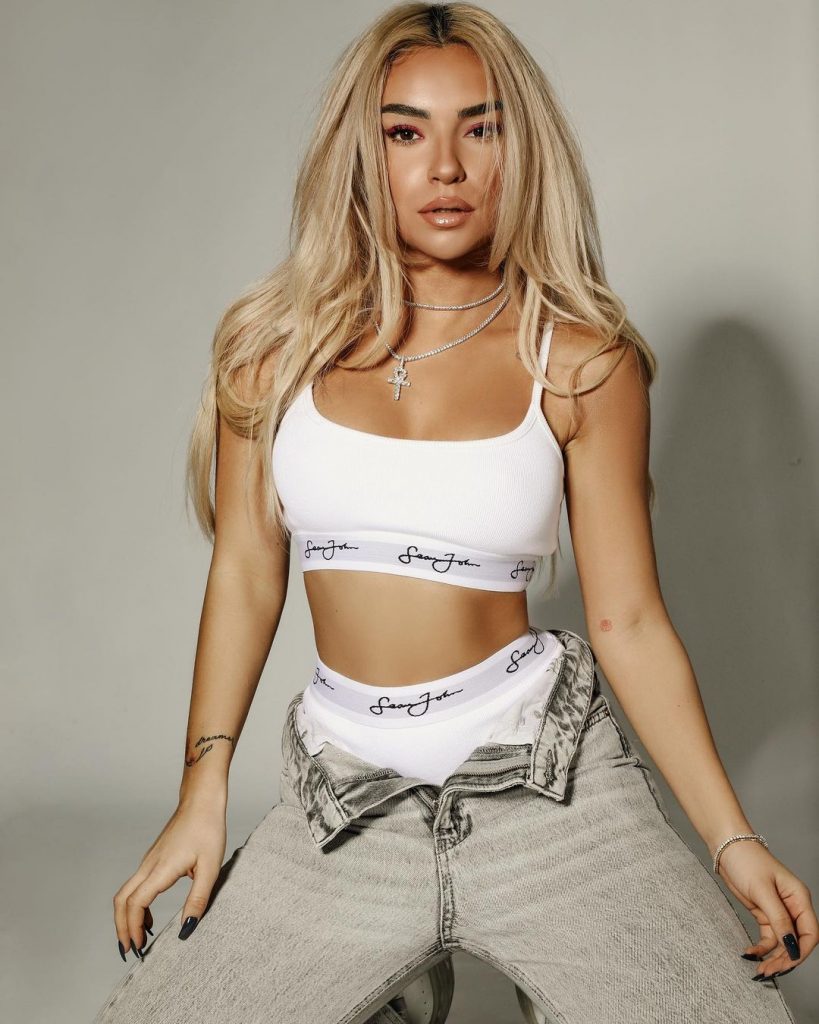 In the following year, Kida signed a deal with Sony Records France, and her songs "Paranoia" and "Pishmon" featuring Mozzik, became her first singles to chart in Switzerland. In 2021, her song "Lila" featuring Samra, charted in Austria, Germany and Switzerland, opening the door to an international career for Kida. She released her newest single, "Dale" featuring Butrint Imeri and Ledri Vula, in June this year; it reached #3 spot on the Albanian charts, and #19 in Switzerland.
Kida's music is a mixture of pop, R&B and hip-hop, with Balkan music influences. Although she's had a number of hit singles, she is yet to release a full-length album.
Kida is very popular on Instagram, with her account numbering more than 1.8 million followers and over 180 pictures, as of July 2021.
She posts a lot of pictures from her travels, and it's apparent that she has a relatively luxurious lifestyle. She can often be seen posing in front of cars, and showing off her slim figure in a swimsuit.
Kida also has a YouTube channel onto which she uploads her music videos. It numbers more than 270,000 subscribers and almost 280 million total views, with some of her most popular videos being music videos for songs "Tela", "PP" and "Deja Vu".
Love life and relationships
Kida is a very private person who prefers not to talk about her love life publicly, thus not a lot is known about whom she might have dated.
On her Instagram page, she can mostly be seen posing alone, which has led to some of her fans wondering if she might be hiding her significant other half from the public. However, she's revealed that she's focused on herself and her career, and that she is not willing to date anyone at the moment.
Kira currently appears to be single, hasn't been married or engaged, and doesn't have children.
Hobbies and interesting facts
Kida loves to travel, and has visited numerous destinations in the past few years, including Dubai, Los Angeles and Milan.
She takes an interest in cars, as seen on her Instagram account. She owns a black BMW SUV model, and has said that she would like to buy a Lamborghini one day.
Kida is a huge fan of R&B singers such as Drake, Rihanna and Justin Bieber, with some of her favorite songs being "Diamonds" by Rihanna and "That's What I Like" by Bruno Mars. She is also inspired by the international success of fellow pop stars from Kosovo, Dua Lipa and Rita Ora, and hopes to reach their level of fame in the future.
Height, age and net worth
Kida is 23 years old, with long blonde hair and brown eyes; she's 5ft 9ins (1.75m) tall, and weighs around 126kgs (57kgs).
As of July 2021, her net worth is estimated at more than $500,000.