• Ed Speleers is an actor and producer from Sussex, England who is known for his roles in "Outlander" and "Downtown Abbey"
• He has two older half-brothers, and showed interest in acting at an early age, performing in school plays and writing a play during his time at Eastbourne College
• He has starred in a number of movies, including "Eragon", "Love Bite", "Remainder", and "Alice Through the Looking Glass"
• He has also starred in a number of TV series, including "Echo Beach", "Downtown Abbey", and "Outlander"
• He is 33 years old, has two tattoos, and has an estimated net worth of $4 million
Who is Ed Speleers?
Edward John 'Ed' Speleers was born in Sussex, England, on 7 April 1988 – his zodiac sign is Aries, and he holds British nationality. He's an actor and a producer, perhaps known best for having starred in TV series such as "Outlander" and "Downtown Abbey".
Early life and education
Ed's parents divorced when he was three years old, following which Ed moved to London with his father, while his mother moved to Spain. He has two older half-brothers on his mother's side.
Ed showed interest in acting at an early age, and while he was still in high school appeared in school productions of "A Midsummer Night's Dream" and "Richard III". In 2006, he graduated from Eastbourne College in Sussex.
During his time there, he wrote the play "Retribution", which was performed at his college. The play dealt with the subject of pedophilia, and was highly controversial.
Roles in movies
Ed made his debut film appearance in the 2006 adventure "Eragon", directed by Stefen Fangmeier, and based on the eponymous novel by Christopher Paolini. Although this was his first professional role, he played the main character Eragon, and was praised by critics for his performance. He also voiced Eargon in the subsequent video game, released in the same year.
After having starred in several short movies for a few years, in 2012, we saw Ed play one of the leads in the romantic comedy horror "Love Bite", written by Ronan Blaney and Cris Cole, and directed by Andy De Emmony.
Two years later, he played the lead character Sam, who is running a credit card fraud scheme in the crime action comedy "Plastic", which also starred Will Poulter and Alfie Allen.
In 2015, Ed played another leading role, in the critically-acclaimed drama "Remainder", based on a novel by Tom K. McCarthy, and directed by Omer Fast. In the following year, he starred alongside Johnny Depp and Helena Bonham Carter, in the Disney live action fantasy "Alice Through the Looking Glass", directed by James Bobin.
Ed also starred in the 2017 biographical drama "Breathe", based on the story of Diana and Robin Cavendish, and which had Andrew Garfield and Calire Foy in leading roles.
One year later, he appeared in Lars Von Trier's horror crime drama "The House That Jack Built", centered on a highly intelligent serial killer, graphically depicting his murders.
His most recent film role was in the 2019 anthology horror thriller "Dark Whispers: Volume 1", consisting of three separate segments.Currently in mid-2021, Ed is set to star alongside "Game of Thrones" stars Nikolaj Coster-Waldau and Charles Dance in the historical drama entitled "Against the Ice", about the Danish claim to Greenland.
Roles in TV series
Ed made his first TV series appearance in the 2008 British soap opera "Echo Beach", also starring Martine McCutcheon and Jason Donovan, following which he starred as himself, in the comedy drama following the fictional production team working on "Echo Beach", entitled "Moving Wallpaper", as well as in an episode of its predecessor short series "Moving Wallpapers: The Mole".
In 2009, he played Robin Cecil Byng in an episode of the Japanese biographical drama "Shirasu Jiro: Man of Honor", which was set during the conclusion of World War II. Between 2012 and 2014, Ed starred as James Kent in 17 episodes of the historical drama "Downtown Abbey", written and created by Julian Fellowes. The series is set in the post-Edwardian era, following the lives of the aristocratic Crawley family, and aired for six seasons from September 2010 until December 2015. It's today considered one of the most internationally successful British series of all time, having won 15 Primetime Emmys.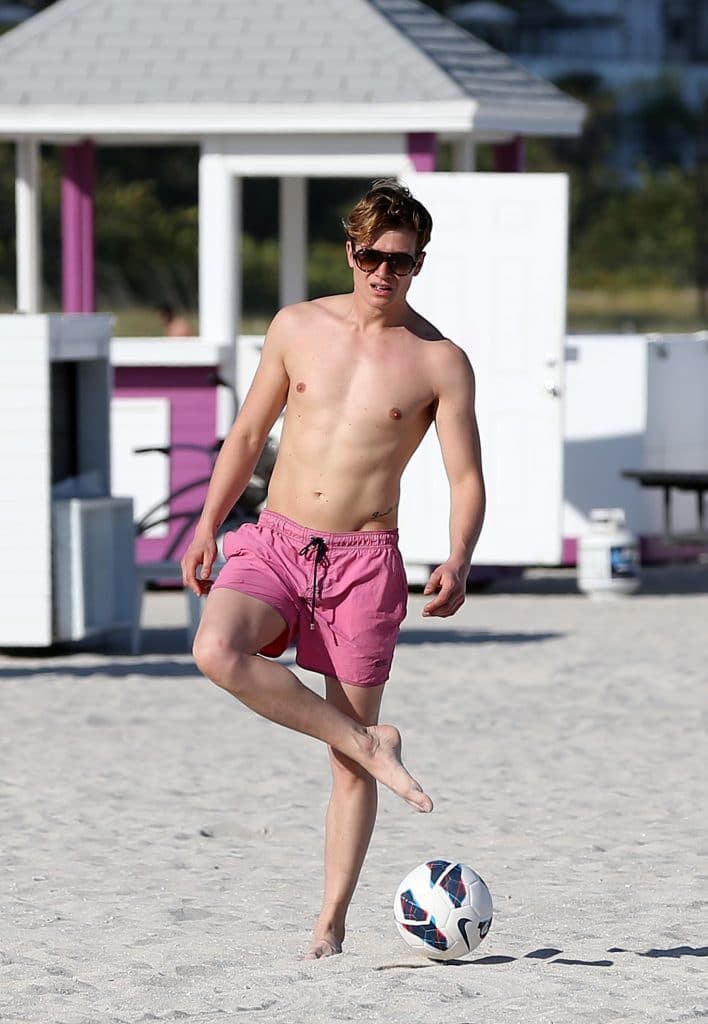 In 2016, Ed played one of the leads in the action adventure drama "Beowulf: Return to the Shieldlands", loosely based on the Old English heroic poem "Beowulf". Since 2014, he has been starring in the romantic fantasy drama "Outlander", created by Ronald D. Moore, and also starring Caitriona Balfe, Sam Heughan and Duncan Lacriox. The series is based on the ongoing eponymous novel series by Diana Galbadon, and follows a military nurse from 1945, who is transported back in time to 1743. It's been airing for five seasons on Starz Network, since 9 August 2014, with its sixth season scheduled to premiere in 2022.
Other credits
In 2016, he voiced the character Daniel Edwards, in the first-person shooter video game "Battlefield 1".
Ed is credited as the producer of two short movies – "Wale" in 2018, for which he was nominated for a British Academy Film Award (BAFTA) for the Best Short Film, and "Dad Was" in 2020.
Love life, wife and children
Ed is married to Asia Macey, who works as a wardrobe director. They apparently met when Ed was filming "Downtown Abbey", while Asia was working behind the camera. It's unclear when the two exchanged vows, but they have been together for a while, and it's rumored that they married in 2014, since that's when Ed started referring to Asia as his wife.
They have two children together, a son and a daughter, and the family is currently residing in Bristol, England.
Hobbies and interesting facts
Ed is a huge fan of the British rock band The Rolling Stones, and has revealed that he would love to play frontman Mick Jagger in a biopic about him. He attended the 2018 'Thru The Stones' convention, showing off his 'Jagger' moves to his fans.
In 2011, he ran the London Marathon, finishing the race in 3 hours and 40 minutes.
Ed is an avid supporter of the soccer club Tottenham Hotspur. He's been watching their games since he was in elementary school, and loves to support them live, whenever he has a chance.
He has two tattoos – on his wrist a tattoo of a nautical star, which he dedicated to his five best friends, who also have a matching tattoo. On his left hip, he has the words 'Ramble On' tattooed inspired by his favorite song by Led Zeppelin.
Ed is an ambassador for the UK charity YouthNet, which is committed to providing support for families in the British foster care system.
Appearance, age and net worth
Ed is 33 years old. He has short brown hair and brown eyes, he's 5ft 10ins (1.78m) tall, and weighs around 168lbs (76kgs).
As of July 2021, his net worth is estimated at more than $4 million.