• Flex Alexander is an American actor, dancer and comedian
• He is best known for his role in the TV series "One on One" (2001-2006) and the television movie "Man in the Mirror: The Michael Jackson Story" (2004)
• He was born in 1970 in Harlem, New York City
• He is married to R&B singer Shanice Wilson and they have two children
• Flex Alexander's net worth is estimated to be around $1 million.
Who is Flex Alexander?
Flex Alexander is an American actor, dancer and comedian who is perhaps still best known to the world as Mark 'Flex' Washington in the TV series "One on One" (2001-2006), but also as Michael Jackson in the television movie "Man in the Mirror: The Michael Jackson Story" (2004), in addition to many other notable roles in which he has appeared in his career.
Flex Alexander Bio: Age, Childhood, and Education
Born Mark Alexander Knox on 15 April 1970 under the Aries zodiac sign, in Harlem, New York City USA, the son of Robert Whitehead and Alethia Knox, he grew up in South Bronx housing projects, and as a teenager he started dancing in New York nightclubs, thus earning the nickname 'Flex' that would stick throughout his career.
Soon he was spotted by DJ Spinderella, and began touring as a backup dancer with rap trio Salt-n-Pepa for the next three years, and during this time he also showcased his ability by creating choreographies for such stars as Mary J. Blige, and Queen Latifah.
Career Beginnings
Before he started pursuing acting, Flex wanted to try out as a stand-up comedian, and with a few comedy routines, he became a regular in the comedy sketch show "Uptown Comedy Club" in 1992. The same year, Flex made his acting debut in a minor role in the action crime-drama film "Juice", starring Tupac Shakur, Omar Epps and Jermaine Hopkins.
In 1993 he secured his first recurring role, as Reggie Coltraine in the TV comedy series "Where I Live", then from 1996 until 1997 he portrayed Tyberius Walker in the TV series "Homeboys in Outer Space", starring in all 21 episodes of the sci-fi comedy series.
He continued quite successfully, and before the end of the '90s Flex featured in the TV action crime-drama series "Total Security" (1997), starring James Remar, Jim Belushi and Debrah Farentino, while in 1999 he appeared in the romantic comedy film "She's All That", starring Rachael Leigh Cook, Freddie Prinze Jr. and Matthew Lillard, and the same year starred in the drama film "Santa & Pete", next to Hume Cronyn and James Earl Jones.
The 2000s and Rise to Stardom
Flex quite successfully into the new millennium, first as Darnell Wilkes, husband of Maya Wilkes in the TV comedy series "Girlfriends", however, he only featured in the first season, but the reason behind his walkout was the production of the series that he wrote – "One on One". He starred as single father Mark 'Flex' Washington in the comedy series from 2001 until 2006, receiving two Bet Comedy Award nominations and two NAACP Image Award nominations. Flex's next popular role was as Michael Jackson in the VH1 television biopic about the king of pop, entitled "Man in the Mirror: The Michael Jackson Story", which got him another NAACP Image Award nomination.
Flex carried on with popular roles, first appearing in the action film "Snakes on a Plane" in 2006, co-starring Samuel L. Jackson, while in 2007 he appeared in the horror film "The Hills Have Eyes 2". After this, he became busy with other interests and didn't have much success on screen. However, he returned in 2013 with the lead role in the comedy film "My Sister's Wedding", and two years later appeared in the drama film "Soul Ties". In 2016 he guest-starred in the fantasy crime-drama series "Lucifer", and the next year starred in the short-lived comedy series "Lawd Have Mercy", then in 2018 guest-starred in the TV series "Grey's Anatomy".
In recent years, Flex starred in the thriller film "Trigger" (2020), and guest-starred in the TV comedy series "Mixed-ish" (2020-2021), while also in 2021 he was Derek in the TV comedy series "Kenan", starring Kenan Thompson, Chris Redd, and Kimrie Lewis.
Personal Life
Flex is a married man and a father of two children. Since 19 February 2000, Flex Alexander has been married to R&B singer Shanice Wilson – the two have been together since October 1999, and married after four months of dating. The couple has welcomed daughter Imani Shekinah Alexander-Knox, and son Elijah Alexander-Knox.
Net Worth
As of mid- 2021, Flex Alexander's net worth has been estimated to be around $1 million, earned through his successful career as an actor, during which he's appeared in more than 55 film and TV titles, all of which have added to his wealth.
Appearance and Vital Statistics
This prominent actor has black hair and dark brown eyes. He stands at a height of 6ft 3ins (1.9m), while he weighs approximately 182lbs (83kgs), with vital statistics of 42-34-16.
Hobbies and Interests
Dancing has remained his biggest passion and still does choreographies and dances whenever he can. He has showcased his dancing talents in a few acting projects, which have helped his career.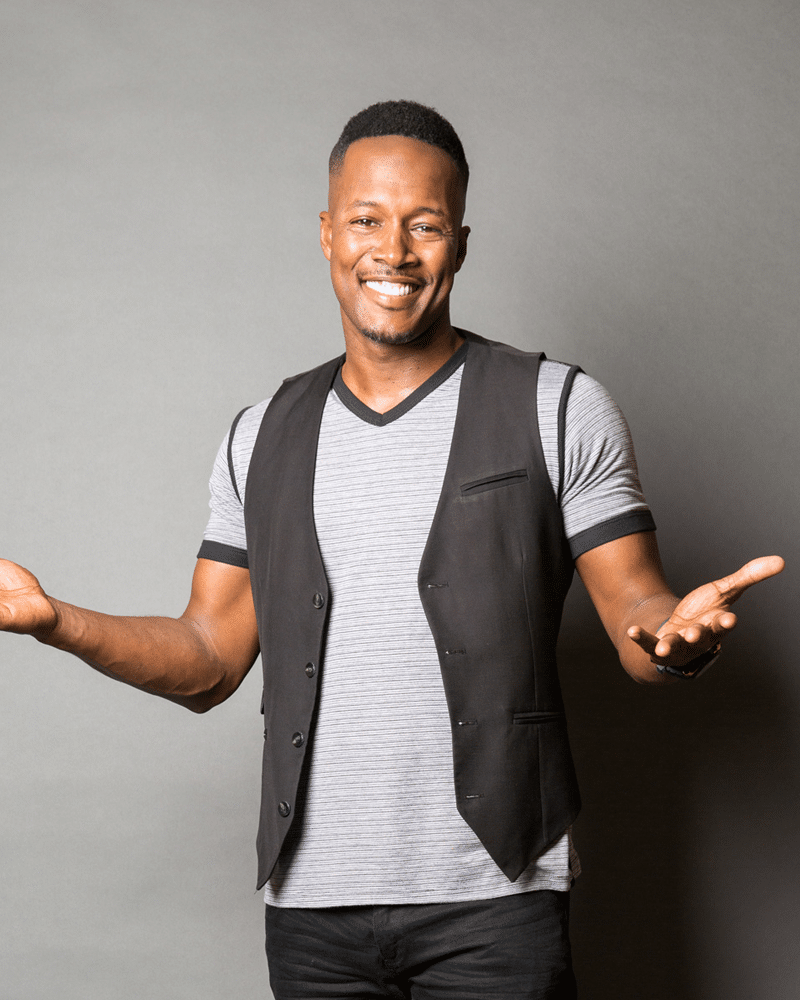 He also loves photography, and has launched his own photography media agency. He spends a lot of time outside and beaches are his favorite destinations to relax.
He is a sports guy and enjoys playing basketball, but also says pool as one of his favorite sports.
Flex Alexander's Wife, Shanice Short Bio
Born Shanice Lorraine Wilson on 14 May 1973, in Pittsburgh, Pennsylvania USA, she is the daughter of Crystal, while there is no information about her father. She spent her childhood in Los Angeles, California, as she relocated there with her mother and aunt in pursuit of a career in the music industry.
She started singing at a young age, and made her first appearance as a nine-year-old in a Kentucky Fried Chicken commercial, next to Ella Fitzgerald.
Her debut studio album "Discovery" came out when she was just 14 years old, and spawned hits such as "(Baby Tell Me) Can You Dance" and "No ½ Steppin'". Three years later, she signed a contract with Motown Records, and in 1991 her second album "Inner Child" was released. The single "I Love Your Smile" was on the album, and it became her best-known single to date. Since then, she's released three more albums "21… Ways to Grow" in 1994, then "Shanice" (1999), and "Every Woman Dreams" in 2006, but none achieved the success of her second album, which achieved gold status in the US.
She didn't release new music until 2019, when the new single "He Won't" came out, but has worked with other musicians as a back-up singer. This includes close work with Toni Braxton, Usher, and many others.
Furthermore, Shanice is an accomplished actress, with roles both on stage and on screen. She was the first black Eponine in the musical "Les Miserables" on Broadway, while she also guest-starred in the series "One on One", and featured in the reality show "Flex & Shanice" about her and her husband's daily life.
According to sources, Shanice's net worth has been estimated to be around $250,000 as of mid- 2021. She has black hair and brown eyes, stands at 5ft 5ins (1.65m), while she weighs approximately 143lbs (65kgs), and her vital statistics are 32-30-36.