Monica Lewinsky:
• American social activist, television personality, and former White House employee
• Became famous due to the Clinton-Lewinsky scandal in the 1990s
• Earned $1 million from an exclusive interview with Barbara Walters
• Collaborated with the diet company Jenny Craig
• Hosted a reality TV dating show and appeared in other television shows
• Started a line of handbags sold in stores
• Became an ambassador and strategic advisor for Bystander Revolution
• Joined the #MeToo movement
• Has a net worth of $1.5 million
Monica Lewinsky is an American social activist, television personality and former White House employee. She was shot to a sort of celebrity status following the Clinton-Lewinsky scandal that put her in the public eye in the 1990s. Two decades later, Monica is taking a stand against cyberbullying, while trying to keep her personal life away from the media.
Keep reading to find out how rich Monica Lewinsky has become, this year.
Early Life, Family, Educational Background
Monica Samille Lewinsky was born on 23 July 1973 in San Francisco, California USA. Her father, Benard Lewinsky was of German descent and an oncologist, while her mother Marcia Kay Vilensky (now known as Marcia Lewis) was a Jewish-American author. Monica and her only sibling Michael, grew up in Beverly Hills, in Los Angeles. The Lewinsky family lived in comfort, given their parents' lucrative jobs. Monica's was a traditional Jewish family, and she attended a religious school for a while.
Monica's education was not a simple progression; she often moved between schools for undisclosed reasons. Her elementary education was at the John Thomas Dye School in Bel-Air, Los Angeles. She also attended the Sinai Akiba Academy, an affiliate of the Sinai Temple where her family worshipped.
For the first three years of her high school education, she attended Beverly Hills High School, then transferred to Bel-Air Prep where she matriculated in 1991.
When Monica was in high school, her parents started having troubles in their marriage. Between 1987 and 1988, they went through a bitter separation and divorce, which undoubtedly affected Monica as she was still dependent on her parents.
Upon her matriculation from high school, Monica enrolled at the Santa Monica College where she studied for two years.
While she was a student at the community college, she also worked at a tie shop, and the drama department of Beverly Hills High School, where she once studied.
She was accepted into Lewis and Clark college, Portland Oregon in 1993, and two years later graduated with a Bachelor's degree in Psychology.
Career
Everything that went right or wrong in Monica Lewinsky's life, is said to have started in the White House. She had an unpaid internship position in the office of the White House Chief of Staff, Leon Panetta, through a family connection. She took the position in July 1995 and moved to Washington D.C. In December 1995, she became a paid employee at the White House Office of Legislative Affairs, and Monica was transferred from the White House to the Pentagon in 1996, because her superiors felt that she was spending too much time around the president.
While at the Pentagon, she served as an assistant to chief spokesman of the Pentagon, Kenneth Bacon.
The Clinton-Lewinsky scandal came up when lawyers were trying to establish a pattern of sexual misconduct by Bill Clinton. They used this to argue in favor of Paula Jones, who was an employee of Arkansas state while Bill was governor. Monica confided in her co-worker, Linda Tripp about her affair with Bill Clinton. At some point in September 1997, Linda started to record her telephone conversations with Monica; due to the sensitivity of the rumours, Monica resigned from her position at the Pentagon in December 1997.
Monica denied having a relationship with the president, in an affidavit submitted to the court for the Paula Jones' case. She also tried persuading former co-worker Linda Trip, to lie under oath.
Linda submitted the tapes of their conversation to the independent counsel Kenneth Starr, who was investigating the president's Whitewater real estate controversy at the time. She also convinced Monica to keep the gifts which the president had sent to her, and refrain from dry cleaning a blue dress which had Bill's semen on it.
Bill Clinton denied under oath having a sexual relationship with Monica Lewinsky, in a press conference which was held in January 1998. As soon as the independent counsel presented the evidence of sexual encounter on Monica's blue dress, Bill retracted his statement. He admitted to having an inappropriate relationship with former White House employee, Monica Lewinsky.
The duo testified before a grand jury, where Monica was granted transactional immunity. The scandal resulted in Bill Clinton's impeachment, and the full attention of the media on Monica.
Over the next couple of months, the noise about the case died down; people were still desperate to hear Monica's side of the story, but the immunity agreement was a major restriction.
However, Andrew Morton wrote a biography of Monica, "Monica's Story", and during the creation of the book, Monica was able to share with Morton her own side of the story, regarding the Clinton-Lewinsky scandal. She made about $500,000 for her contribution to the book.
Television Shows/Commercials
On 3 March 1999, Monica Lewinsky was interviewed, by Barbara Walters for the "20/20" show, broadcast on ABC network. Everyone wanted to hear what the 'woman of the moment' had to say. The interview was watched by 70 million Americans, making it the most watched interview in the world.
Monica's international rights to the exclusive interview with Barbara Walters, made her $1 million richer, and on 8 May 1999, she was a guest on NBC's "Saturday Night Live".
At the beginning of the year 2000, she collaborated with the diet company, Jenny Craig Inc. The contract involved her appearance on television commercials for the company, and losing at least 40 pounds within six months. She was entitled to $1 million upon successful completion of the contract. Her involvement with the diet company caused a lot of controversy, so the deal was cut off, and she was only paid $300,000 of the initial $1 million agreed.
By 2002, Monica was free from the restrictions included in the transactional immunity offered to her by the Office of the Independent Counsel. She appeared in an HBO documentary, "Monica in Black and White" in March of 2002, answering questions from the audience regarding the Clinton-Lewinsky scandal.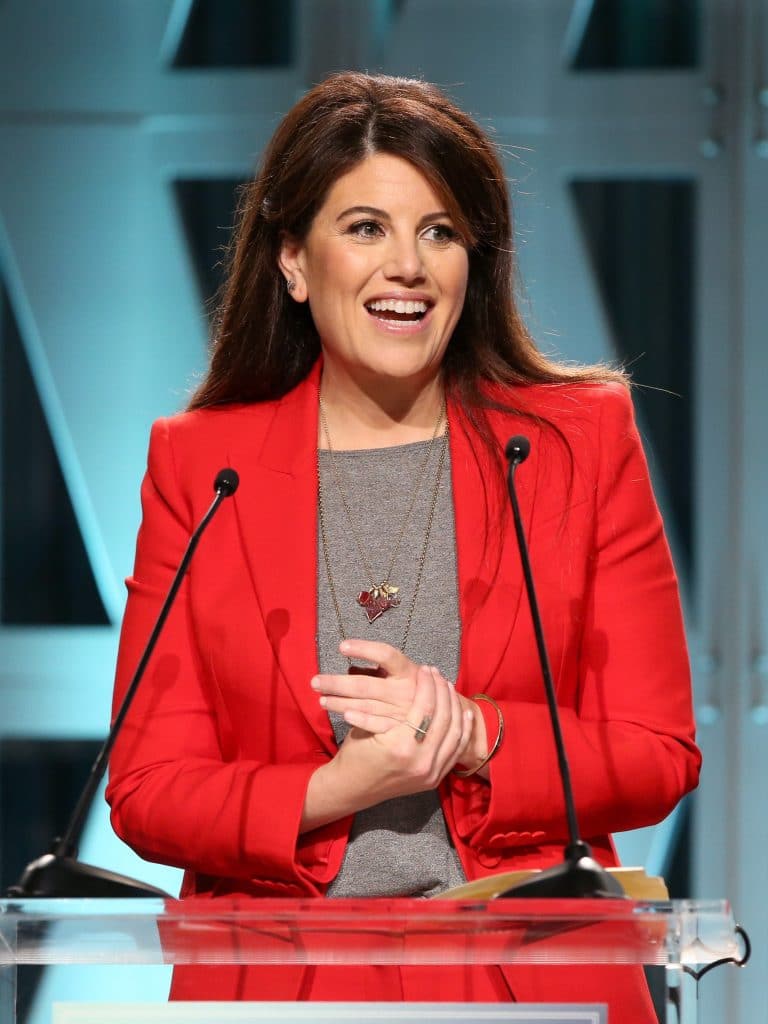 In 2003, Monica Lewinsky hosted a reality TV dating show, "Mr. Personality" on Fox TV. She also appeared in other prominent television shows, including "Jimmy Kimmel Live", "V Graham Norton", "The View", and many others.
In 2014, Monica appeared in a special television show – "The 90s: The Last Great Decade" – aired on the National Geographic Channel, interviewed for her role in the scandal and her life. No doubt, the Clinton-Lewinsky scandal was a major event of the '90s.
Entrepreneurship
Monica dabbled in entrepreneurship when the media attention frustrated her efforts to move on from the scandal. She had incurred debts from the court case against Bill Clinton, and many companies were unwilling to hire her.
When Monica decided to start making handbags for sale, the family pitched in to help as much as they could. Her mother connected her with the fashion industry, while her brother helped her set up a website to advertise her business and accept payment.
Her line of handbags was sold on her website 'therealmonicainc.com', in Henri Bendel stores, Fred Segal and The Cross. When public attention became unbearable, she stopped the sale of her line of handbags, then moved to London.
Activism
When Monica moved to London in 2005, she enrolled at the London School of Economics to study Social Psychology, and a year late graduated with a Master of Science degree. She kept a low profile for some years, to recover from the trauma she'd suffered. In 2014, she re-emerged into the public eye, courtesy of an essay she wrote for Vanity Fair, on "Shame and Survival".
Monica became a social activist against cyber-bullying and harassment, her public stand inspired by Tyler Clementi's suicide story. He was a freshman at Rutgers university and a victim of cyberbullying.
"There's an authority figure and voice that has been missing from the COVID-19 conversation since day one: a mental health commissioner or czar. In other words, a mental health version of Anthony Fauci" The Forgotten F-Word in the Pandemic | Vanity Fair https://t.co/NNqXUgEd9S

— Monica Lewinsky (she/her) (@MonicaLewinsky) October 1, 2020
She spoke to Vanity Fair on being the '…first (non-public personality) to have my reputation savaged by the virality of the web…' This inspired her even more to reach more people, and let them know the dangers of cyberbullying.
She gave a TED talk on cyberbullying in March 2015, and received a standing ovation. Again, at a FORBES "30 under 30" event, Monica spoke to the audience on cyberbullying. On 8 June 2015, the anti-bullying organization Bystander Revolution announced Monica Lewinsky as its ambassador and strategic advisor. In October 2017, Monica joined the #MeToo movement trending on Twitter, used to spread awareness of sexual assault and harassment.
Monica has continued to speak up against cyberbullying and the shame culture in our society.
Personal Life, Relationship
Nothing would make Monica Lewinsky happier than to permanently keep her personal life away from the spotlight. She seems to be doing a great job of it so far. Details of her personal life and relationships are undisclosed at this time.
Appearance, Clothing Style
The 48-year-old is 5ft 6ins (1.68m) tall, and weighs about 160lbs (72kgs). She has dark brown hair and brown eyes.
Monica loves to wear gowns in different colours and designs – she wears a gown and a smile in every picture.
Hobbies, Favorite Things and Interesting Facts
Monica enjoys knitting as a form of stress relief.
She gave a dollar to charity for each handbag sold in her fashion line.
She suffers from Post Traumatic Stress Disorder (PTSD) due to the backlash she faced from people in the '90s.
Monica once declined an autograph request, reason being that she became popular for the wrong reason.
Net worth and Salary
Monica's current net worth is estimated at $1.5 million. Aside from her anti-bullying campaigns, her personal and professional projects remain undisclosed. There are no details of property owned by her or her family.