• Lindsie Chrisley is a reality TV star from South Carolina and Will Campbell is a reality TV star from Atlanta, Georgia.
• Lindsie and Will eloped and married in secret in 201•
• In 2016, Lindsie filed for divorce from Will, but the two reconciled in 2018 and are living together in Atlanta with their son Jackson.
• Will graduated from Georgia State University and plays various sports.
• Todd Chrisley has been accused of tax evasion, wire fraud and conspiracy and might be sentenced to up to 30 years in jail if found guilty.
Who are Lindsie Chrisley and Will Campbell?
Lindsie Chrisley was born in South Carolina USA, on 17 September 1989 – her zodiac sign's Virgo, and she holds American nationality. She's a reality TV star who's probably known best for her starring role in the reality TV series "Chrisley Knows Best", which has been airing since 2014 and today numbers over 170 episodes. It also stars her grandmother Faye Chrisley and her half-brother Grayson Chrisley, and follows the life of her father Todd, her stepmother Julie and her five siblings (one biological).
Will Campbell was born in Atlanta, Georgia USA in 1989 – he hasn't disclosed his exact date of birth, but his zodiac sign's said to be Capricorn, and he holds American nationality. He's also a reality TV star, who has appeared in various episodes of the show "Chrisley Knows Best".
The history of their relationship
Back in January 2012, Lindsie and Will chose not to tell their families about their plans to marry. And so eloped – ran away and married in secret. Lindsie's father Todd Chrisley, an American real estate tycoon, wasn't happy about the two's actions, as he has stated in an interview with the magazine "E! News": 'I had a problem with the way the marriage started. Not just on Will's side but on my daughter's side as well. I don't think that the marriage started out the way that it should have, and certainly not the way that a father would like to see a marriage start'. Todd has recently been having problems of his own, as he's been accused of several frauds, has lost all his money, and as of March 2021 is allegedly in debt of $5 million.
According to Todd, he expected Will to knock on his door and ask for his daughter's hand, but this never happened.
When the problems started
In 2013, Lindsie gave birth to their son Jackson, and because she and Will devoted most of their time to their little boy, their marriage began to suffer and they drifted apart. They struggled for three years to keep their romance alive and the marriage healthy, however, Lindsie filed for divorce in 2016, and later stated for the magazine "People": 'He was my first love. We got together when we were 19 years old, and over time, we grew separately in different directions instead of together'.
Lindsie went on to date other men, and things became complicated in August 2019 when her half-brother Chase Chrisley and her father threatened to release a sex tape featuring her, Josh Murray and Robby Hayes (reality TV stars known for their appearance in the franchise "The Bachelor").
It was reported that the tape was made while Lindsie was still married to Will, and Lindsie then turned to the sheriff claiming that her brother and father bought the tape just to be able to blackmail her. When Josh and Robby were asked about the tape, they denied making it, but that the footage was rather caught by Lindsie's friend's security camera in her living room.
Reconciling with Will
Lindsie and Will got back together in early 2018 (over a year before the tape incident) and their divorce was never finalized as they filed for it and cancelled it twice. They have since been together and Will has apparently turned a blind eye to the tape which features Lindsie and the two men.
Lindsie, Will and their son Jackson, are living together in Atlanta – Lindsie has claimed on her social media accounts that she and Will are planning to have more children.
More about Will Campbell
Will was raised in Atlanta alongside his younger brother Taylor and his older brother, by their parents about whom nothing is known as they prefer to stay away from the media's attention.
He studied at Alexander High School located in Douglasville, Georgia, and upon matriculating in 2017, Will enrolled at Georgia State University, and it was there that he met Lindsie. He obtained his Bachelor's degree in economics in 2011, and then found a job to financially support himself. During his time at Georgia State, Will played baseball for the university's team, and considered going professional.
Will's today staying away from the media's attention, while it's known that he's physically very active as he has multiple training sessions at the gym each week, thus his muscular body. He also plays various sports with his friends, including football and basketball.
Will loves to travel and he and Lindsie have been to many US states for both work and pleasure.
His age is 31. Will has short brown hair and brown eyes, his height is 5ft 9ins (1.76m) and he weighs around 165lbs (74kgs). As of March 2021, his net worth has been estimated at over $400,000.
More about Lindsie Chrisley
When Lindsie was seven, her father was accused of abusing her mother both physically and verbally, and the two then divorced in 1996. Todd and his second wife Julie Chrisley then adopted Lindsie, and she was raised alongside her biological brother Kyle and three half-siblings. Lindsie's very close to her stepmother, and supported her while she fought and eventually won her battle against cancer.
Lindsie graduated from Georgia State University in 2011, and then worked various jobs before choosing to focus on her family's reality TV show – "Chrisley Knows Best". Because of her marriage with Will, she got into a fight with her father as well as the rest of the family, and in 2017 Lindsie chose to quit the show which resulted in its ratings dropping – it's believed that this is when her father and brother threatened to release her sex tape. As she was used to being a reality TV star, Lindsie decided to launch her podcast, and today she's co-hosting the podcast entitled "Teen Mom with Kailyn Lowry".
There are rumors circulating the internet claiming that Lindsie's thinking about returning to her family's show, but these haven't been confirmed.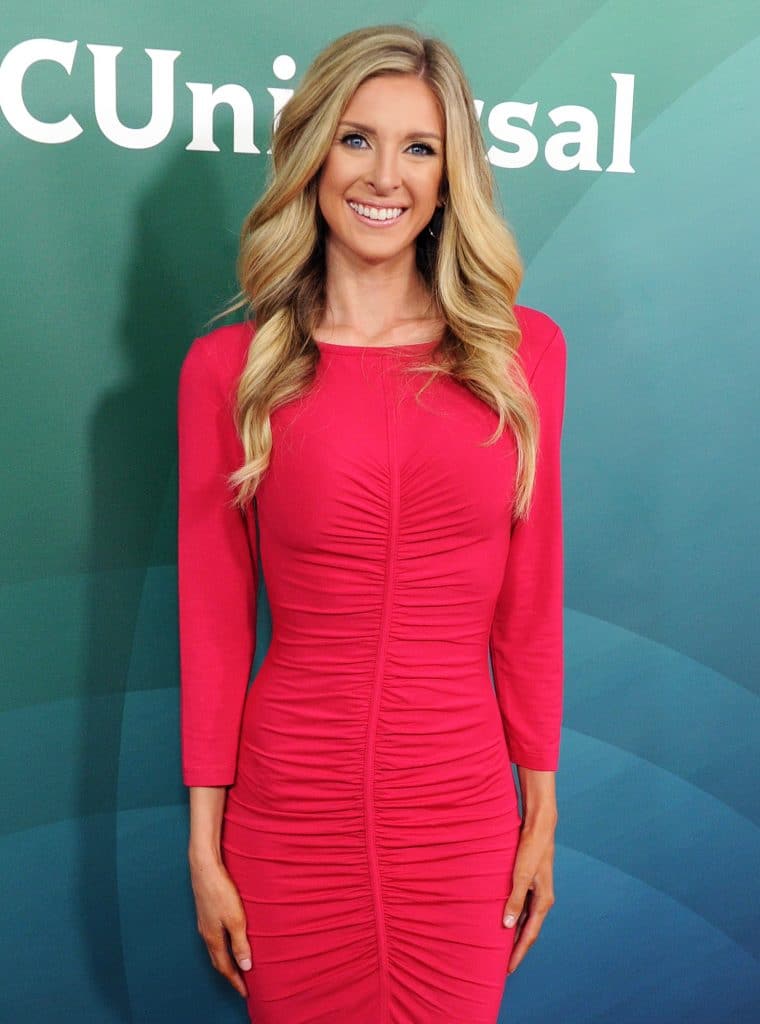 Lindsie's father Todd Chrisley
Todd was born on 6 April 1969, in Georgia USA – his zodiac sign's Aries and he holds American nationality. He was raised alongside his brother Randy Chrisley in Westminster, South Carolina, by their parents Faye and Gene Raymond Chrisley. Todd had another brother named Derrick, who passed away in infancy.
Todd grew up to become a real estate broker, and went on to launch his own company called Chrisley Asset Management. He was once a very rich man, and launched his TV show to boast about his and his family's lavish lifestyle. However, not long after the show began airing, Todd filed for bankruptcy, and his company was shut down.
He was still attending high school when he met Lindsie's mother Teresa Terry, and when they were both 19, Teresa became pregnant and the two thus married.
In 1996, Todd and Teresa divorced and he went on to marry Julie on 25 May in the same year. Julie was also once married, and she began cheating on her husband with Todd and he, after finding out about it, filed for divorce. She gave birth to their three children Savannah, Chase and Grayson, while Todd and his first wife Teresa's son Kyle married, and became a father to his daughter Chloe Chrisley.
In 2014, Kyle claimed in the media that his father is gay, and that he's simply trying to hide his homosexuality from his family – Todd defended himself by saying that Kyle's a drug addict.
On 14 August 2019, Todd and Julie surrendered to the police and were charged with tax evasion, wire fraud and conspiracy. They were released on $100,000 bail, and if they are found to be guilty, the two might be sentenced to spend up to 30 years in jail.