Who is Heidi O'Ferrall?
Heidi O'Ferrall was born in Dallas, Texas USA, on 1 April 1988 – her zodiac sign is Aries and she holds American nationality. She is a YouTuber, social media star, cosplayer and an artist, but who might be known best for being the now ex-wife of Jared ProJared Knabenbauer, a YouTuber and social media star.
Childhood and education
Heidi is quite secretive when it comes to her personal matters, and hasn't shared any details concerning her parents and any siblings. She was raised in Dallas in a middle-class family, and grew up watching animated movies, TV series and animes, as well as playing video games on various consoles.
After seeing how people dress-up as their favorite characters and attend cosplay events, Heidi became interested in it, and wanted to do the same. She attended a local high school at which she was a member of the school's drama club, and played both tennis and soccer. Upon matriculating in 2006, Heidi enrolled at the University of Texas in Arlington, from which she graduated with a Bachelor of Fine Arts degree in theatrical technology and design in 2010 (some sources claim that she attended college from 2011 to 2015).
Following graduation, Heidi joined God Save the Queen Fashions as an intern.
Heidi's career
Heidi has been working as a costume designer for a decade now, and has been selling her costumes on the internet. She can often be seen attending cosplay events, and has also served as a guest judge on various shows and competitions including "Dallas Comic Con Fan Days" and "RTX". The year 2016 saw her win a costume contest at the three-day anime convention IKKiCON, with her costume of Samus Aran, an intergalactic bounty hunter appearing in the series "Metroid".
She launched her YouTube channel, "AtelierHeidi" on 21 November 2011, which is today subscribed to by more than 26,000 people, and numbers close to one million views of all her videos combined.
Most of her videos feature her making her costumes and speedpainting, while her most popular video – "Twitch Con 2016 VLOG with Commander Holly & ProJared – Atelier Heidi" – has been watched close to 140,000 times since 19 October 2016.
She is quite active on various social media networks, and is followed by close to 30,000 people on Instagram, while she's uploaded over 1,300 pictures, most of which have been taken during her everyday life. Heidi launched her Twitter account in May 2011, and is today followed by over 85,000 fans, and tends to tweet every day. She is also active on Facebook, and has around 10,000 followed.
As of January 2021, Heidi is running her own clothing store – Forest Girl Clothing – located in Bothell, Washington State.
Marriage with Jared and other affairs
Heidi and Jared ProJared Knabenbauer met in 2012 at a cosplay event, and dated for the following two years before marrying in a private ceremony attended by their closest friends and family. The two agreed not to have children so that they could focus on their careers, and went on to collaborate on numerous videos, appearing on each other's YouTube channels.
In May 2019, Heidi tweeted about her husband cheating on her with Holly Conrad, an American cosplay artist and costume designer. According to Heidi, she found out about the affair months after it started, and had proof of it including Holly and Jared's pictures and conversations in which Jared promised Holly he would divorce Heidi soon.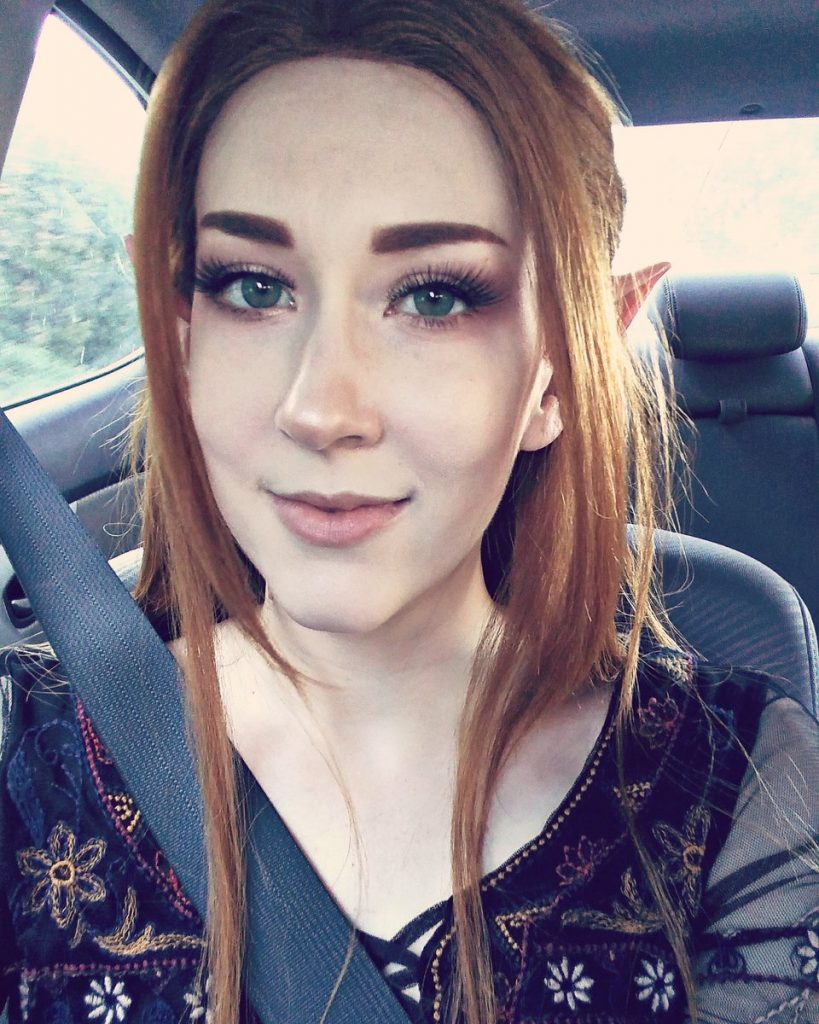 Jared accused Heidi of being an unreasonable and aggressive person, explaining that this led to him cheating on her, and Holly went on to state that this was none of her business and how she will not be involved in it, but will rather let Heidi and Jared deal with their marriage problems. Holly also decided to leave Twitter until things settle down.
On 19 June 2020, Heidi announced that she had signed her divorce documents. She is single as of January 2021, was once married to Jared ProJared Knabenbauer, and doesn't have children.
Hobbies and other interests
Heidi is a huge cat-lover, and has a pet cat Aries which can be seen featured in many of her Instagram pictures. Aries was recently sick, and Heidi spent $1,300 for his treatment. She has joked about how Aries now has to find a job and pay her back the money.
Heidi calls herself 'a forest girl', as she enjoys being in nature, especially deep in the woods or high in the mountains during summer. Her favorite season is autumn because of its colors.
She likes to play video games, and one of her favorites is "The Legend of Zelda".
In her spare time, Heidi enjoys watching animes, and a few favorites are "Attack on Titan", "Cowboy Bebop" and "Death Note". She is also keen on watching Studio Ghibli movies, with her favorite being "Princess Mononoke".
Age, height and net worth
Heidi's age is 32. She has long brown hair and brown eyes, her height is 5ft 6ins (1.67m), she weighs around 130lbs (59kgs), and her vital statistics are 34-26-35. As of January 2021, her net worth has been estimated at over $200,000 while her ex-husband's net worth is reputedly over $100,000.
After racking up $1.3k in recent vet bills, I told Aries to get a job. So he agreed to release some signed prints. pic.twitter.com/qefKm1OYrG

— Heidi O'Ferrall✨ (@AtelierHeidi) November 20, 2020
Who is Jared ProJared Knabenbauer?
Jared Lee 'ProJared' Knabenbauer was born in Seattle, Washington State, USA, on 28 August 1985 – his zodiac sign is Virgo and he holds American nationality. He is a YouTuber and a social media star, who might be known best for his channel "ProJared Plays" which he launched on 26 June 2014, and is today subscribed to by over 240,000 people, and numbers close to 80 million views of all his videos combined. Jared supposedly lost around 200,000 subscribers after he cheated on Heidi.
Jared has kept all details related to his early life to himself, including the names and professions of his parents, and any siblings.
He has collaborated with many popular YouTubers, including SuperPaniLand, Criken Chippers and SuperMCGamer. Some of his video series which are popular on the internet include "One Minute" – in which he reviews video games in around a minute – "Top Tens" in which he talks about his 10 favorite games, and "Nuzlocke Challenges" in which he plays "Pokemon", but with two added rules.
He was once a member of the group of creators Normal Boots, but quit on 9 May 2019 after being accused of solicitation and asking underage girls to send him nude pictures. Two girls claimed that they were underage when they sent him nudes, and all this combined with his infidelity against Heidi resulted in ProJared losing numerous fans on various social media networks.
He is quite active on Instagram, and is still followed by around 55,000 people, while he's uploaded over 430 pictures, most of which have been taken during his everyday life. After divorcing Heidi, he lost about 20 percent of followers. Jared launched his Twitter account in May 2010 and is today followed by around 165,000 people.