• Sandahl Bergman is a retired American actress, best known for her role in the 1982 movie "Conan the Barbarian".
• She was born in Kansas City, Missouri in 1951, and moved to New York City to pursue an acting career.
• In the '80s and '90s, she appeared in movies such as "Xanadu", "Red Sonja", "Hell Comes to Frogtown", "Ice Cream Man", and "The Singing Detective".
• She also had roles in TV series such as "Murder, She Wrote", "Under Suspicion" and "Sliders".
• Sandahl won a Golden Globe and Saturn Award for her performance in "Conan the Barbarian", and has a net worth of over $4 million.
Who is Sandahl Bergman?
Sandahl Bergman was born in Kansas City, Missouri USA, on 14 November 1951 – her zodiac sign is Scorpio, and she holds American nationality. She's a retired actress, who appeared in 49 movies and TV series, and is perhaps still known best for her portrayal of Valeria, in the 1982 action adventure fantasy movie "Conan the Barbarian". It starred Arnold Schwarzenegger, James Earl Jones and Max von Sydow, and follows Conan, whose parents were killed by the warlord Thulsa Doom when he was a kid, while he has now grown up to become a fearless warrior, with his mind set on killing Thulsa. The movie won two of the 11 awards for which it was nominated.
Sandahl retired from acting in 2009, and has since been leading a peaceful life, spending most of her time with her family.
Early life and education
Sandahl was raised in Kansas City alongside her sisters Barbara and Constance, by their  parents Justus and Frances Bergen.
She became interested in acting while attending Shawnee Mission East High School, appearing in various plays performed at the school, while she was also into sports, as she grew to be very tall in her teenage years. Upon matriculating in 1969, Sandahl moved to New York City, and began appearing in Broadway plays. She was soon noticed by Dean Martin, who cast her to appear in his musical comedy series "The Dean Martin Show", from 1970 to 1973. Sandahl also appeared in an episode of the series "Dean Martin Presents Music Country", and these two roles marked the launch of her acting career.
Roles in movies
She made her debut film appearance in 1974, with her portrayal of a dancer in the musical "Mame", and a couple of Sandahl's following roles were in 1978 in the comedy "How to Pick Up Girls!" and the short drama "Dancin' Curtain Call: Bob Fosse", and the 1979 musical drama "All That Jazz".
She gained recognition in 1980, when she played Muse #1, in the romantic musical fantasy "Xanadu", which starred Olivia Newton-John and Gene Kelly, and follows a Los Angeles-based artist, who believes that he's found his muse. The movie won one of the 11 awards for which it was nominated. The '80s saw Sandahl appear in various critically acclaimed films, with some of the most popular amongst these having been the 1982 science fiction comedy "Airplane II: The Sequel", the 1985 action fantasy adventure "Red Sonja", and the 1988 science fiction action comedy "Hell Comes to Frogtown".
In the '90s, Sandahl appeared in more than 10 movies, with her best performance probably in the 1995 horror thriller comedy "Ice Cream Man", written by David Dobkin and directed by Norman Apstein. The film starred Clint Howard and Justin Isfeld, and follows Gregory who has just been released from the Wishing Well Sanatorium, and has opened an ice cream factory.
Sandahl's final two movie roles before retiring from acting, were in the 2003 musical crime comedy "The Singing Detective", and the 2009 musical "Guys and Dolls at the Hollywood Bowl".
Roles in TV series
In the '80s Sandahl only appeared in an episode of a couple of TV series, such as the action crime adventure "Hart to Hart", the drama "The Great American Strip-off", and the mystery comedy drama "Moonlighting".
It was in the early '90s that Sandahl appeared more frequently in series, and could've been seen guest starring in the horror thriller "Freddy's Nightmares", the comedy "Designing Women", and the science fiction drama "Swamp Thing". In 1993, she played Sergeant Daisy Kenny, in the episode "The Petrified Florist" of the mystery crime drama "Murder, She Wrote"; the series starred Angela Lansbury, William Windom and Ron Masak, aired from 1984 to 1996, and follows the professional writer Jessica Fletcher, who likes solving seemingly unsolvable crimes. It won 34 awards, including two Primetime Emmys, and was nominated for 55 other awards.
Three of Sandahl's final roles in TV series, before retiring from acting were in the 1994 episode "Serial Killer: Part 1" of the mystery crime drama "Under Suspicion", the 1999 episode "The Java Jive" of the adventure science fiction "Sliders", and the 2001 episode "Old Wives' Tale" of the action crime drama "18 Wheels of Justice".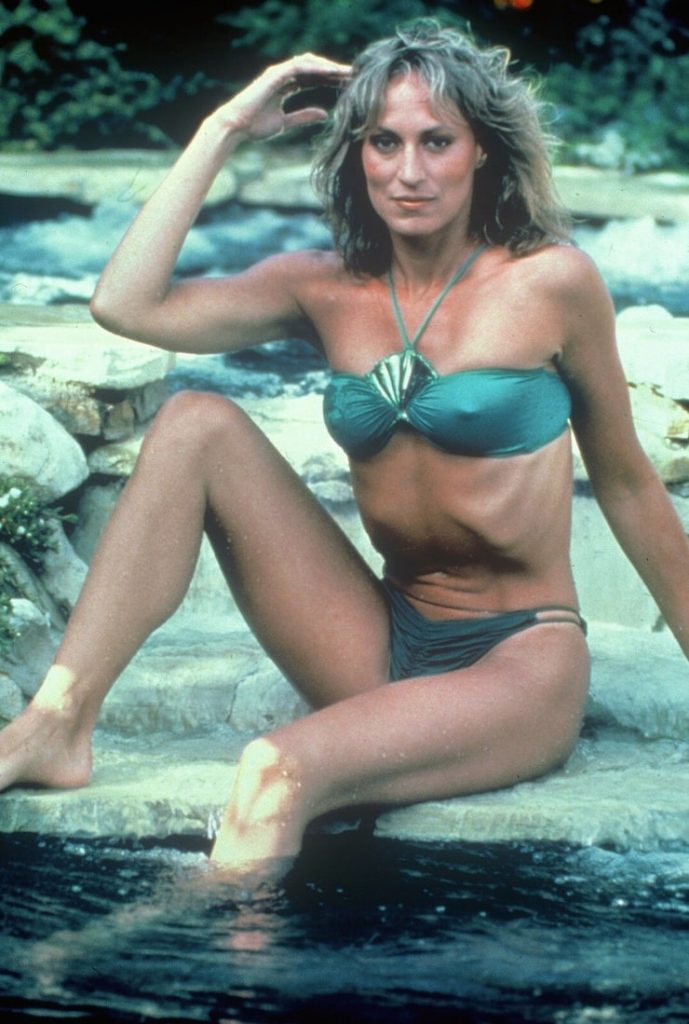 Other credits
In 1979, Sandahl sang "Take Off With Us (Reprise)" in the movie "All That Jazz", and in 1983, she sang "Eye of the Tiger" in the TV special "The 55th Annual Academy Awards".
She has been featured in a number of documentaries, including in the 1981 film "Sixty Years of Seduction", the 1983 video "Sandahl Bergman's Body", and the 2018 movie "Fleeting Moments".
Sandahl has made a guest appearance in a number of talk-shows, such as "The Tonight Show Starring Johnny Carson", "The Merv Griffin Show", and "The Home Show".
Awards and nominations
For her performance in the movie "Conan the Barbarian", Sandahl won a 1983 Golden Globe for New Star of the Year in a Motion Picture – Female, as well as an Academy of Science Fiction, Fantasy & Horror Films Saturn Award for Best Actress.
Conversely, in 1986, she was nominated for a Razzie Award for Worst Supporting Actress, for her performance in the film "Red Sonja".
Love life and relationships
Sandahl's quite secretive when it comes to her love life, but a couple of things regarding it are still known.
She was married to Josh Taylor, an American actor who's eight years her senior. He has 30 acting credits to his name, while he's probably known best for his roles in the long-running series "Days of Our Lives", "The Young and the Restless" and "Guiding Light", two of which number over 12,000 episodes.
Sandahl and Josh haven't shared the exact date of their wedding, the date of their child's birth, nor the date of their divorce.
It's also known that back in 1980, Sandahl was in a relationship with Charlie Rose, a retired American TV journalist and talk-show host. They were together for around a year, before splitting for unknown reasons.
As of June 2021, Sandahl seems to be single, was once married, and apparently has a child, but about whom nothing is known.
Hobbies and interesting facts
Sandahl enjoyed performing her own stunts in movies, and was sometimes forced to, because the producers were unable to find a stuntwoman of her stature. While performing stunts in "Conan the Barbarian", Sandahl nearly lost a finger, while Arnold Schwarzenegger ended up smashing his head against a rock.
She was physically highly active during her 20s and 30s, as it was important for her acting career to stay fit, as well as for the image which she had built for herself.
Sandahl's main hobby, during her career, was travelling. It had taken her all around the US, visiting nearly all states, while she also got to travel to Europe and Asia on various occasions.
She has her own favorite actors and actresses, some of whom are Anthony Hopkins, Will Smith and Angelina Jolie, and a couple of her favorite films are "The Silence of the Lambs", "Meet Joe Black" and "The Pursuit of Happyness".
Age, height and net worth
Sandahl's age is 69. She has long blonde hair and brown eyes, her height is close to 6ft (1.82m) and she weighs around 143lbs (65kgs).
As of June 2021, her net worth has been estimated at over $4 million.