Who is Paola Lazaro?
Paola Lazaro is a Puerto Rican actress, probably best known to the world as Juanita 'Princess' Sanchez in the TV horror-drama series "The Walking Dead" (2020-2022), but also as Cahya in the film "Black Bear", among several other notable roles that she has secured so far.
Paola Lazaro Biography: Age, Childhood, and Education
Paola Lazaro-Munoz was born on 24 October 1994 under the Scorpio zodiac sign, in San Juan, Puerto Rico USA. She is the daughter of Sorbeto Lazaro-Munoz and his wife Bella Lazaro-Munoz. She's the youngest in the family, with twin older brothers, Gabriel and Daniel.
After high school, Paola enrolled at the State University of New York, Purchase, graduated with a Bachelor of Fine Arts degree in dramatic writing, then continued her studies at Columbia University, from which she earned a Master of Fine Arts degree. During her last year at Columbia, she was given a new mentor, famous playwright and actor Stephen Adly Guirgis, who had a huge influence on Paola's career and writing. Furthermore, their relationship wasn't just professional as the two became close friends, and Stephen even refers to Paola as his best friend.
Once she finished her thesis production with Stephen, Paola joined the Emerging Young Writer's Group at the Public Theatre, and later worked on a summer program with Labyrinth Theatre Company. Furthermore, she received an Arts Entertainment Scholarship Award from the National Hispanic Foundation for the Arts.
Acting Career Beginnings
Paola's acting debut happened in 2015, when she was chosen for the role of Sue in the short comedy web series "So, Then Tell Me", which starred Dave Shalansky, Danielle Beckmann and Shane Salk.
The following year, "So, Then Tell Me" was adapted into a short television series, and Paola reprised her role in two out of four episodes. The same year, Paola made her film debut as Officer Lee in the drama film "Scenes from the Underground", and two years later shea was selected for the recurring role of Gutierrez in the TV comedy action-crime series "Lethal Weapon", with Damon Wayans, Keesha Sharp and Kevin Rahm in the lead roles. In 2018 also, Paola starred in the romantic crime-drama film "Pimp", alongside Edi Gathegi and Keke Palmer.
Rise to Prominence
Paola was becoming more interested in acting, and in 2019 she appeared in the biopic about the formation of the Wu-Tang Clan, entitled "Wu-Tang: An American Saga", with Ashton Sanders, Shameik Moore and Siddiq Saunderson as the main stars of the film. To speak further of her accomplishments, Paola was chosen for her most popular role to date, as Juanita 'Princess' Sanchez in the critically-acclaimed horror thriller-drama series "The Walking Dead", and she's starred in the comedy-drama film "Black Bear", next to Aubrey Plaza, Christopher Abbott, and Sarah Gadon.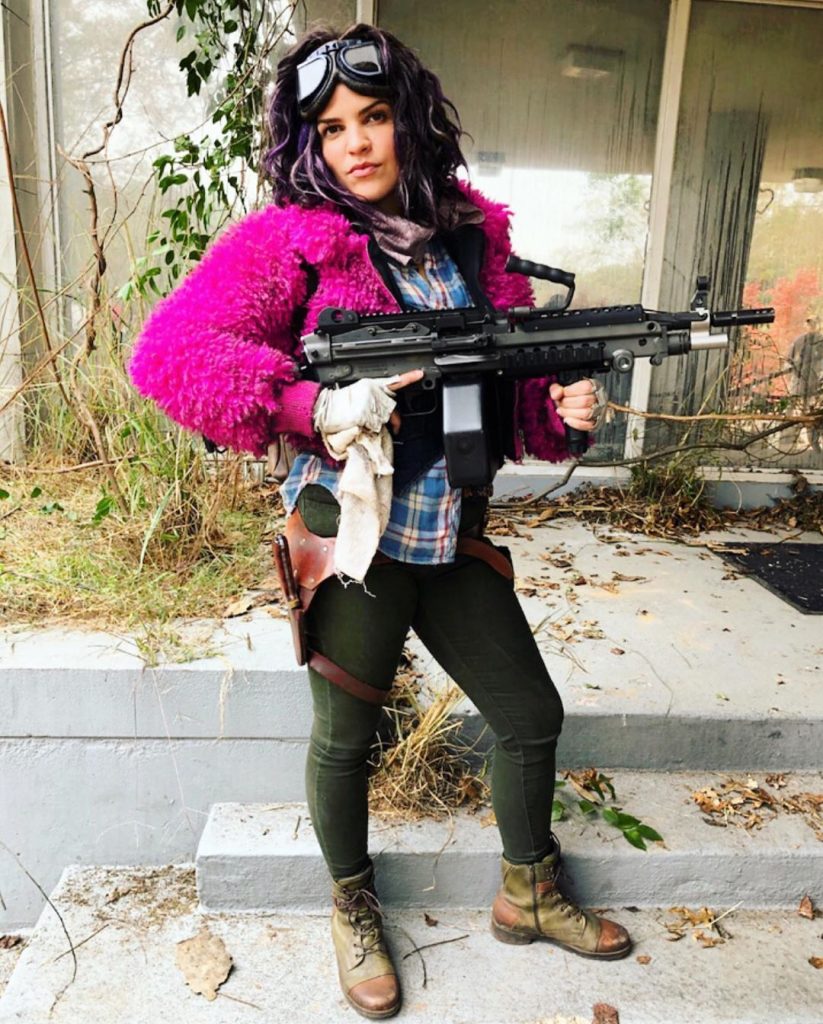 Paola is currently working on the television movie "Shelter", and is also announced as one of the stars of the new TV comedy series "Patty's Auto", co-starring Joanna Adler, Shawn Patrick Clifford and Angela Fornero.
Career as a Playwright
Following the end of her studies at Columbia, Paola was selected to join Atlantic Theatre Company in New York City, as playwright-in-residence for the 2016-2017 season. She started working on her play "Tell Hector I Miss Him" (2017), which premiered on the 11th January 2017, directed by David Mendizabal. At first, it was scheduled to last until 23rd January, however, the play became so popular that the run was extended. Thanks to her previous success, Paola was subsequently chosen for the Van Lier Playwright Residency at the Public Theater from 2018 to 2020.
Career on-Stage
In addition to her work as a playwright, Paola has also appeared in a few plays herself. She starred in the play "To the Bone", for which she earned a Drama Desk Award nomination for Outstanding Featured Actress in a Play.
Personal Life, Dating, Husband, Married, Single?
Paola doesn't like to talk about her private life in the media, and there's no reliable information about her personal endeavors. However, some sources state that she is single, and doesn't have children.
Net Worth
As of mid- 2021, Paola Lazaro's net worth has been estimated to be around $400,000, earned largely through her successful career as an actress, but also as a playwright.
So far, she's appeared in more than 10 film and TV titles, and has written several plays that have increased her popularity and wealth.
Appearance and Vital Statistics
This prominent actress and playwright has brown hair and brown eyes. She stands at a height of 5ft 3in (1.6m), weighs approximately 120lbs (54kgs), while her vital statistics are 34-23-35, bra size 32D.
Hobbies, Interests, Trivia
Paola has a number of other interests – she loves to dance and listen to music, and has stated that her favorite music is salsa from the '70s.
Paola is an avid animal lover and has several pets, including two dogs and a family of a cat and her kittens. She often shares pictures of her pets on her official Instagram page.
She loves spending free time with her friends, exploring various cities, while ocean beaches are her favorite destinations for rest.
Paola is proud of her Latino roots, and the characters that she writes in plays are often strong Puerto Rican characters. She has done all to popularize the Puerto Rican community in the US, and has said that Latinos must write their own stories and create work for themselves.