• Rebecca Staab is an American actress known for roles in popular TV series
• She was born in Hays, Kansas and has part German ethnicity
• She is an avid traveler and has numerous construction and handiwork skills
• She is in a long-term relationship with Canadian actor William deVry
• Her estimated net worth is around $500,000
Who is Rebecca Staab?
Rebecca Ann Staab is an American actress, perhaps best recognized of for her roles in various popular TV series including "Port Charles", "The Young and the Restless", and "Somewhere Between". She was born under the Zodiac sign Leon on 27 July 1961, in Hays, Kansas USA of part German ethnicity. Rebecca holds American nationality, and as of early 2021, is 59 years old.
Early Life and Family
There is not much information about Rebecca's parents. However, she is the middle child in her family, with a younger brother and an older sister. Rebecca grew up in Ralston, Nebraska, and attended Ralston Senior High School. After matriculating, Rebecca won the Miss Nebraska USA title, and later competed in the Miss 1980 Pageant in Biloxi, Mississippi, finishing in the top 12. As a student, she excelled in academics, obtaining a 4.0 GPA in high school and college.
She attended the University of Nebraska, Lincoln, and was a part of their honors program. In 1983 Rebecca graduated with a Bachelor of Fine Arts degree.
Before launching her acting career, Rebecca moved to Paris, France, and worked as a professional model. Having obtained some success competing in pageants, she signed with the Ford Agency and moved to New York. However, it did not take her long to transition to acting.
Career
Rebecca kicked off her acting career in 1985 with a minor role in the long–running soap opera "Guiding Light", and continued by appearing in various TV shows such as "The Young Riders" and "Columbo". In 1991 she made her movie debut as Marlene in "The Marrying Man", followed by her recurring role in the gothic soap opera "Dark Shadows".
In the following year, she landed a role in the second season of the popular teen drama series "Beverly Hills 90210", and appeared in "Love Potion No.9" opposite Sandra Bullock and Tate Donovan. Rebecca continued in various shows, including "The Wonder Years", "The Hat Squad", and "Renegade". In 1994 she portrayed the Invisible Woman/ Susan Storm in the unreleased independent superhero movie "Fantastic Four" based on Marvel's comic book of the same name, followed by her appearances in "Seinfeld", "One West Waikiki" and "Home Improvement".
In 1997 she appeared in the German drama film "Quiet Days in Hollywood", alongside Hillary Swank and Chad Lowe. Over the following years, she starred in several popular TV shows such as "Dharma &Greg", "It's Like, You Know", and "The Drew Carey Show".
In 2002 she landed one of her most notable roles as Elizabeth Barrington in the American soap opera "Port Charles", appearing in a total of 40 episodes as the show ran for six seasons until 2003.
After appearing in the movies "The Substitute 3: Winner Takes All", and "A House on a Hill", Rebecca took an eight-year break from movies, however, she continued landing minor roles in various TV shows, appearing in several procedural crime drama TV series, including "NCIS", "CSI: NY", and "CSI: Crime Scene Investigation". Rebecca is also widely recognized for appearing in one of the funniest TAG spray commercials, portraying Mrs. Robinson who seduces her daughter's boyfriend.  In 2009 she starred in the teen comedy movie "Love at First Hiccup", followed by roles in "Mentalist", and "Desperate Housewives".
In 2012, she appeared as Sylvie in "A Perfect Ending", and was credited for her roles in "Glee" and "Fairly Legal". In 2016 she began her association with the Hallmark Movies and Mysteries channel, and starred in "The Irresistible Blueberry Farm" and "Moonlight in Vermont". In the following year, she portrayed Coleen DeKizer in six episodes of the American drama series "Somewhere Between".
Rebecca continued starring in various Hallmark movies, such as "Road to Christmas", "Mingle All the Way", and "Christmas Bells are "Ringing". In 2018 she appeared in the sports drama "The Miracle Season", which received mixed reviews and grossed just $10 million worldwide. In 2019 she starred in the Hallmark series "Chronicle Mysteries", and the Christian drama movie "Breakthrough".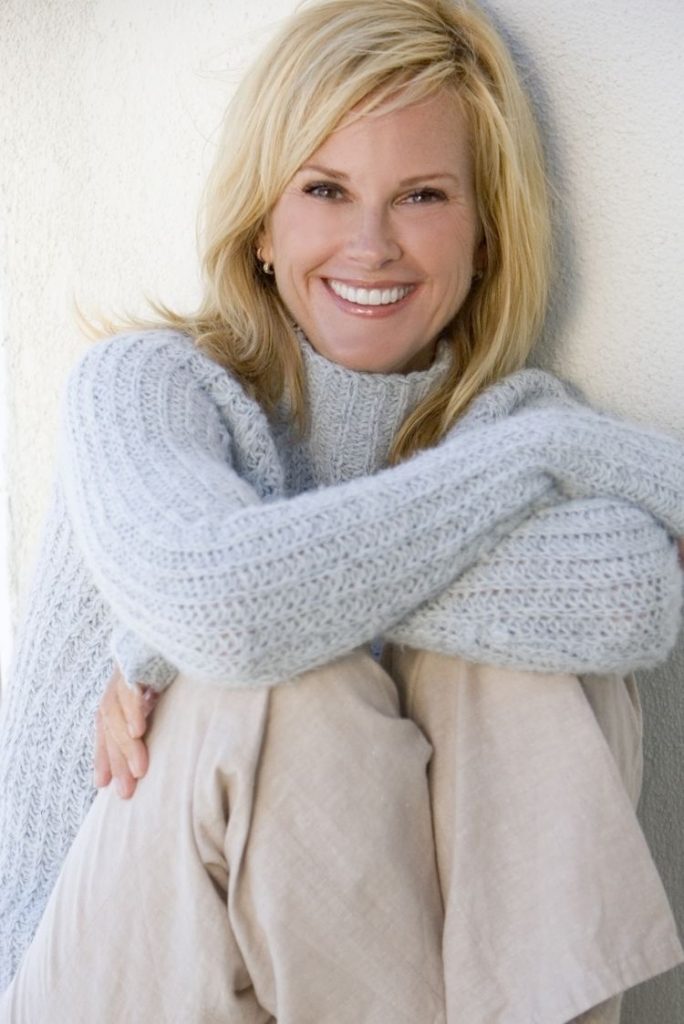 Her latest appearances include anotherHallmark movie called "Christmas by Starlight" and a Netflix comedy movie "Love Hard" opposite Nina Dobrev, Jimmy O. Yang, and James Saito, all in 2020.
Personal Life
Rebecca has apparently been dating Canadian TV actor William deVry since 2007. Reportedly they met during shooting for the series "General Hospital". The couple has never said their "I do's ", as they both believe that it's better not to complicate their lives with papers and remain in the relationship. On 21 July 2020, they celebrated their 13th anniversary of being together. Given they are very like-minded and compatible, they agreed not to have children, and focus more on pursuing their acting careers.
Since they have begun dating, neither of them have been involved in any rumor, controversy, or scandal. They also share a love of traveling, visiting new places.
Physical stats and Hobbies
Rebecca is 5ft 5ins (170cm) tall and weighs around 143lbs (64kgs). Her natural hair is blonde, and her eyes are brown. Regarding her hobbies, just like her boyfriend, she's an avid traveler who has visited various places including Costa Rica, Japan and Italy.
Rebecca is a great fan of outdoor activities, and her garage reportedly looks like a miniature "Sports Chalet".
Rebecca is a woman of many passions such as architectural restoration, landscape, and interior design; she recently completed a one-year project restoring a 100-year-old home.
As an individual with construction and handiwork skills, Rebecca transformed a "crack house" into a historic jewel. She has also applied her constructions skill to every house she has lived in, and will continue to do so.
Both Rebecca and her boyfriend are very active in dog rescue. They often foster numerous neglected dogs, as they wait for their forever homes, and happily share photos of them on their social media. At the moment, they have five dogs, with an occasional dog in transition. The couple lives in an historic home in the Hollywood Hills, which obviously has seen the magic touch of Rebbeca's hands. In addition, she's also an excellent gourmet cook.
Would you like to know her net worth?
As of 2021, her estimated net worth is around $500,000, earned through her long career as an actress.
The actress is very active on social media; her Instagram has nearly 3,000 followers and she posts very often, usually photos of her and William, their dogs and her upcoming projects.
Briefly about William deVry
William was born on 20 April 1968, in Montreal, Canada, named after his grandfather. At the age of 19, he moved to Florida with his mother Diane, who is the granddaughter of Herman Devry, the founder of Devry Institute. He doesn't have any siblings. During his childhood, William traveled to many interesting places, such as Guinea Africa, where he lived for a couple of years. Growing up, he had aspirations of becoming a baseball player, however, during his college days, a friend of his suggested attending acting classes just for fun, and as a twist of fate, William fell in love with acting and decided to pursue it professionally.
William is best recognized for his roles in "All My Children", and "Earth Final: Conflict". Since launching his career in 1994, he's appeared in a variety of genres and roles in numerous TV shows. He made his movie debut in 1995 in "Once in a Blue Moon", followed by many minor roles in TV shows such as "The Sentinel", "The Outer Limits", and "Poltergeist: The Legacy". William also starred in various TV movies, including "Convictions", "I Know What You Did", and "The Long Way Home". In 1998 he landed the recurring role of Joshua Doors in the sci-fi TV Series "Earth: Final Conflict". The show ran for five seasons, achieving moderate success.
After those, he starred as the recurring character Aldwin in another sci-fi series, "Stargate SG-1".
In 2000 he appeared in "Beggars and Choosers" and "So Weird", followed by minor roles in "The Twilight Zone" and "Dead in the Heartbeat". In 2003 he portrayed Michael Cambias in the soap opera "All My Children", receiving the nomination for a Daytime Emmy Award for Outstanding Supporting Actor in a Drama Series. In the same year, he won the award for Best Villian at the AMC Fan Luncheon. In 2006 he landed two recurring roles as Garth Rutlige "Godiva's", and Stephen Logan in "The Bold and the Beautiful". In 2011 he starred as the main character in the Canadian Spy TV series "Insecurity", followed by a role in "Nikita". His other notable credits include "Beauty and the Beast", "Hemlock Grove", and General Hospital, which aired until 2020. His last movie credit was in 2018 in the short movie "Surviving Theatre".