• Riele Downs was born in Toronto, Canada in 2001 and is of Jamaican descent.
• She is an actress known for her role as Charlotte in the Nickelodeon series "Henry Danger".
• She has also appeared in movies such as "My Baby's Daddy", "Four Brothers", "The Best Man Holiday", "Tiny Christmas" and "The Gabby Douglas Story".
• Riele is an avid drawer and fashion designer.
• As of August 2021, her net worth is estimated at more than $1 million.
Riele Downs Wiki Bio
Riele was born in Toronto, Ontario Canada, on 8 July 2001 – her zodiac sign is Cancer, she is of Jamaican descent, and holds Canadian nationality. She's an actress, perhaps known best for her role as Charlotte, in the Nickelodeon series "Henry Danger".
Early life and education
Riele grew up in Toronto, and isn't the only actor in the family, as her mother Elle Downs, and her sister Reiya Downs, are actresses as well. Riele made her first film appearance when she was only three years old. A few years later, she started showing more interest in acting, making skits and short homemade movies with her sister. Their mother soon noticed their talent, and encouraged both to audition for roles.
Roles in movies
Riele made her film debut in the 2004 comedy "My Baby's Daddy", directed by Cheryl Dunye, and which starred Eddie Griffin, Anthony Anderson and Michael Imperioli. In the following year, she appeared alongside Mark Wahlberg, Tyrese Gibson and André 3000, in the action crime drama "Four Brothers". In 2008, she had a small uncredited role in the award-winning Canadian mockumentary "Confessions of a Porn Addict", following a guy who needs to convince the judge and his wife that he has given up on his vice of watching smut.
Riele played the role of Faith in the 2013 comedy "The Best Man Holiday", which is about a group of college friends who have reunited for the Christmas holidays after 15 years.
It was directed by Malcolm D. Lee, and is a sequel to his 1999 movie "The Best Man". The film was highly anticipated since it was announced in October 2011, and became a commercial success, grossing more than $71 million at the box office against a $17 million budget.
In the following year, Riele appeared in another Christmas comedy, entitled "Fir Crazy", directed by Craig Pryce, and which starred Sarah Lancaster and Eric Johnson. Two years later, we saw Riele in a biographical sports drama about the Olympic champion gymnast, entitled "The Gabby Douglas Story". The movie starred Regina King in the title role, with Gabbie Douglas herself performing all the gymnastic stunts.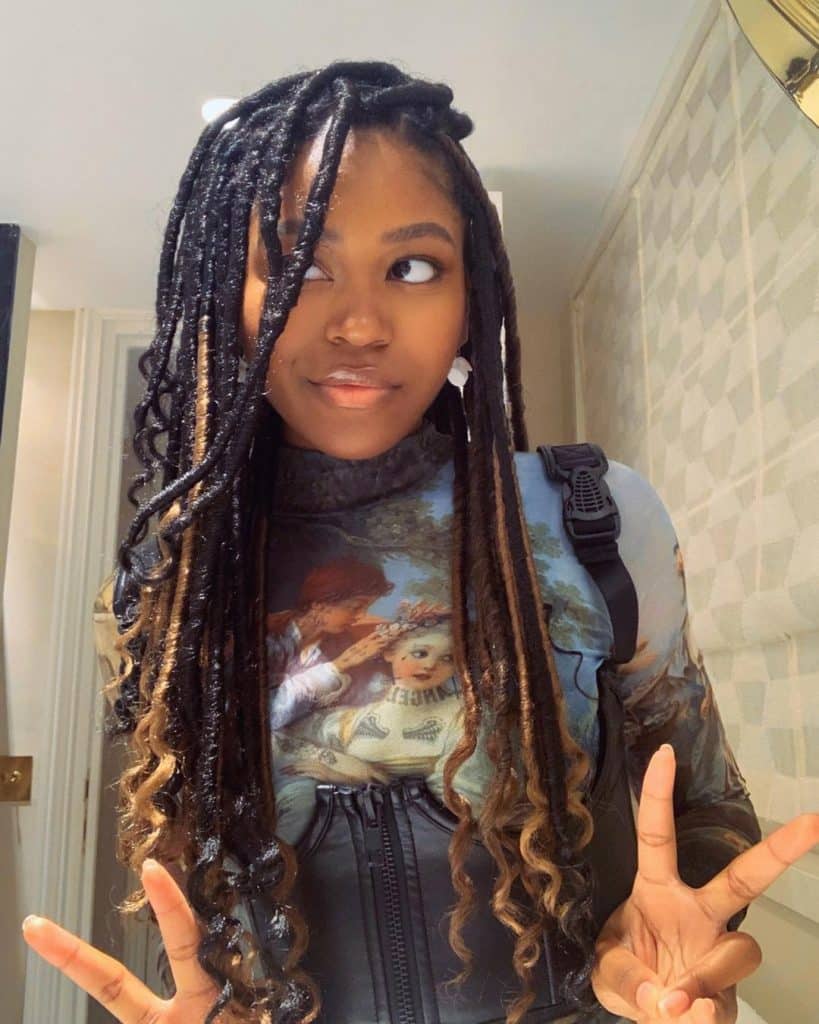 Hving appeared in two Nickelodeon specials "Nickelodeon's Ho Ho Holiday Special" (2015) and "Nickelodeon's Sizzling Summer Camp Special", Riele had her first starring role in a movie in the 2017 comedy "Tiny Christmas", directed by Jonathan A. Rosenbaum, and which also starred Lizzy Greene and Graeme McComb; it follows two kids who were accidentally shrunk by an elf, and must manage to come home safely. Riele's most recent movie role was in the 2019 short comedy "Back to the 80's".
Roles in TV series
Riele made her TV series debut in 2008, in an episode of the sci-fi mystery drama "ReGenesis".
In the following years, she appeared in support roles in series such as "'Da Kink in My Hair", "Rookie Blue" and "Peep and the Big Wide World".
Between 2014 and 2020, Riele starred in the Nickelodeon comedy "Henry Danger", created by Dan Schneider and Dana Olsen, and which also starred Jace Norman, Cooper Barnes and Sean Ryan Fox. The plot centers on a kid who becomes Kid Danger, the sidekick to a local superhero Captain Man, but has to keep it a secret. However, one of his best friends, Charlotte, figured out who Kid Danger is, and since then also helps Captain Man. The series attracted more than 1.5 million viewers per episode, and won two Kids' Choice Awards, in 2017 and 2020.
Riele reprised her role as Charlotte in two "Henry Danger" animated spin-off series – between 2015 and 2016, she voiced Charlotte in "Henry Danger Motion Comic", and then in 2018 in 12 episodes of "The Adventures of Kid Danger". In May 2017, Nickelodeon announced that a movie based on the series was being developed, but the fate of the project is unknown, as there haven't been recent updates about it.
In 2020, Riele voiced Petr, in the pilot of the animated adventure "S. A. L. E. M." The rest of the series is set to be released on YouTube late in 2021.
Riele is very popular on Instagram, with her account '@rieledowns' numbering more than 2.6 million followers, and showing over 950 photos.
She can often be seen posing in fashionable outfits for her pictures, while she also sometimes posts more casual photos with her friends and family.
Riele launched her eponymous Twitter account in December 2013, which now numbers almost 130,000 followers and 550 tweets.
Early in 2021, she took a three months long break from social media – 'I'm returning back to social media soon, promise! I've been on a blissful vacation from it all', Riele tweeted. However, as of mid-year, she hasn't been active on Twitter, although she still regularly uploads photos onto her Instagram account.
Love life and relationships
When "Henry Danger" started airing in 2014, many of the show's fans were quick to assume that Riele and her co-star, Jace Norman, were dating off-screen. The rumors followed them for the next few years, although they both confirmed that they were just friends. However, some fans still believe that they were in a relationship, because the two were frequently spotted together when not filming.
Right now, Riele seems to be more focused on her career, and as she splits her time between Toronto and Los Angeles, California, she might not even have time for a relationship.
Riele currently appears to be single, hasn't been married or engaged, and doesn't have children.
Hobbies and interesting facts
Riele loves to draw in her spare time, and especially enjoys producing detailed portraits. She has also dabbled in fashion design, and can occasionally be seen wearing garments that she's designed and assembled herself.
She likes to watch animated series, with some of her favorites being "Invincible", "Bob's Burgers" and "Rick and Morty".
Riele recently went on a trip to Europe, during which she visited cities such as Lisbon, Paris and Nice.
Appearance, age and net worth
Riele is 20 years old. She has long black hair and black eyes, she's 5ft 1in (1.55m) tall, and weighs around 105lbs (47kgs).
As of August 2021, her net worth is estimated at more than $1 million.