• Steffiana de la Cruz is a former model and actress from New York City, USA, best known as the wife of producer Kevin James.
• She broke into the entertainment industry as a model and had minor roles in films such as "Paul Blart: Mall Cop" and "Zookeeper".
• Her husband's estimated net worth is over $100 million.
• Steffiana has an estimated net worth of $5 million.
• She enjoys heavy metal music, photography, Carrom, bowling and accompanying her husband to the red carpet.
Steffiana de la Cruz is a former model turned actress from New York City, USA. Whole she's had minor acting roles, she is known as noted producer Kevin James's wife.
Early life, family, educational background
Steffiana de la Cruz was born Stephanie Anna Marie Zantua under the star sign of Virgo, on 28 August 1974 in New York City – her parents immigrated from the Philippines to America before she was born. The star keeps her personal life incredibly private, and not much is known about her childhood, except that she matriculated from an unknown high school in 1992. De la Cruz showed an interest in modeling from her early years, and after some initial struggle, she began appearing in national campaigns.
Career
De la Cruz broke into the entertainment industry as a model, and would go on to pursue a career in acting.
The now 46-year-old's first acting role was in the 1997 crime drama "Die gang". She landed a follow up role in an episode of "Pacific Blue" which garnered some traction in the US, then appeared in "Cement", "Redemption" and "Stealing Harvard" with her then boyfriend, the late Chris Penn.
Steffiana has had minor roles in her husband's movies "Paul Blart: Mall cop" and "Paul Blart: Mall cop 2", plus a guest role in "The King of Queens", and appeared in "Zookeeper" as Robin.
Personal life
Who is Chris Penn?
From 1993-1999, Steffiana dated and lived with her boyfriend, fellow American actor Chris Penn (10 October 1965 – 24 January 2006), who starred in "The Funeral", "Footloose" and "Rush Hour" to name a few. He was typically cast in tough-guy characters, villains or in comedic roles. He started acting at the age of 12, and landed his first role in the 1979 film "Charlie and the talking Buzzard".
On 24 January 2006 the actor was found dead in his Santa Monica condo at just 40 years old; the primary cause of death was heart disease. His brothers are world-known actor Sean Penn and musician Michael Penn.
Who is Kevin James?
Kevin George Knipfing, known professionally as Kevin James is an American comedian, actor, screenwriter and producer. He was raised in Stony Brook, New York State where he matreiculated from Ward Melville High School. In high school, he reached the top spot on the wrestling team, ahead of friend and future professional wrestler Mick Foley, however, a back injury knocked him off the top, and resulted in Foley claiming the number one spot.
James has an older brother, fellow comedian and actor Gary Valentine, and a sister Leslie. During a performance in the local Stony Brook theater, James enjoyed the audiences reaction to his comedic role so much, that he later joined his brother Gary's improv group.
James performed stand up comedy for 11 years, and it was during this time that he met actor and comedian Ray Romano. After several TV appearances in "Just for Laughs" and "The Tonight show with Jay Leno", he landed a recurring role in Everybody Loves Raymond.
He would later star as Doug Heffernan in his own sitcom "The King of Queens". The show was a roaring success and a stepping stone to James as a leading actor in many films.
Kevin James' career and accomplishments.
In 2005, Kevin James starred alongside Will Smith in the romantic comedy "Hitch",  the role which launched James' movie career into the stratosphere, in which he frequently collaborated with longtime friend and actor, Adam Sandler.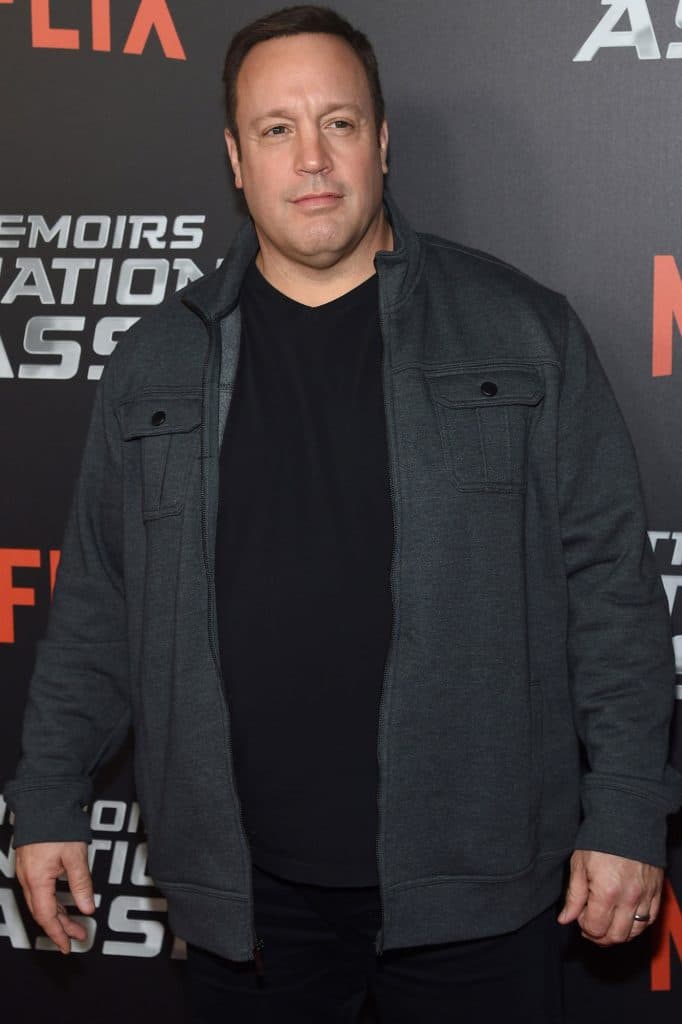 The two actors starred in the 2007 film "I now pronounce you Chuck and Larry" , about two friends who pretend to be lovers for tax purposes.
Shortly afterwards, he proved to be a box office hit when he took on the role of a mall patrolman in "Paul Blart: mall cop", which grossed $219 million globally. He continued to cement himself as a box office hit, with movies such as "Grown Ups", "Here Comes the Boom", "Zookeeper", and by also lending his voice in "Hotel Transylvania".
Kevin met Steffiana on a blind date in 2001, arranged by his interior designer. The two moved in together shortly afterwards, became engaged in 2003, and wed the following year.
They welcomed their first child, daughters Sienna-Marie in September 2005 and Shea Joelle in June 2007. In 2011, the parents welcomed a son named Kannon Valentine, and in 2015, they had their fourth child, daughter Sistine Sabella.
In a 2017 interview with CountryLiving Magazine, James admitted that a lot of his comedy comes from his kids, saying 'they don't mean to, but they provide a wealth of comedy'. James shared a picture with his wife on his Instagram account, when the couple celebrated their 16th wedding anniversary in June 2020.
Hobbies and trivia
Steffiana is tight lipped about her personal life, and has no social media accounts, but fans can live vicariously through her husband's posts about their life and his world.
She enjoys listening to heavy metal
She enjoys playing Carrom, an Indian and South Asian tabletop game
Loves to go bowling
Enjoys photography
Appearance, clothing style
Dela Cruz has gorgeous dark brown eyes and dark brown medium length hair. She's 5ft 8ins (173cm) tall and weighs around 120lbs (55kgs), a weight she has maintained well after having four children, maintaining an attractive body of 32-24-23 by regular exercise.
Both she and her husband enjoy sports and being active. She often accompanies her husband on the red carpet, wearing designer dresses and smoky, smoldering make up.
Net worth and salary
As of early 2021, Steffiana has an estimated net worth of  $5 million, made from her acting and modeling careers. Kevin James has an estimated net worth of over $100 million – starring in "The King of Queens" reputedly bagged him around $300,000 an episode.