• Marquise Diamond Jackson, known as 25 Cent, is the son of rapper 50 Cent
• He is 23 years old and is a talented singer, actor, and basketball player
• He has released multiple songs and made appearances in his father's music videos
• He and his father have had a tumultuous relationship since 2008
• He has an estimated net worth of $1 million
Marquise Diamond Jackson, known by his nickname 25 Cent, is a well-known Family Member and son of the award-winning rapper 50 Cents, aka Curtis James Jackson, and Shaniqua Tompkins. He is a popular and apparently very talented singer.
Early Life, Family, and Education Background
50 Cent's eldest son, Marquise was born on 13 October 1997, in L.A., California, which makes him 23 years old as of mid-2021. He is of the Afro-American ethnicity, and his zodiac sign is Libra. His mother, Thompson, is a famed American actress who divorced 50 Cent a few years after Marquise was born.
Marquise has a sister, Mia Jackson, and a half-brother, Sure Jackson who is 7-years-old as of 2021.
Being born to a well-off family, Marque grew up as a star kid. He attended St John Military Academy, based in Delafield, Wisconsin, from where he matriculated. Jackson's parents divorced when he was still young. Shaniqua sued 50 Cent following the divorce, demanding child support payment of $50 million. However, the lawsuit was dismissed by the judge which created a bitter relationship between the divorcees. The lawsuits and court battles made Marque's childhood rocky and different from other children's; this would later on transform the nature of his relationship with his father.
Hobbies
Marquise has enjoyed playing basketball ever since he was a child. His passion and love for the game made him the best prep school player in 2014 at St John Military Academy – he was 16 years old.
Career
Marquise's family has a music background, which has continued to fuel his interest in music. He has decided to pursue acting and music as a profession, and has released several songs, beginning with the release of the single "Different."
25 Cents, as most called him when he was a kid, made an appearance in "The New Breed," which was 50 Cent's video Documentary. He also appeared in the documentary short "A Portrait of an Artist: The Making of Get Rich or Die Tryin'".
The talented singer featured in 50 Cent's segment "Wanksta" which was part of his " The New Breed" documentary.
25 Cent has released several songs including "Follow Your Heart" and "Just Another Freestyle" – he later released the latter to diss 50 Cents. In 2017, Marquise also made an appearance as Lil Bam in the Ron Elliot directed movie, "Dope Fiend."
Personal Life
Marquise isn't married. Rumors have it that he was previously dating singer Tyler Royale. Currently, he lives together with his sister and mother, with whom he is alleged to have a very close relationship.
Marquise Feud with His Father
Despite the fact that 50 Cent has his son's (Marquise) name tattooed on his bicep, the duo have had an unstable relationship since 2008.
Marquise's clash with his father began when he was 10 years old, in spring 2008. The feud was mainly centered around Curtis Jackson's $4 million mansion in Long Island, which according to Shaniqua Thompson, was allegedly promised to her by her then husband, 50 Cent. Despite the alleged promise, 50 Cent made an attempt to evict her as soon as they were separated; a move that resulted in lawsuits and lengthy court battles.
On 30th May, the disputed mansion was set ablaze, which authorities classified as 'suspicious.' Despite the fact that 50 Cent was filming a movie in Arizona when this happened, Shaniqua insisted that he had caused the fire deliberately, and that he was trying to kill her together with Marquise.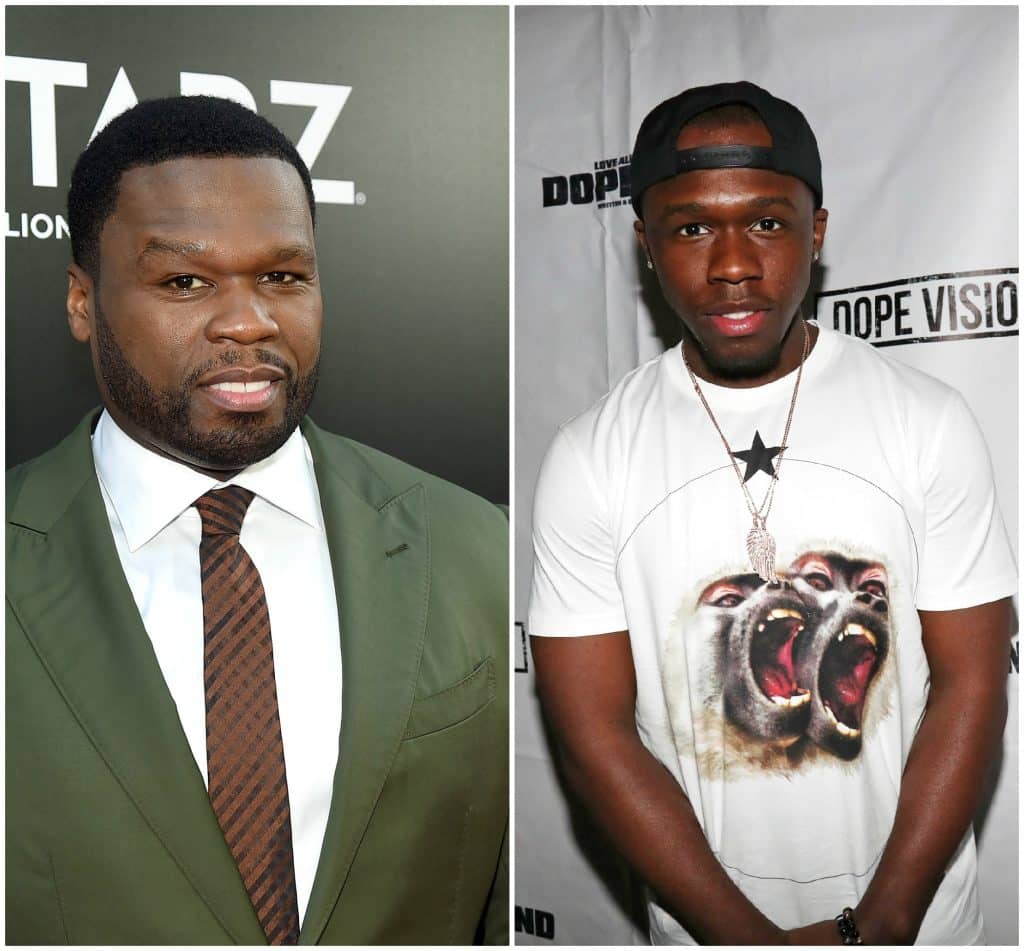 Since then, Marquise hasn't been getting along with his father, who had previously threatened to cut him off from his will.
The father-son clash re-ignited in 2020, when 50 Cent made a condescending remark about his son in a live Instagram post. 50 Cent had been asked if he had been in contact with Tekashi 6ix9ine after he had been released from the jail, a question that he responded to with a 'no'. He further explained that it didn't matter whether or not Tekashi had snitched, and that he (Tekashi) was far better than Marquise.
In another incident when 50 Cent was performing live on stage, rather than being backstage,  Marquise wasn't given a pass and was forced to sit in the audience.
When questioned about the matter, 50 Cent disowned Marquise, and went on to post on social media that a blood test had proved that Marquise was not his son had been taken. The source of their feud is not clear yet; however, it's alleged that it all started when Marquise took Shaniqua's side during his parents' clash.
Net Worth
Marquise is 23 years old and is just starting his career. He uses his Instagram account as the platform which he flaunts his lush lifestyle. He has an estimated net worth of close to $1 million, as of mid-2021.
Body Measurements
Marquise is a handsome artist who in his twenties, with an athletic body physique standing at 5ft 9ins (1.75m) tall, and  weighing about 135lbs (62kgs), with dark brown eyes and dark hair.
Who is 50 Cent
Curtis Jackson III, aka 50 Cent, is an American songwriter, rapper, producer, actor and entrepreneur. He was born on 6 July 1975, in Queens, New York City, and so is 45 years old as of 2021. 50 Cent was raised by his grandmother after his mother's death. Before he started his career as a rapper, Curtis Jackson was a boxer who graduated to selling drugs to make ends meet. Before he turned his life around, 50 Cent was arrested for being in possession of hard drugs and pistols, which saw him imprisoned for six months.
The famed rapper grew up in the tough neighborhood of Queens, a New York City borough.
He allegedly survived being shot at more than eight times – he used his experiences in New York streets to fuel his rap music, and as a result, it came with a gritty edge as noted by critics, who predicted that he was destined to become a hip-hop heavyweight sooner rather than later.
50  Cent has lived to prove  that hip-hop music is more of a lifestyle than a music genre. He came into the limelight following his 2003 debut album "Get Rich or Die Tryin'",  which topped the charts.
50 Cent has received many notable awards in the course of his career as a rapper, including four BET Awards, a Grammy Award,  and more than a dozen Billboard Music Awards.  Despite his lawsuit, 50 Cents remains one of the wealthiest rappers in the US, with an estimated net worth of over $30 million. Despite his tough and rough past, 50 Cent has managed to fight through all hardships to become one of the greatest artists of the 21st century.