• Olivia Black is a host, model and TV personality best known for being a part of the TV series ''Pawn Stars".
• She was born on 17 May 1989, in Maryland, USA and her real name is Dene Nichole Acero.
• She is mostly known for starring in ''Pawn Stars'', appearing in the fifth season from 2011 to 2012.
• In 2012 she was fired from the show due to a nude photoshoot for the Suicide Girls and she now works as a model and producer.
• She is reportedly dating Maria Plaza, a female chef who belongs to the LGBTQ community, and has an estimated net worth of $1 million.
Who is Olivia Black?
Olivia Black is a host, model, and TV personality, best known for being a part of the famous TV series "Pawn Stars". She was born on 17 May 1989, in Maryland, USA. Her real name is Dene Nichole Acero, but she changed it when she stepped into the world of show business. Born under the star sign Gemini, she holds American nationality, while her ethnic background is unknown.
Early life and career
Information about her family background and childhood is unknown. It seems that Olivia values her privacy and wants to keep her family matters away from the public eye.
Inked Girl Miss Olivia Black Photo Keith Selle Top Inked – http://inkedgirls.us/picture/nevada/miss-olivia-black-224upload and win 1500 USD with Inked Girls

Posted by Inked Girls on Thursday, April 17, 2014
What is known is that she attended and matriculated from a public high school in Maryland. Information about university endeavors is speculated but unconfirmed. Reportedly, she attended an Elite College, but she's never disclosed exact information.
Career and 'Pawn Stars'
Olivia made her debut appearance modeling for Suicide girls in 2009 – in 2008 she applied to be featured as one of the pin-up models, and earned two gigs on the company's site. Even though SuicideGirls is a very popular and successful brand, especially among the alternative sub-culture, she is mostly known for starring in "Pawn Stars", appearing in the fifth season, which aired from 2011 to 2012.
"Pawn Stars" is an American reality TV show, filmed in Las Vegas, Nevada, which chronicles the daily activities at the World Famous Gold and Silver Pawn Shop. This TV show gained popularity and fame very quickly and even today stands as one of the network's highly rated shows, taking second place behind "Jersey Shore". Olivia Black was brought into the show by Chumlee and Corey, who at that time had been a part of the show for years. After being interviewed by Rick and the Old Man, she soon began her training. Some say that she was taken into the show for her pretty looks and quirky personality. Either way, she was a breath of fresh air on the show, given that most of the members were male.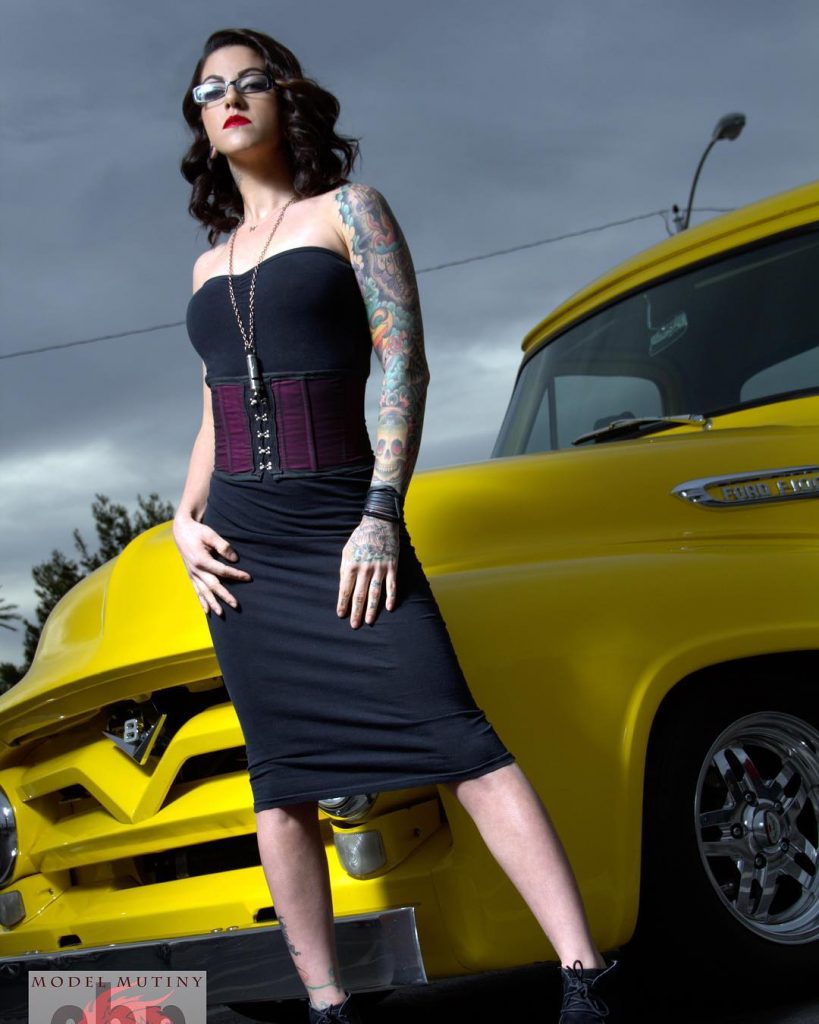 She usually worked the night shifts with Chumlee, who volunteered to train her, despite growing concerns by Rick and the Old Man that the double shifts he was taking were too much for him.
Her other employments include modeling for various brands, comic conventions, and cosplay. The most notable publications she's appeared in are Inked Magazine, Inked Girls, Tabu Tatto, Enquirer, and Fox News. She also played in the "Celebrity Trixy Rocky Horror Burlesque". In 2018 she showed her versatility and took on a job as a producer of the TV show called 'Hardcore Club Restore' with Kaitlyn Adams, Crystal Greenberg and Chris Donohoe. She also co-hosted the Diamond Lou Radio Show, and the Las Vegas ASPCA Benefit Event.
Why was she let go from the Pawn Stars?
In 2012 Olivia Black was fired from the set of Pawn Stars due to the nude photoshoot she did for the Suicide Girls, an adult lifestyle brand that redefines beauty. In December 2012 the National Enquirer leaked her the photos she did for the SuicideGirls. The producers of the show thought it was best not to have a member associated with the adult film industry and showed her the exit gate. It seemed that none of her co-workers had any issues with her involvement with Suicide Girls, because it was her choice, and her performance at the Pawn Shop was not affected by it. Even so, the creators of the show saw her association with the adult industry as a black mark on her record, and generally immoral and unethical.
Even though Olivia was fired from the series, she wasn't fired from the shop, where she continued to work. After a while, she decided to leave the shop and return to modeling gigs with the Suicide Girls. Her getting fired from the show sparked many controversies, and also shone a light on many disputable issues in the business of TV shows and modeling. Some of those are rigidness and restriction of the industry. While working at the Pawn Shop, Olivia amassed a huge following, and a lot of fans were left disappointed after she was dropped from the show. At one time, her fans tried to create a petition to get her back on the show, but unsuccessfully. Since then, she hasn't been linked to any controversy or scandal.
Personal life
Olivia Black is reportedly dating Maria Plaza, a female chef who belongs to the LGBTQ community. They met on social media and soon began dating, and after being together for a time, they decided to tie the knot – information about the exact date and place is still unknown. When asked about her sexuality, Olivia says that she does not consider herself lesbian but rather queer. She is very proud of her sexual orientation and doesn't shy away from sharing photos of her wife on Instagram. Both of them seem very supportive of each other, and they manage together a website that sells sex toys called 'barenakedmob', and a YouTube channel.
They use the YouTube channel to promote their website and also give their followers insight into their lives, interests and hobbies. They posted their last video in 2017, and haven't been active since then.
What is her net worth?
As of early 2021, Black's estimated net worth is around $1 million, – her current income is unknown. It is believed that Olivia generated this amount through her dynamic career, modeling for various brands, magazines, and collecting revenue from her website.
Physical stats and hobbies
As a model who has been working for years, Olivia is in great shape and has admirable physical stats. She is 5ft 5ins (157cm) tall, weighs around 115lbs (55kgs), and her vital statistics are 34-27-32.
Furthermore, she is blessed with dark brown hair and hazel eyes. Both Maria and Olivia share an immense love for tattoos, and they have many; almost every part of her body is inked.
Her favorite actor is Seb Federici, and she has professed her infatuation with this actor and comedian many times on her social media accounts.
She also enjoys pole dancing, and after years of practicing, she has become very good at it. Her body agility and flexibility can also be attributed to yoga, which she practices every week.
https://www.instagram.com/p/BzwLhBqH_fJ/
Olivia is very active on social platforms. She often uses Instagram, and shares photos of herself, her modeling gigs, and her wife. On Instagram she has over 30,000 followers, while on Facebook she has over 14,000 fans. As someone who spent a lot of time being in front of the camera lens, having encountered many issues about physical appearance, she uses her social platforms to share body positivity and encourages others to embrace their sexuality. The world of modeling is very complex and rigid, and for a member of LGBTQ like Olivia, it is very brave to bring messages about positivity, and also share her insights.