• "Swamp People" has been running for a decade and has gained a large following, despite criticism from those against hunting.
• Joseph "Big T" Rogers was a part of the show but disappeared from the 12th season, worrying his fans.
• Big T has suffered from health and financial problems, preventing him from returning to the show.
• He has been an avid alligator hunter since childhood and was taken in as a second father figure by fellow cast member Daniel Edgar.
• While there is still hope for Big T's return to "Swamp People", his health and financial situation need to improve for this to happen.
Despite being premiered a decade ago, "Swamp People" is surely one of those shows that could never stop surprising us. Sure, it also receives a lot of criticism from people who don't agree with its whole hunting factor, but those who follow the series for that same reason can't seem to get enough of it.
After being on air for so long, it's expected that the audience become interested in the lives of the show's cast, even off-camera. That's why Joseph "Big T" Rogers' disappearance from the show during its 12th season has worried his fans everywhere, giving rise to many rumors and questions regarding why he's no longer on TV, if he's alright, or if something bad has happened to him.
What happened to "Big T" then? Is he going to return to the show, or was he fired from it? Is he still actively joining the alligator hunting season, or has another job? This and more we will tell you in this vid, so take a seat!!
What Happened To Him?
The 12th season of "Swamp People" premiered in May 2021, but the audience was flabbergasted to see Big T wasn't in it. The reason for his disappearance is unfortunately worth his fans' worry. For the last couple years, Big T has been going through many difficult times related to his health, and financial problems, which have made it impossible for him to return to the show, or even work at all.
Back in early 2019, Big T informed his fans he had a severe foot infection which had required several surgeries. Although he assured that his foot issue was at first only a 'tiny cut', his diabetes played a big part in the problem worsening, eventually requiring surgery that didn't go well the first time. Since then, the situation has only gone downhill for him.
Hunting
Fast forward to 2021, it seems that his health situation hasn't improved that much, making him unable to rejoin 'gator season for the time being.
To help him with medical bills and personal finances, which have also been negatively affected by his inability to work, you could find an active funding campaign on his official Facebook page. He surely would appreciate the support!
Health
Since his first surgery in 2019, Big T has gone through another four procedures of the same type. As stated in his online funding campaign, his foot's situation took a turn for the worse, when following his first surgery, a piece of infected bone was left. Eventually, the internal infection that spread in it reached his heel, affecting even the part of his foot that had already healed at the time.
After going through a second surgery, his foot had apparently been recovering well. The situation was looking so good, that it even allowed him to get a job to help cover his medical costs.
However, in September 2020 a piece of glass derived from an exploded baking dish cut his foot once again, leading him to leave his job after only 10 days to undergo a third surgery, in late October that year. At that point, it was publicly revealed that Big T's financial situation was so bad that he was in danger of losing his home.
Later in November he underwent two additional surgical procedures, which as described in an update of his health at the time, didn't improve the situation. Since then, Big T hasn't updated his fans on his condition that much, but seeing that his funding campaign is still active, we assume that he hasn't entirely recovered yet.
Who Is Big T?
Usually, being a reality star inherently means that you have to put a big chunk of your private life out to the public eye, if only for a chance to gain more fame.
However, this is fortunately not the case with the guys of "Swamp People", and admittedly also doesn't apply to a lot of shows History channel produces.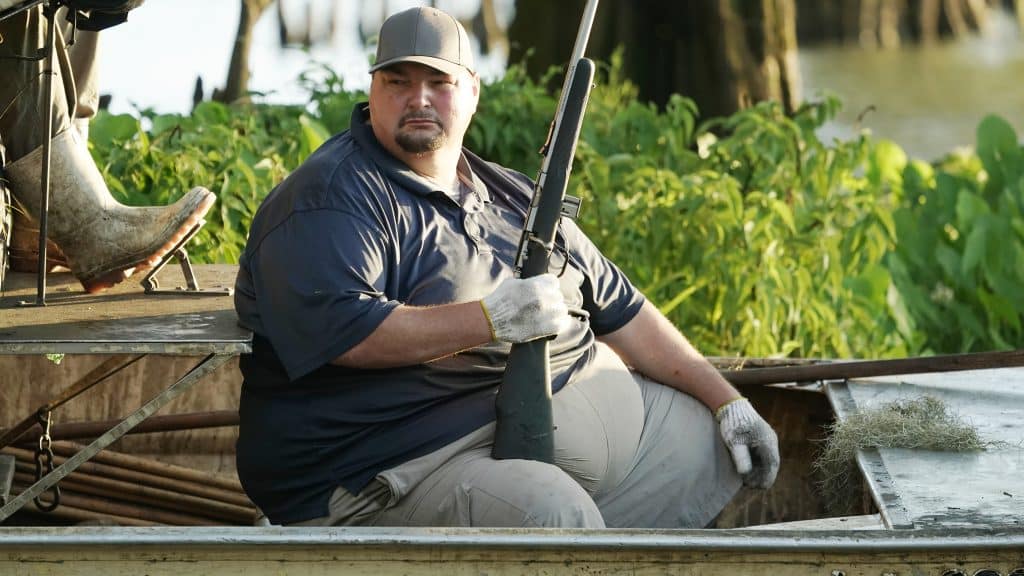 The truth is that not everyone wants to be on TV just to get a taste of fame, but they do it instead to gain some good money through it, while also getting to show off their skills at whatever they do for a living.
The latter is probably Big T's case. His passion for alligator hunting comes from the fact that he's a native of Louisiana's south-eastern town Pierre Part, where said activity is widely popular, and represents a big part of its population's financial income.
Although not a lot is known about Big T's personal life, we've fortunately got to know other details just as important about him, such as that his real name is Joseph Rogers Richard. The "tee" in his nickname is a short way of saying "petit", as in "little" in French, an appellation given to him by his 27 years older brother during Joseph's childhood.
TV Debut
Big T made his debut on TV during "Swamp People"'s ninth season, aired in early 2018.
As his fellow cast member Daniel Edgar's right hand on the hunting swamp, Big T quickly gained fame for his precision shooting, which gained him his other nickname – "flatliner".
As he affirms, his ability to shoot is nothing more than the result of a lot of practice. Big T learned to hunt when he was a child, and with it shooting was necessary. As he started to love the activity, it was obvious that he just couldn't allow himself not to be good at it, as munitions were expensive, and time valuable.
If you ever watched Big T working alongside Daniel Edgar in "Swamp People", you might already know the men made a good hunting team, regardless of their age difference and the usual anger problems that sometimes arose in the middle of their hunting trips.
As Big T admitted during a 2019 interview with the website Monsters & Critics, the show's production was pretty much comfortable with the team he and Daniel made, and were planning on keeping them together for the following seasons. However, that didn't become a reality as Big T had to leave "Swamp People" just a couple years later.
How Does He Know Daniel Edgar?
It's somewhat expected that TV stage a lot of situations, so no one can fault people for thinking the hunting teams in "Swamp People" are somewhat planned by the show's production, than by the hunters themselves.
However, this is not true at least when it comes to Big T and Daniel Edgar. In fact, they not only knew each other long before the show came to be, but also Daniel has been the closest thing to a hunting and shooting tutor Big T ever had.
The story actually goes back to decades ago, when Daniel and Big T's father were best friends and hunting pals.
Daniel eventually became more than just Big T's family friend, and took the place of a second father figure in his life, and not only for teaching him how to fish and shoot. As Big T affirmed during an interview, Daniel also financially helped him while growing up, as his own parents couldn't support him at times.
Knowing that, it's not surprising that eventually Daniel took Big T on his hunting trips, and invited to join "Swamp People" too. During the times Big T was in a rough financial situation – a product of his foot infection – Daniel donated a hunted gator to raise funds. Truly a father figure, without a doubt.
"Swamp People" – What Is It About?
Some people could be surprised to find out how the alligator hunting business works, while others wouldn't even know such an economic market exists if it wasn't for History channel's "Swamp People".
However, everyone who knows at least a little bit about Louisiana has it clear that hunting 'gators and selling the leather product provides many families with an income. Indeed, this activity goes far beyond a hobby or a way to make a living, as it's become a tradition which has remained in place for centuries now.
Normally, 'gator season in the Atchafalaya River only runs 30 days from September, a time window hunters have to use as best they can to catch enough alligators, though these should have been tagged prior to the start of the season to prevent excessive culling of this animal's population.
While hunting 'gators might seem a too-daring activity for average people, the guys showcased in the show are in no way rookies. As has been proven throughout the decade "Swamp People" has aired, it requires more than a good shot and a rightattitude to be able to catch anything in the Atchafalaya basin.
Why So Many People Left The Show?
It's usual that reality shows include new cast members every few seasons, but even then it's always surprising to find how many hunters have been showcased in "Swamp People", only to be left out of it not long after.
As it turns out, this has an explanation; in 2015 the show had some new additions to the production staff, and with it a couple of executive decisions included the firing of eight hunters from the show.
While we know "Swamp People" doesn't depend on the use of drama to keep ratings high, some drama actually unfolds because of this situation. One of the fired hunters, Liz Choate, informed her followers on Facebook that History had taken the "unexplained" decision to terminate her and other cast members off the show.
Later, Junior and Willie Edwards, who were also cut off, took to social media to negate that their firing had been caused by greed, something they had been accused of by a 'certain family', they affirmed.
All of these posts had a negative effect on the fans, and of course, the show's producers weren't too happy about it. As Liz Choate affirmed later on, she had been asked to delete her post explaining the reason for her family's absence, to which she responded with a 'kiss my a$$' and a pledge to always remain sincere with her followers.
Is "Swamp People" Real?
No matter how much a reality show is loved, many people have good reasons to distrust everything that happens on-screen when they watch a series of this genre. So the big question at this point is, is "Swamp People" legitimate or is everything we see on the screen faked or staged?
The answer is not that easy. Of course every reality show tries to exaggerate certain situations. From a logical point of view, editing or even staging some scenes to make the series more interesting makes sense, as it obviously keeps the audience entertained.
However, don't be mistaken. Although it's true that "Swamp People" uses these types of strategies to keep ratings high, the 'gator hunting and the danger that comes with it and you see in the show is indeed real. More than that, every hunter on screen is indeed a professional in what they do, so even if you have every right to not believe everything that happens in "Swamp People", at least we can assure you that it isn't a hoax.
Will Big T Return To The Show?
Big T's medical situation didn't allow him to join "Swamp People" in season 12, but his fans haven't lost hope that he can return to TV sometime in the future.
As it turns out, in January 2021 Big T asked his followers on his Facebook page if they were ready for "Swamp People" season's premiere. While his post looked promising at first, he was repeatedly asked under the comment section about whether or not he would appear in this season, getting negative answers on his part. As he affirmed to a curious fan, joining "Swamp People" again in the future is still possible, but nothing is certain for now.
Even if he didn't give clear reasons as to why History didn't call him to rejoin the show, seeing that his health situation hasn't been the best recently, it's pretty much the possible cause.
While it's assumed his comeback to TV depends mainly on his recovery, we're hopeful Big T's health and financial situation takes a turn for the better soon. This would be the best news he and his family could receive, regardless of whether or not his return to the show happens at all.