• Bruce Boxleitner is an actor, writer, and producer with 130 acting credits to his name
• He is best known for his portrayal of Matthew Stetson in the series "Scarecrow and Mrs. King" and Captain John Sheridan in the series "Babylon 5"
• He has won two Primetime Emmy awards and been nominated for several others
• Bruce has an estimated net worth of $3 million
• His current wife is publicist Verena King
Who is Bruce Boxleitner?
He is a writer, producer, and an actor with over 130 acting credits to his name, however, Bruce Boxleitner is probably still known best for his portrayal of Matthew Stetson in the series "Scarecrow and Mrs. King", in which he starred opposite Kate Jackson. The series followed the story of a housewife who fell in love with a spy, had seven award nominations and won two, including one Primetime Emmy.
Bruce is also known for his role as Captain John Sheridan in the series "Babylon 5", which brought him numerous accolades and awards, including two Sci-Fi Universe Magazine Reader's Choice Awards for Best Actor in a Genre TV Series, in 1995 and '96.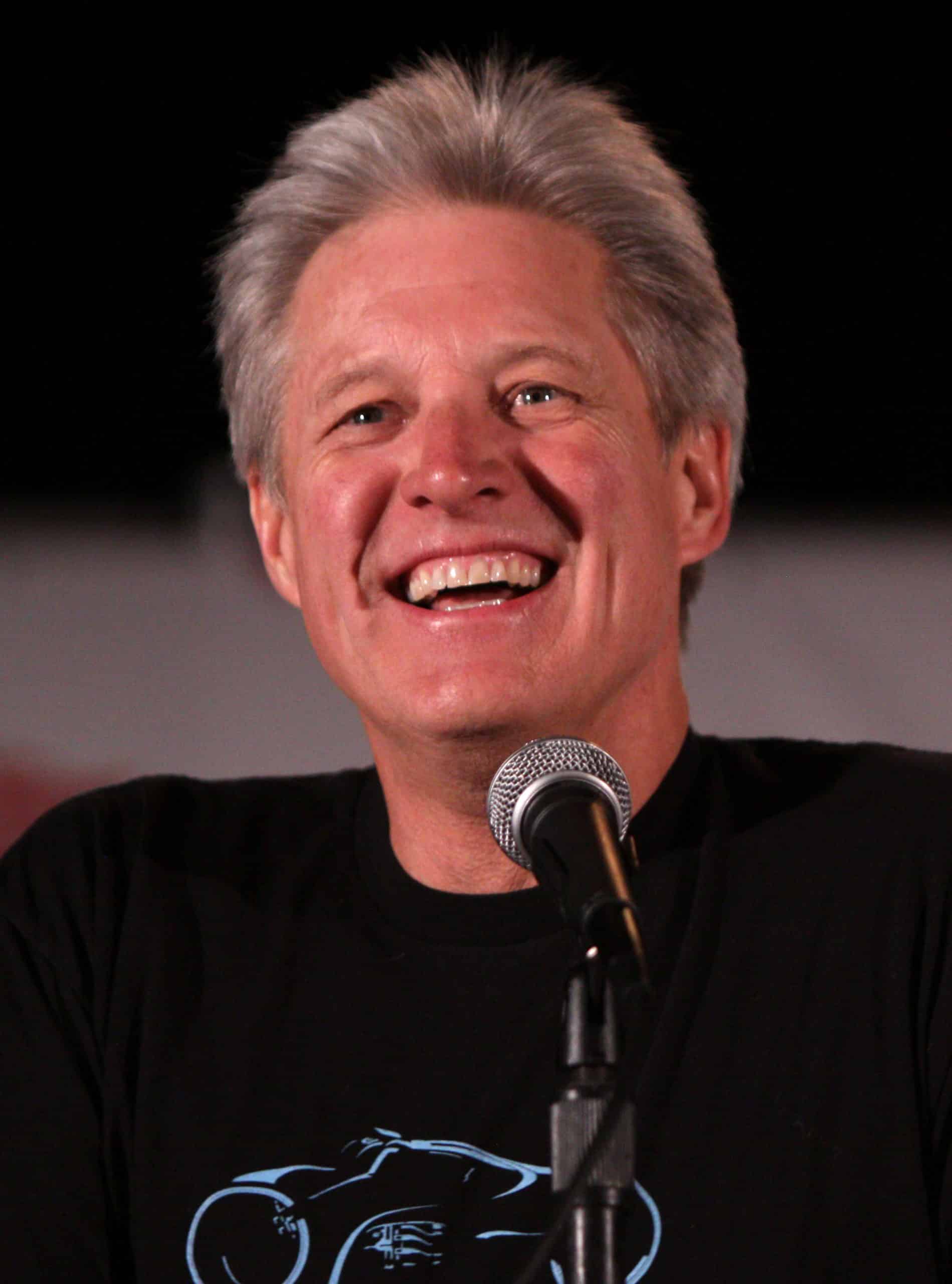 Early life, family, and education
Born Bruce William Boxleitner on 12 May 1950, his zodiac sign is Taurus, and his age is 72 as of January 2023. Bruce is an Elgin, Illinois USA native, holds American nationality, and comes from a family of German, Irish, English, Scottish and Welsh descent.
He was raised in his hometown by his parents Cliff and Diane, about whom nothing is known. Bruce has three sisters, Nancy, Sandi and Terri, who also prefer to keep their lives away from the public eye.
Having an interest in acting and performing from an early age, upon matriculating from Prospect High School in 1968, Bruce enrolled at the Goodman School of Drama at the Art Institute of Chicago, from which he graduated with a BA degree in 1972.
Career beginnings
Bruce made his acting debut playing the role of Rick Welch in an episode of the series "The Mary Tyler Moore Show" in 1973. He followed with his role as Danny in the 1974 movie "The Chadwick Family".
In the following years, Bruce made guest appearances in several popular series before he was cast to play what many would say is his breakthrough role as Luke Macahan in the series "How the West Was Won". He was seen in 26 episodes from 1976 to 1979.
In 1980, Bruce made his big-screen debut as Billie Joe Robbins in the crime drama "The Baltimore Bullet", starring James Coburn and Omar Sharif. Two years later, he was cast to play Alan Bradley/Tron in "Tron", which was his first lead role, starring opposite Jeff Bridges and David Warner in this science-fiction adventure, which had eight award nominations, including two for Oscars (Best Costume Design, and Best Sound), and won two, including the Guinness World Record Award for First Use of Computer-Generated Animation.
Later that year, he was seen as Billy Montana in the TV movie "The Gambler", starring Kenny Rogers, which was nominated for two Primetime Emmys.
In 1982 and 1983, Bruce was Frank Buck in the series "Bring 'Em Back Alive", also starring Clyde Kustasu, then reprised his role as Billy Montana in the 1983 movie "Kenny Rogers as The Gambler: The Adventure Continues".
Later that year, Bruce was cast to play Matthew Stetson in "Scarecrow and Mrs. King", and was seen in 88 episodes through to its last season in 1987. His co-star from the series, Beverly Garland, was his acting mentor, and although they haven't shared many scenes, the two were close friends from the day they met until she died in 2008.
In 1986, Bruce won the Bravo Otto Germany award for Best Male TV Star, and was nominated twice more for the same award in 1987 and '88.
After his role in "Scarecrow and Mrs King", Bruce again reprised his role as Billy Montana in the 1987 "Kenny Rogers as The Gambler, Part III: The Legend Continues", and in 1989 was seen in the TV mini-series "Till We Meet Again".
Notable movie roles
The early '90s saw Bruce in "Breakaway" (1990), "Diplomatic Immunity" (1991), and "Kuffs" (1992), as well as in numerous TV movies, including "Gambler V: Playing for Keeps" (1994) and "Free Fall" (1999).
In the 2000s, Bruce focused on his big-screen roles, among which he was seen as Doctor Robert Lewis in the 2001 movie "The Perfect Nanny", in which he starred opposite Tracy Nelson. This mystery thriller-drama told the story of a woman who was obsessed with romantic novels, and after she was released from a mental institution, she began working as a nanny to a handsome widower, fell in love with him, and would kill anyone who stands in her way of becoming his wife. Although the movie had no nominations, it was well-rated by the audience.
He followed with his roles in "Contagion" (2002), "Brilliant" (2004), and "King of the Lost World" (2005). In 2010, he reprised his role as Alan Bradley in "Tron: Legacy" which had 51 award nominations, including one for the Best Achievement in Sound Editing Oscar, and won 10.
Bruce, as Johnny Morgan, with #RobertDavi in the pilot of "Smokewood, Nevada" (2012).#MartinKove #MarkOdlum#Smokewood #Nevada#Western #cowboys#comedy #wildwest pic.twitter.com/TOlIViIyKN

— Bruce Boxleitner Italian Fan Page (@BruceItalian) May 2, 2022
In the following years, Bruce was back in movies made for television, starring in "Smokewood" (2012), "Silver Bells" (2013), and "So You Said Yes" (2015).
He returned to the big screen in 2018,  cast to play Vice President Hogan in the comedy "The Oath". Most recently, Bruce was seen as Walter Miller in the 2019 Hallmark movie "Holiday Date".
Notable TV series roles
Aside from the aforementioned television series roles in the early 1980s, Bruce's role in "Babylon 5" is noteworthy, which aired from 1993 to 1998, with Bruce appearing in 88 episodes of this adventure drama set in the mid-23rd century. Babylon 5, the Earth Alliance space station, is a major hotspot for racial tensions, political intrigues, and various wars. As mentioned, Bruce won one award, and he was also nominated for the Academy of Science Fiction, Fantasy & Horror Films, USA- Best Genre TV Actor, while the series had 26 award nominations and 18 wins, including two Primetime Emmys.
In the following years, Bruce was seen guest starring in several series, and in 2005, he was seen in all 13 episodes of the series "Young Blades" playing the role of Captain Martin Duval. The series was based on the novel "The Three Musketeers" by Alexandre Dumas, and won the Leo Award for Best Costume Design in a Dramatic Series.
Bruce was heard as the voice of Tron in the series "Tron: Uprising" (2012-2013) which won a Primetime Emmy for Outstanding Individual Achievement in Animation. He followed with his role as Bob Beldon in the series "Cedar Cove", seen in 29 episodes from 2013 to 2015 of this romantic drama, also starring Andie MacDowell, Dylan Neal and Sarah Smyth.
Bruce next portrayed President Baker in the series "Supergirl" (2018-2019), and was seen as Nick Colomba in three episodes of the series "Matchmaker Mysteries" (2019-2021).
Most recently, he was General Joe Haldeman in "Space Command" (2021-2022), and President Alcuzan in "The Orville", an adventure drama set 400 years in the future, created by and starring Seth MacFarlane.
Love life, wife, and children
Bruce's love life seems to be full of ups and downs. He married to his co-star from "How The West Was Won", Kathryn Holcomb. The two married on 28 May 1977; their first son, Sam, was born in 1980, while their second son, Lee was born in 1985, both of whom work in the entertainment industry – Sam is an actor, producer and composer, while Lee works as a writer, director and producer. Bruce and Kathryn divorced in 1987.
Fun fact: his first wife introduced him to his second wife, Melissa Gilbert, also an actress, probably still known best for her role as Laura Ingalls in the series "Little House on the Prairie". The two become engaged in the early '90s, but Bruce twice called off their engagement before they eventually tied the knot on 1 January 1995.
Bruce and Melissa have one son together, namely Michael who was born in 1995, and who prefers to keep his life private – his parents divorced in 2011.
In January 2013, Bruce began a relationship with publicist, Verena King; the two become engaged on 9 December 2015, and exchanged their wedding vows on 5 October 2016 in a private ceremony held on Oahu, Hawaii. As of January 2023, Bruce and Verena are still together.
What happened to him?
Although Bruce hasn't confirmed the rumor of his retirement from acting, many of his fans believe it to be true.
His fans can keep track of his career and his life through his social media accounts, as Bruce is active on his Instagram, Twitter and Facebook profile, but for now there's no update about his upcoming projects.
It is known that he lives with his wife in their residence in Los Angeles, California.
Net worth
This veteran actor has accumulated a sizable fortune thanks to his talent, starring in numerous films and television series. You might think Bruce is a multi-millionaire after seeing how many acting credits he has, however, according to sources, his net worth has been estimated at close to $3 million as of early 2023.