Who is Sjokz?
Eefje Depoortere, known better by her professional name Sjokz, was born in Bruges, Belgium, on 16 June 1987 – her zodiac sign is Gemini, and she holds Belgian nationality. She's a TV presenter, eSports player and a reporter, who's perhaps known best for having hosted several World Championships of the video game "League of Legends" (LoL).
Early life and education
Sjokz was raised in Bruges by her parents, about whom nothing's known as she respects their privacy. She hasn't spoken of having any siblings, so is believed to be an only child. There are rumors circulating the internet claiming that the professional LoL player Phreak is her brother, but this hasn't been confirmed.
She grew up being interested in playing video games, and excelled at the first-person arena shooter "Unreal Tournament '99". Sjokz played professionally while attending a local high school, and later became a member of the Belgian national team, winning multiple ClanBase EuroCups with them. "Unreal Tournament '99" is also how Sjokz got her nickname; she mostly played with the Shock Rifle, and 'Sjokz' stands for 'shocks' in Flemish.
Upon matriculating in 2005, Sjokz enrolled at Ghent University, from which she graduated with a Bachelor's degree in history and journalism in 2009; she then continued her education at Ghent, and graduated with a Master's degree in teaching, in 2011.
Sjokz's career
Sjokz was interested in modelling during her teenage years, and was eventually convinced by her friends and family to start entering beauty pageants. In 2009, she won the Aardbeienprinses van Beervelde pageant, and two years later, she placed #3 at Miss Style Belgium pageant.
She launched her career as a freelance journalist not long upon graduating – Sjokz could've been seen producing content for ESFi World and the German professional eSports organization SK Gaming, and she gained recognition after Travis Gafford invited Sjokz to make a guest appearance in his YouTube show "Whose League is it Anyway?" (WLIA). As people wanted to see Sjokz again, she made more appearances, and was eventually invited to become the host of the European "League of Legends" Championship Series.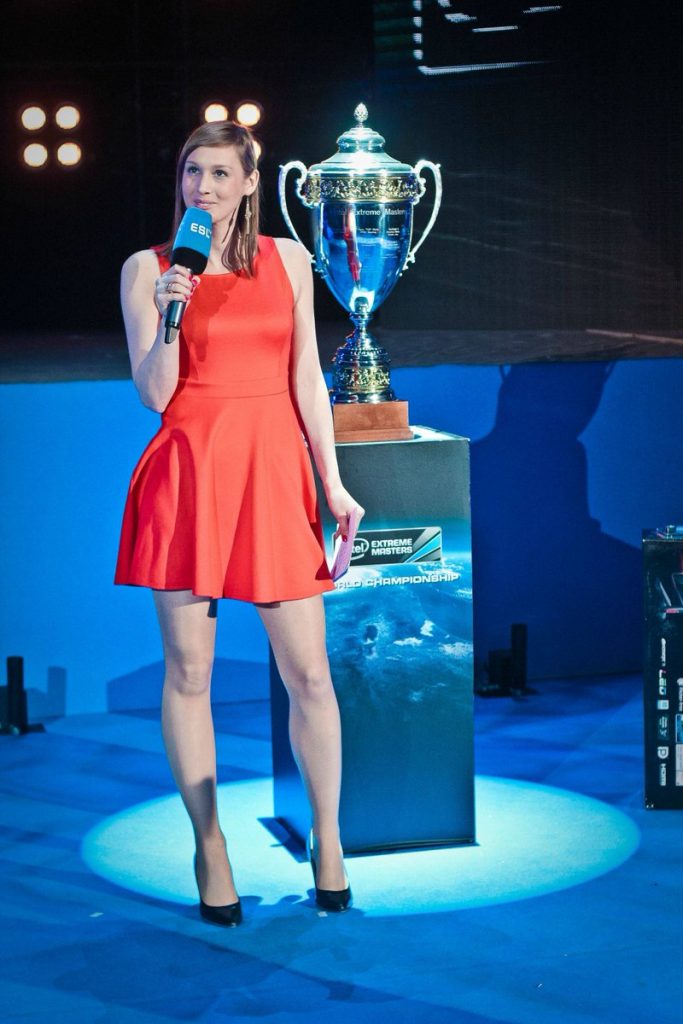 In 2013, she was the host of the World Championship held at Staples Center in Los Angeles, California, while Sjokz also hosted the 2015 and the 2019 World Championships organized in Europe, and in 2020 the World Championship in China.
She has also become popular thanks to her own show "Summoner Recap", which can be watched on the YouTube channel "SK Gaming".
Presence on the internet
Sjokz is highly active on Instagram, and is followed by more than 500,000 people, while she's uploaded over 1,100 pictures; most of these have been taken during her everyday life.
She launched her Twitter account in December 2009, and it's today followed by more than 750,000 people, while she's tweeted close to 65,000 times.
Sjokz is followed by close to 400,000 people on Facebook, and although she doesn't have her own TikTok account, many videos featuring her have been uploaded onto the network, and these have been viewed more than 65,000 times.
Sjokz opened her YouTube channel on 9 August 2012, and it's today subscribed to by close to 150,000 people, and numbers over 5.6 million views of all her videos combined. She's mostly focused on videos related to gaming, and her most popular video "Reacting to OLD LCS FOOTAGE (the cringe is real)!" has been watched more than 700,000 times.
Sjokz's also been a Twitch streamer since 15 April 2012, and is today followed by close to 250,000 people, with an average of 2,600 viewers per stream, and has amassed more than 4.5 million views of all her livestreams combined; Sjokz's highest recorded number of concurrent viewers was 18,084 on 17 June 2020.
She has spent most of her livestreaming time playing the video game "Valorant", and some of the other games she enjoys playing include "League of Legends", "Among Us" and "Apex Legends".
Awards and nominations
Sjokz has been nominated for six awards, winning five. In 2017, she won an Esports Industry Award for Esports Personality of the Year, and in 2018, 2019 and 2020, she won The Game Award for Best Esports Host. Sjokz also won a 2020 Esports Award for Esports Host of the Year.
Also in 2020, she was nominated for an Esports Award for Esports Personality of the Year.
Love life and husband
Sjokz's highly secretive when it comes to her love life, and hasn't spoken of any men (or women) whom she has perhaps been with.
This is why there are various rumors circulating the internet, concerning both her sexual orientation, and her current relationship status.
Some people believe that she's in a relationship with the Spanish eSports player x Peke, as they have noticed that she has been flirty with him on TV. The two have apparently also been seen spending time together on multiple occasions, but neither of them has confirmed the rumors of their relationship.
There are also some who claim that Sjokz is a lesbian, and that this is why she hasn't mentioned any men whom she has perhaps been with; this hasn't been confirmed either.
There have recently been rumors circulating the internet, claiming that Sjokz might be married, and might be pregnant, but these have been proven false.
As of July 2021, Sjokz seems to be single, hasn't married and doesn't have children.
Hobbies and other interests
Sjokz's a fashionista, as she's trying to keep up with all the latest fashion trends, so is a shopaholic, and goes shopping for clothes at least once a week. She has shared pictures of some of her outfits on her Instagram account.
She likes to cook, and has uploaded several videos onto her Instagram account, which feature her preparing her own recipes.
She's a lover of animals, with dogs and horses being her favorites.
Sjokz's is physically highly active, and has three to four training sessions at the gym every week, thus her slim figure. Summer is her favorite season, mostly because she enjoys showing off her body at the beach, swimming in the ocean, and sun tanning.
She enjoys watching movies late at night – her favorite actor and actress are Leonardo DiCaprio and Kate Winslet, while a couple of her favorite films are "Titanic", "Inception" and "The Eternal Sunshine of the Spotless Mind".
Age, height and net worth
Sjokz's age is 34. She has long brown hair and blue eyes, her height is 5ft 8ins (1.73m) and she weighs around 135lbs (62kgs).
As of July 2021, her net worth has been estimated at over $1.5 million.