Who is Traylor Howard?
Traylor Howard is an American award-winning television and film actress, who is perhaps still best known to the world as Natalie Teeger in the TV series "Monk" (2005-2009), in addition to several other roles that she has secured in her acting career.
What Happened to Traylor Howard?
Following the end of "Monk", Traylor retired as an actress, and got married in 2011 for the third time. She is now focused on raising her children, including son Julien born in 2012, and since then she has only voiced Polar Bear in the animated short "Simon Says Save the Climate" in 2016.
Traylor Howard Wiki: Age, Childhood, and Education
Traylor Elizabeth Howard was born on 14 June 1966 under the Gemini zodiac sign, in Orlando, Florida USA. She's the daughter of Robert M. Howard, Jr., the president of the Howard Fertilizer and Chemical Company, and his wife Peggy E., whose maiden name is Traylor. Traylor went to Lake Highland Preparatory School in her hometown, and after matriculation enrolled at Florida State University, from which she obtained a degree in communications and advertising, with a minor in English.
Career Beginnings
Before making her acting debut, Traylor was selected to star in one of the "You Will" series of commercials for AT&T Corporation in 1994. The same year, she made her on-screen acting debut in a minor role in the TV adventure comedy series "Lois & Clark: The New Adventures of Superman", and the following year she was Fran in the drama film "Till the End of the Night", starring Scott Valentine, Katherine Kelly Lang, and John Enos III.
In 1996, Traylor was selected as one of the stars in the comedy series "Boston Common", next to Anthony Clark and Hedy Burress.
She appeared in all 32 episodes, which celebrated her as an actress, and she was ready for a new prominent role after the series ended in 1997.
Rise to Prominence
Traylor's next popular role was as Anne Henning in the award-winning 1998 comedy film "Confessions of a Sexist Pig", and the same year was chosen for the part of Sharon Carter in the TV comedy series "Two Guys, a Girl, and a Pizza Place", co-starring with Ryan Reynolds and Richard Ruccolo until 2001 in 81 episodes which showcased all the ups and downs of living with two male roommates, and which only increased her popularity, thanks to the success of the series.
To speak further of her accomplishments before the end of the '90s, she starred in the comedy film "Dirty Work", next to Norm MacDonald, Jack Warden, and Artie Lange.
In 2002 Traylor guest-starred in the multiple Primetime Emmy Award-winning political drama series "The West Wing", and also had the part of Alice O' Connor in the TV comedy series "Bram and Alice", co-starring Alfred Molina.
Traylor continued to improve her acting portfolio, and 2005 was a breakthrough year for her.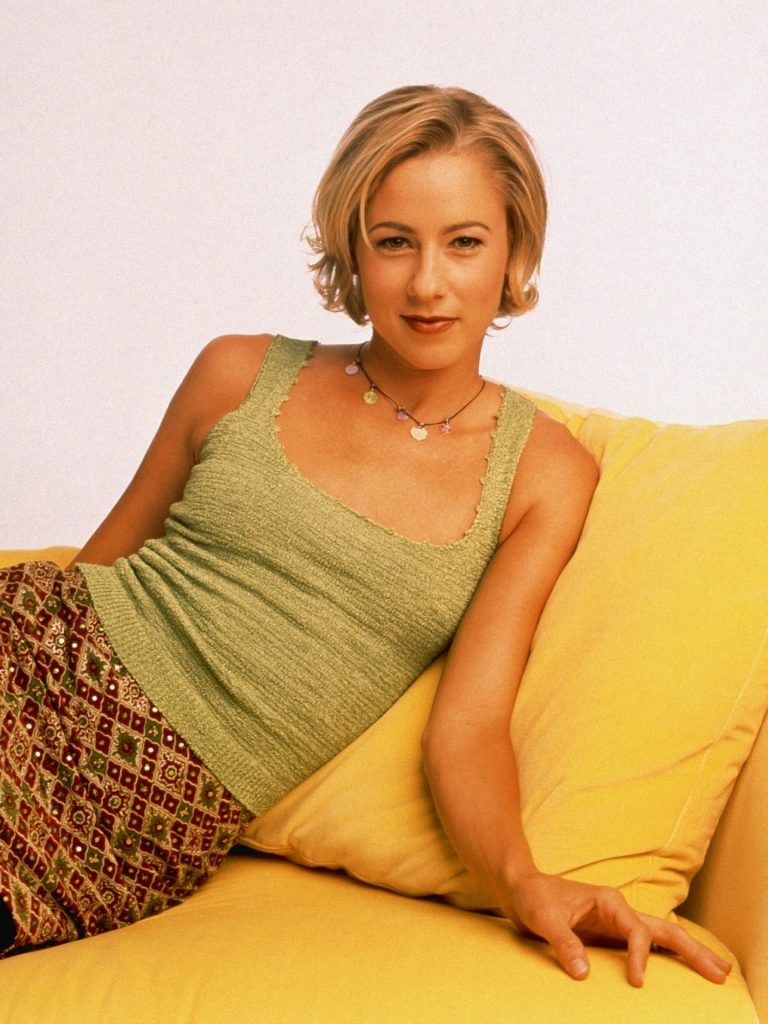 First, she was the female lead in the fantasy comedy series "Son of the Mask", alongside Jamie Kennedy and Alan Cumming, and then was chosen for the part of Natalie Teeger in the TV comedy crime series "Monk", replacing Bitty Schram's character midway through the third season, as the network decided to release Bitty and her character Sharona Fleming. Natalie remained in the show until its end, serving as Monk's assistant, which brought Traylor a Gracie Award in the category for Outstanding Supporting Actress – Comedy Series. Traylor was pregnant in 2006 and had to cover her baby bump during season five of "Monk", preferably with boxes and newspapers among other objects, holding them in front of her abdomen to hide her state.
Personal Life, Marriage, Divorce, Husband, Children
Traylor Howard has been married three times. She was married to actor Cameron Hall for two years from 1991 to 1993; they didn't have children. In 2003, Traylor married actor Christian Navarro, and their marriage lasted until 2006.
Pregnant in that year, Traylor gave birth to her son Sabu on 24 November 2006. The father is Jarel Portman and the two eventually married in 2011, and the following year she gave birth to their second child, a son they named Julien.
Net Worth
As of mid- 2021, Traylor's net worth has been estimated to be over $3 million, earned through her successful career as an actress, during which she has featured in more than 15 film and TV titles, all of which have added to her wealth.
Appearance and Vital Statistics
This award-winning actress has green eyes and blonde hair. She stands at a height of 5ft 8ins (1.73m), weighs approximately 110lbs (50kgs), while her vital statistics are 33-25-35, bra size 38A.
Hobbies, Interests, and Trivia
Traylor is still friends with Emmy Clarke, an actress who played her daughter in the TV series "Monk".
Before launching her acting career, Traylor worked in advertising and PR, however, once her career got going she focused entirely on her acting career.
She is into meditation, and she doesn't skip a day to spare half an hour for proper meditation.
Growing up she had many nicknames due to her odd name, including Tray, Hitch, Trash, and Park, among others.