-• Christina Wilson is a chef, reality TV personality, and winner of the 10th season of the reality game-show "Hell's Kitchen".
-• She was born in Phillipsburg, New Jersey USA, in January 1979 and holds American nationality.
-• She attended West Chester University and Temple University, graduating with a Bachelor of Arts degree in English and language arts.
-• She was in a relationship with Sara Ann Kelly and is currently dating Martha Marie Wasser.
-• Christina Wilson has an estimated net worth of over $2 million.
Who is Christina Wilson?
Christina Wilson was born in Phillipsburg, New Jersey USA, on 15 January 1979 – her zodiac sign is Capricorn, and she holds American nationality. She's a chef and a reality TV personality, who's perhaps known best for having won the 10th season of the reality game-show "Hell's Kitchen". The series has been airing since 2005, stars Gordon Ramsay, Jean Philippe Susilovic and Scott Leibfried, and follows one of the most popular chefs in the world, Gordon Ramsay, as he's organizing a cooking competition in his Hollywood restaurant called Hell's Kitchen.
The game-show's still very popular, and has won six of the 26 awards for which it has been nominated, including five Primetime Emmy nominations.
Early life and education
Christina was raised in Phillipsburg alongside her three brothers, by their mother Colleen Laros who's a housewife, and their father who prefers to be left out of media. It was Christina's grandmother who inspired her to cook.
Christina studied at Phillipsburg High School, and during her four years there was mostly interested in playing sports. She played softball, basketball and field hockey for her school's teams, while her brothers were apparently also sporting.
Upon matriculating in 1997, she enrolled at West Chester University on a basketball scholarship, however, she lost the scholarship, and began working at a bar to pay for the university. She eventually dropped out, but in 2004 Christina enrolled at Temple University, from which she graduated in 2007 with a Bachelor of Arts degree in English and language arts.
Career as a chef
In September 2012, Christina began working at Gordon Ramsay Steak in Las Vegas, Nevada, as Chef de Cuisine. She held the job for a year and seven months, before she became the executive chef of Gordon Ramsay Burger, holding this job from March 2014 to May 2015.
Between May 2015 and January 2021, she was the culinary director of the US division of Gordon Ramsay Restaurants, and during those six years also worked various other jobs at several restaurants. Since December 2015, she has been running her own restaurant Humble Pie, in Las Vegas, and since January 2021, Christina's also been vice president of Gordon Ramsay North America.
Appearances in TV shows
In 2018, Christina appeared in the episode "Gordon Ramsay's Surprise Renovation" of the short reality show "My Houzz". It's been airing since 2015, stars Tony Hawk and Neil Patrick Harris, and follows celebrities who are gifting home renovations to those who have touched their hearts.
The same year also saw Christina appear in the episodes "La Serenata" and "Patrick Molloy's" of the critically acclaimed show "Gordon Ramsay's 24 Hours to Hell and Back". It also stars Gordon and Mary Keledjian, and follows Gordon as he's helping restaurant owners, spending 24 hours with each.
In 2017 and 2018, Christina hosted 10 episodes of the reality show "Recipes from Hell's Kitchen", starring alongside Gordon Ramsay; it follows Christina,as she's sharing some of the classic recipes with her fans.
In 2019, she received special thanks for the episode "Hawaii's Hana Coast" of the adventure reality series "Gordon Ramsay: Uncharted".
She's an Instagram star, as she's followed by more than 130,000 people on the network, while she's uploaded over 150 pictures.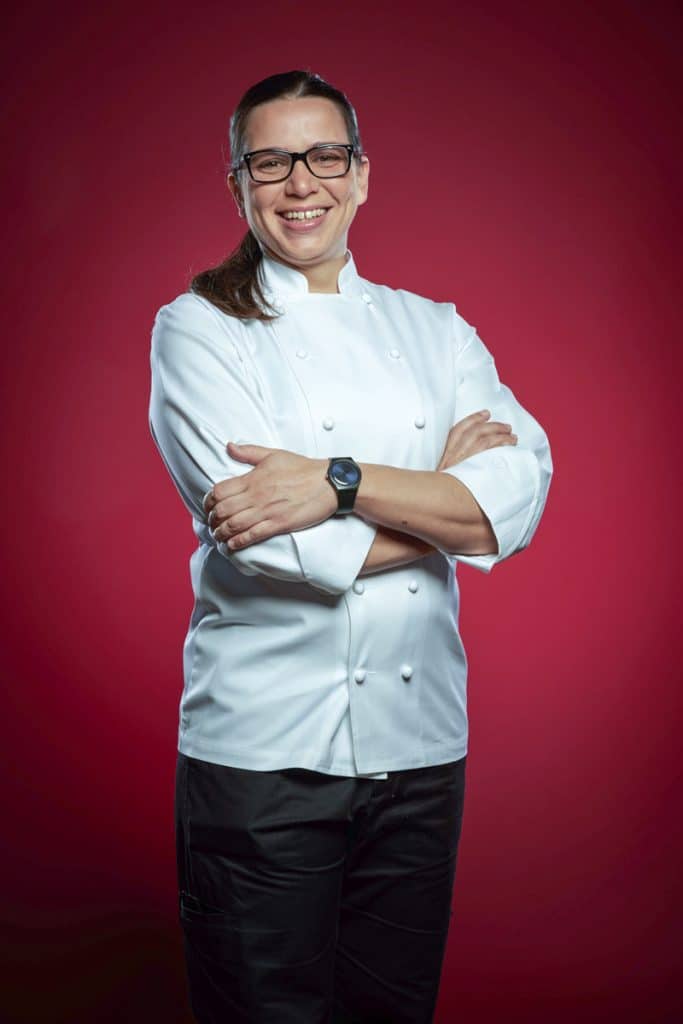 Most of these have been taken during her everyday life, and feature Christina while working, and attending various events.
She launched her Twitter account in May 2011, and it's today followed by more than 24,000 people, while she's tweeted more than 1,700 times. Her Facebook page's followed by over 30,000 people, but it appears that Christina hasn't updated it since 25 January 2019. She doesn't have her own TikTok account, but many videos featuring her have been uploaded onto the network by other people, and these have been watched more than 160,000 times.
Christina has her own website, on which one can read about her, see the events which she's attended and is about to attend, and also read the recipes which she has shared with her fans.
Christina also offers a contact form, mostly for those who wish to hire her.
Love life and partner
Christina's more or less open when it comes to her love life, and it's widely known that she's a lesbian. While competing in the show "Hell's Kitchen", Christina was in a relationship with Sara Ann Kelly, who worked for her as her publicist; Sara has since ventured into public relations, and has founded her own company SAK PR. During the one year that they were together, they had both uploaded numerous pictures featuring them together onto their Instagram accounts. In 2016, Christina revealed that she and Sara were no longer a couple.
In 2018, she began dating Martha Marie Wasser, and their Instagram accounts are flooded with pictures which feature them together. Martha's today running Amour and Ink, her own calligraphy and illustration boutique company.
As of August 2021, Christina's dating Martha Marie Wasser, hasn't married, and doesn't have children.
Hobbies and other interests
Christina loves to travel, and her career as a chef has taken her to many US states, while she's also been to numerous European countries, mostly to taste various new cuisines. Her dream travel destination is Budapest in Hungary.
She enjoys eating food as much as making meals, but has taken the advice from Gordon Ramsey to pay attention to her health.
Christina's thus physically active, and has a couple of training sessions at the gym every week.
She enjoys watching movies late at night, and her favorite actors and actresses are the late Heath Ledger, Joaquin Phoenix and Natalie Portman, while a couple of her favorite movies are "Brokeback Mountain", "Joker" and "V for Vendetta".
Christina's a huge lover of animals, with dogs and turtles being her favorites. Her family had two pet dogs while she was growing up.
Age, height and net worth
Christina's age is 42. She has long brown hair and brown eyes, her height is 5ft 8ins (1.73m) and she weighs around 143lbs (65kgs).
As of August 2021, her net worth has been estimated at over close to $2 million.