Brooke Markham:
• Born in Roseburg, Oregon USA on 15 February 1998
• American actress and film producer best known for her role in the 2016 mystery horror thriller "Friend Request"
• Appeared in the comedy series "Foursome" and "Cassandra French's Finishing School"
• Produced and wrote the short film "Ember" in 2017 and produced the short horror "The Final Girl Returns" in 2019
• Nominated for a 2016 Streamy Award for Best Ensemble Cast in a Web Series for "Foursome"
• Net worth estimated to be over $200,000
Brooke Markham Wiki Bio
Brooke Markham was born in Roseburg, Oregon USA, on 15 February 1998 – her zodiac sign is Aquarius and she holds American nationality. She is an actress and a film producer, who might be known best for her portrayal of Isabel in the 2016 mystery horror thriller film "Friend Request", written by Matthew Ballen and Philip Koch, directed by Simon Verhoeven, and which starred Alycia Denam-Carey, William Moseley and Connor Paolo. It follows a girl fighting a demon aiming to kill all her friends, and it won two awards while it was nominated for one other.
Childhood and education
Brooke was raised in Roseburg, and as she hasn't shared details of any siblings she might have, she is believed to be an only child. Brooke hasn't talked about her parents, but they can be seen featured in some of her Instagram pictures.
She became interested in acting while attending a local elementary school, and was a member of the school's drama club, appearing in nearly all the plays performed there. She went on to attend a local high school, and while there got to launch her acting career, with her portrayal of Cleo in the 2013 short drama "Rehab", but which failed to attract any attention.
Brooke was interested in a variety of things while attending high school, such as playing soccer, singing and writing, and upon matriculating in 2015, she chose not to enroll at a college, but instead moved to Los Angeles in California to work on her acting career.
Roles in TV series
Brooke made her debut TV series appearance in 2014, when cast to play Bridget in the episodes "The Pictures" and "The Secrets" of the drama "Guidance" which starred Crawford Collins, Blaine Kern III and George Todd McLachlan, and follows what happens after scandalous pictures of the most popular high school girl are leaked onto the internet.
The series won Sheryl Levine a nomination for a Casting Society of America Award for Outstanding Achievement in Casting – Short Form or Web Series.
In 2016, Brooke appeared in 16 episodes of the comedy "Foursome", and was then cast to portray Claire in all eight episodes of the romantic comedy "Cassandra French's Finishing School", which starred Jessica Renee Russell, Brooke and Calum Worthy, and follows Cassie who is trying to find a serious man to date. In 2017, Brooke played Candy Alonzo in the pilot episode of the family series "A Kid Called Mayonnaise", but which wasn't picked up by any of the networks.
Brooke's most recent role in a TV series has been in 26 episodes of the crime comedy drama "In the Dark", created by Corinne Kingsbury, and which stars Perry Mattfeld, Rich Sommer and Brooke. It follows a blind woman trying to find her friend's killer, and has been airing since 2019.
Roles in movies
In 2016, Brooke played The Woman in the short comedy "Affirmations", written and directed by Matt Shepherd, who also starred in it alongside Brooke and Sam Sero. In the same year, she played Jenna in the horror thriller "Dying to Kill", written and directed by Raymond C. Lai, and which starred Dwayne Perkins and Lynn Chen, but generated poor reviews.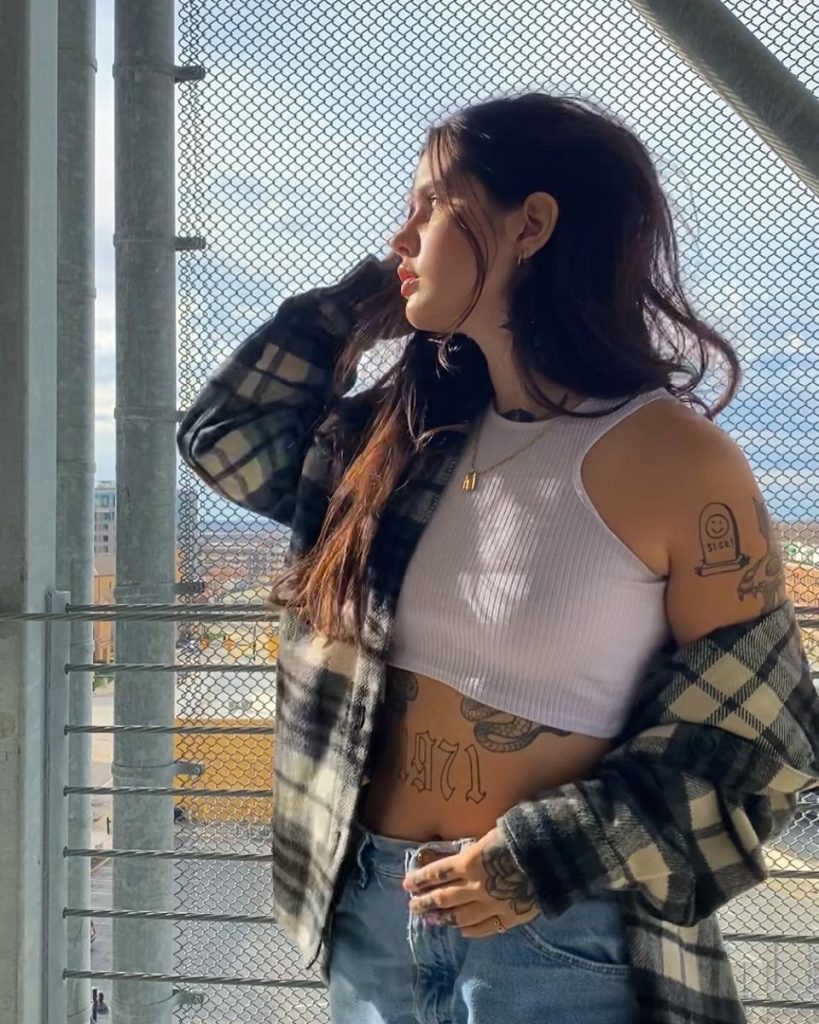 The year 2017 saw Brooke portray Claire in the crime comedy "Deidra & Laney Rob a Train", which won Sydney Freeland a nomination for an Audience Award for Best of Next! at Sundance Film Festival, and in the same year she starred as Dawn in the short comedy "Dominique's Baby", which follows a 23-year old girl faking a pregnancy to gain attention.
Two of her most recent roles in movies have been in the 2018 comedy drama "Dude", written and directed by Olivia Milch, and the 2019 short horror "The Final Girl Returns", in which she starred as Ginny.
Back in 2017, Brooke finished shooting for the short film "Ember", but it hasn't been released.
Other works
Brooke has two producing credits – she produced and also wrote the short 2017 film "Ember", and in 2019 produced the short horror "The Final Girl Returns".
In 2019, she received 'very special thanks' for the comedy "Artista Obscura", written and directed by Rhyan Schwartz, and is a mockumentary about some of the most obscure artists in the world.
She has also  appeared in two TV specials in 2016: "Friends Forever: Making Friend Requests" and "Friend Request: Meet the Cast".
Awards and nominations
Brooke has been nominated for a single (joint) award: a 2016 Streamy Award for Best Ensemble Cast in a Web Series for "Foursome", shared with four of her fellow actors and actresses.
Love life and husband
Brooke is quite secretive when it comes to her love life, and hasn't shared many details about the bald man whom she dated in the past.
Before mid-2018, Brooke uploaded numerous pictures featuring her and her boyfriend onto her Instagram account, but didn't share his name or his profession. They seemed to be crazy in love, and there were rumors circulating the internet that they had been together for around two years by the time Brooke featured him on Instagram for the first time. However, she uploaded the last picture of him in August 2018, wishing him a happy birthday, and the two weren't seen together after that, not in public nor on Instagram.
There are some who believe that Brooke and the mysterious man didn't split. but that he is even her husband now, however, this hasn't been confirmed. As of January 2021, Brooke appears to be single, hasn't married and doesn't have children.
Hobbies and other interests
Brooke likes to listen to music when she's at home or is going for a walk, and a few of her favorite performers are Shakira, Ariana Grande and Whitney Houston. She has her own favorite actors, some of whom are Leonardo DiCaprio, Anthony Hopkins and Tom Hanks, and a couple of her favorite movies are "Titanic", "Sleepless in Seattle" and "The Terminal".
She likes to go shopping for clothes, for which her favorite colors are blue and black.
The best of friends. Only two more days until you get to meet Murphy and Jess in @cwinthedark! @perrymattfeld #BrookeMarkham #InTheDark #CostumeDesign #Costume #CatherineAshtonCostumeDesign #Fashion pic.twitter.com/rNEMx33SYp

— Catherine Ashton (@DesigningAshton) April 2, 2019
Brooke is keen on tasting various cuisines, and has even travelled just to be able to try something new. A few of her favorite foods are pizza, strawberry twizzlers and toaster strudel.
She is a huge dog-lover, and her pet Maltese dog can be seen featured in many of her Instagram pictures.
Brooke believes all people should have equal rights, and thus supports the movement Black Lives Matter.
Age, height and net worth
Brooke's age is 22. She has long brown hair and brown eyes, her height is 5ft 3ins (1.6m) and she weighs around 130lbs (60kgs).
As of January 2021, her net worth has been estimated at over $200,000.