• Faye Hadley is a reality TV star, teacher, automotive technician, and entrepreneur, best known for her starring role in the reality show "All Girls Garage".
• She was motivated by her father to focus on her education and eventually obtained her Bachelor of Arts degree in psychology from Harvard University in 2010.
• She has an eponymous YouTube channel with over 83,000 subscribers and 5.5 million views of all her videos combined.
• She is married to Brandon Hadley who is a photographer and carpenter, and they do not have any children together.
• She has an estimated net worth of over $100,000.
Faye Hadley Wiki Bio
Faye Hadley was born in the USA, on 26 September 1986 – her zodiac sign is Libra and she holds American nationality. She's a reality TV star, teacher, automotive technician, and an entrepreneur, who's probably known best for her starring role in the reality show "All Girls Garage", which has been airing since 2012 – Faye joined in 2019 – and which also stars Bogi Lateiner and Cristy Lee. The show follows three women who are working at an automotive shop, often undertaking complex tasks to prove to male technicians that they have what it takes to work around cars.
Early life and education
Faye was raised in the US by her father who has a Ph.D. from the prestigious Massachusetts Institute of Technology (MIT), and her mother who's a housewife. As she hasn't spoken of having any siblings, her fans believe Faye to be an only child.
She was motivated by her father to focus on her education from a very young age, and was thus amongst the top students at both her elementary and later high school. She was physically active as she enjoyed playing sports, and thus spent most of her time surrounded by boys with whom she was able to talk about soccer and cars. Upon matriculating in 2005, Faye enrolled at Harvard University, and in 2007 took some time off as she purchased a Volkswagen GTI, and embarked on a road trip which ended when the car's engine blew up.
Unable to afford to repair it, she started an internship at a Volkswagen garage at which she eventually learned to repair engines; Faye was also charged with sweeping floors and emptying oil drain containers at the garage.
She obtained her Bachelor of Arts degree in psychology from Harvard in 2010, and eventually decided to focus on working as an automotive technician.
Faye's career
Faye launched her career as a therapist as soon as she graduated, however, this lasted for only a year or two as she became dissatisfied with the job, and wanted to return to working with cars.
She thus moved to Portland, and took an internship at another garage, while Faye eventually started working at a Toyota dealership.
She was then offered a move to another garage which worked only with older car,s and as she steadily built a name for herself, Faye realised that she could help other women interested in cars by launching her own educational automotive repair shop, Piston & PixieDust, in San Antonio, Texas. She describes her shop as 'mobile automotive repair and education by women for women'.
To further help other women as well as men, she launched her eponymous YouTube channel on 23 April 201,3 and it's today subscribed to by over 83,000 people, and numbers more than 5.5 million views of all her videos combined; her description section states that she's a Toyota, Scion and Lexus specialist. Faye's most popular video "How to Service a Sealed Toyota Transmission", has been watched close to 800,000 times since 30 April 2019.
Other show appearances
In 2020, Faye hosted the episode "Death Road" of the sports series "Best of Top Gear", which starred Mike Finnegan, Fred Williams and Tony Angelo. It follows the staff of Motor Trend as they curate the best episodes of the critically acclaimed reality series "Top Gear" – most of the 38 episodes show Italian supercars, and Mini Coopers in Norway.
Faye served as a panelist in the 2020 episode "Turbos vs. Superchargers!!! Faye, Bogi, Spinelli, and Ed Race to the Finish!", and the 2021 episode "Who Rules the World? Girls! Faye, Bogi, Lee, and Scherr" of the game-show "Shift Talkers", which stars Jeff Glucker, Steve Magnante and Kristen Lee, and follows two teams of automotive enthusiasts including journalists and influencers, who are competing against each other in the form of a debate.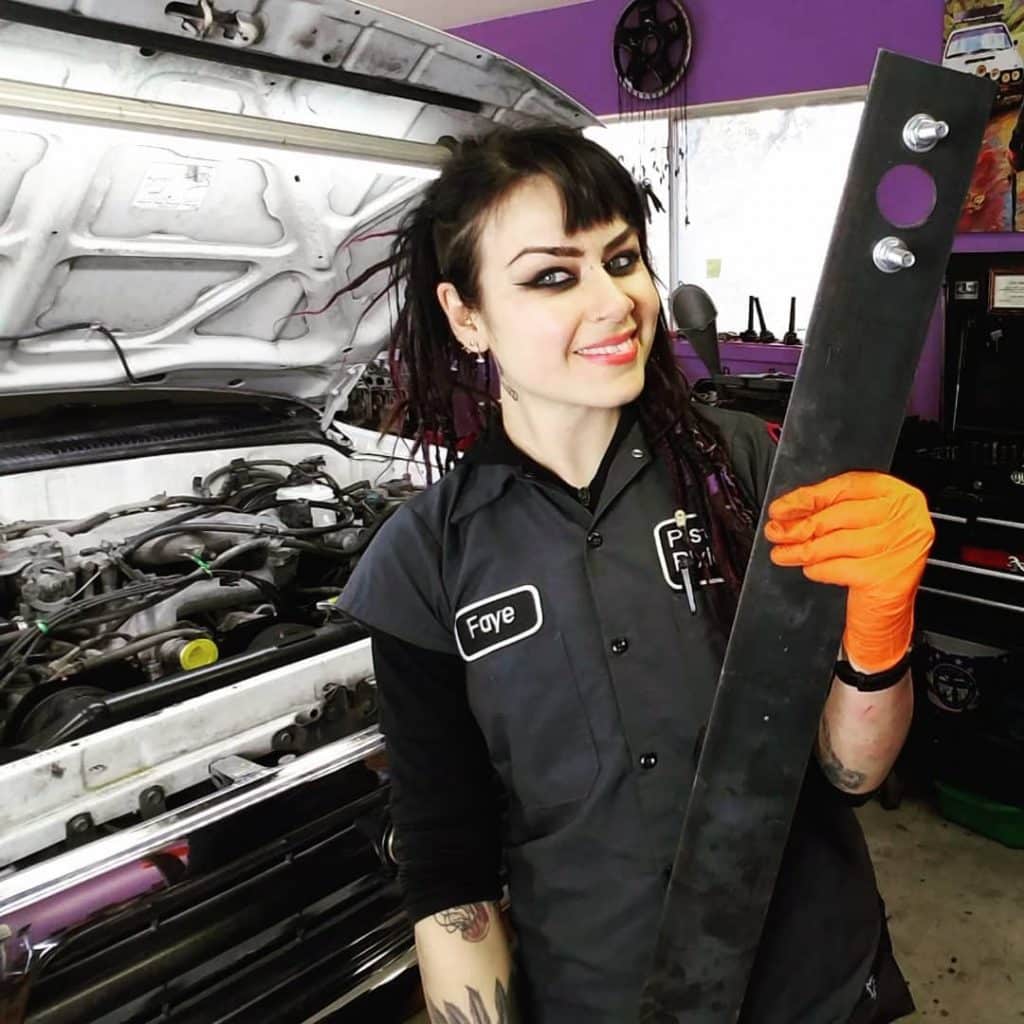 Love life and husband
Faye's highly secretive when it comes to her love life, but it's still known that she's a married woman. She met her future other half, Brandon Hadley sometime in early 2015, and in 2016 they announced that they were engaged. Brandon and Faye exchanged vows in front of their closest friends and family members on 25 September 2016 (a day before her birthday) – they don't have children together. It's widely believed that Faye doesn't want to have children right now because she wants to work on her career, however, there are also those who claim that perhaps one of the two (or both) is infertile.
Brandon prefers to stay away from the media's attention, but it's known that he's a photographer and a carpenter, specialized in making libraries and kitchens out of wood.
Neither of the two have spoken of any other people they have perhaps been with, so as of April 2021, Faye's married to Brandon Hadley and doesn't have kids.
Hobbies and other interests
Faye's somewhat addicted to her Instagram account, as it's how she gets most of the questions regarding car problems which her fans have. She's followed by more than 80,000 people, and has uploaded around 1,200 pictures, most of which feature her working.
She's passionate about travelling, and has been on several road trips around the US, while she has also been to Europe on multiple occasions to attend various car events. Her dream travel destination is Monte Carlo/Monaco, because of all the cars which can usually be seen there.
Faye's a fan of tattoos, and both of her arms are nearly entirely inked.
Her favorite car is Toyota Supra.
She's a lover of animals but doesn't have any pets, because she believes she'd lack time to take proper care of them.
In her spare time which is usually late at night, Faye enjoys watching movies starring her favorite actor and actress Vin Diesel and Angelina Jolie, such as the franchise "Fast and Furious", "xXx" and "Lara Croft: Tomb Raider – The Cradle of Life".
Age, height and net worth
Faye's age is 34. She has long black hair and brown eyes, her height is 5ft 6ins (1.68m) and she weighs around 128lbs (58kgs).
As of April 2021, her net worth has been estimated at over $100,000.