• Noah Hathaway is a television and movie actor, best known for his characters Atreyu in "The NeverEnding Story" and Boxey in "Battlestar Gallactica"
• He was born in 1971 in Los Angeles, California. His father Robert was an actor and writer and his maternal grandmother was from a Jewish family born in Uruguay
• He has won the Saturn Award for Best Performance by a Younger Actor and has been nominated for the Young Artist Award
• He has been on hiatus several times throughout his career, appearing in "To Die, To Sleep" in 1994 and "Sushi Girl" in 2012
• He has an estimated net worth of $2 million and is an NRA certified pistol instructor
Noah Hathaway is a television and movie actor, possibly best known for his characters Atreyu in the 1984 fantasy movie "The NeverEnding Story", which won him the Saturn Award for Best Performance by a Younger Actor, and made him famous in Europe as a teenage celebrity, and Boxey in the television series "Battlestar Gallactica", receiving a nomination in the first Young Artist Award for Best Juvenile Actor in a Television Series.
Early life, family, educational background
Noah Leslie Hathaway was born under the star sign of Scorpio on 13 November 1971, in Los Angeles, California. He's the second child of Robert Hathaway, an American actor and writer, and Judy Hathaway, and has three siblings, Beth Hathaway, the eldest with whom he grew up, his younger sister Aubri Hathaway, and Jane Astrove-Graver, his step-sister.
At the age of three, he started his to approach stardom by appearing in commercials. His father, Robert, was not only an actor and writer b,ut also an acting instructor in Hollywood. His maternal grandmother, Lily Ganca, was from a Jewish family but was born in Uruguay. While Noah's maternal grandfather, Leon Ringler, was a Jewish immigrant from Poland.
There are no extensive written accounts of Hathaway's formal education. However, there was a record that he attended school at Lycee Français de Los Angeles, a top international school for several years now. He shifted to dance instruction and taught street dance and advanced jazz, but in 1989 at the age of 18, he was forced to quit due to an injury.
He was able to continue with his martial arts training, and obtained black belts in Shotokan Karate and Tang Soo Do, joined Muay Thai boxing competition as an amateur, and learned American Kenpo Karate from Dr. Jerry Erickson.
Noah stayed in New York for more than two years. In 1998, when he was in Los Angeles, he utilized most of his spare time SuperSport motorcycle racing, at Willow Springs, California. He was also a junior lifeguard when he was still a teenager. He also worked as a bartender in several clubs in the area.
Career
Hathaway was only six-years old when he started auditioning for TV roles and films. His acting debut happened in 1978, in a supporting role in "Battlestar Galactica", a science-fiction series in which he featured as Boxey, a warrior; his father also made an appearance.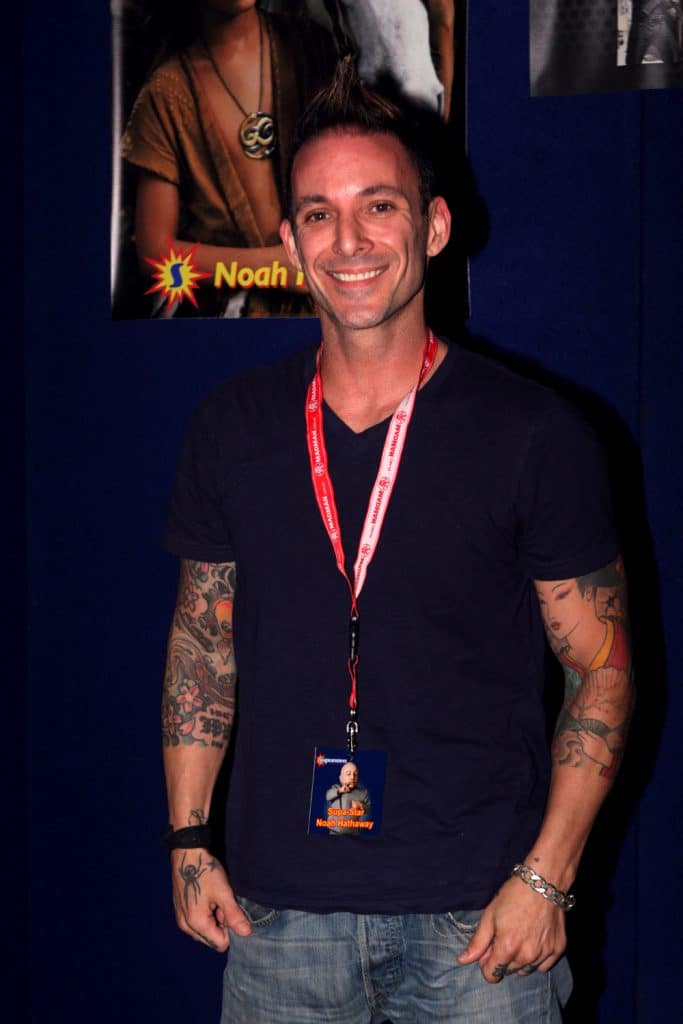 His highly acclaimed performance gained him a nomination in the category of Best Juvenile Actor in a Series or Special at the first Young Artist Awards. This opened more opportunities for several roles – in 1979 there were more appearances in television films and miniseries, in "Midnight High" playing the Timmy, "The Last Convertible", and a guest role in the series "Supertrain". In 1980, he appeared in another series "Eight is Enough". Unfortunately, his fully-fledged film debut entitled "It's My Turned" didn't get high ratings, and had less significant box-office success. But there were still movie offers which he accepted in the following years, in 1981 for "Separate Ways", and 1982 for "Best Friends".
The best year for Noah's career was probably in 1984.
He was the lead character in the fantasy-drama film entitled "The NeverEnding Story". He played "Atreyu", the young warrior with green skin. It was indeed a huge success that Hathaway bagged the Saturn Award for the 'Best Performance by a Younger Actor, and another nomination for the Young Artist Award for his role. According to screenrant.com, this was one of the most expensive films in German history, in which the production's total cost of $27 million.
In 1985, he took the voice acting as the main character in two episodes of the television series "CBS Storybreak", for which he had another nomination for Young Artist Award.  In 1986 he played Harry Potter Jr. in the comedy-horror film "Troll", which was a box-office success and had two sequels, however, Noah wasn't given any role in the sequels.
Noah was on hiatus for quite some time, and returned to the entertainment industry in 1994, appearing as Phil in the film "To Die, To Sleep", after which he took another long break from acting, disappearing fom the limelight for nearly two decades. During the time that he was gone from Hollywood, he became busy learning Martial Arts, returning to acting in 2012 in one of the key roles in the film "Sushi Girl". In 2013, he played the supporting role of Roper Karlsson in the drama movie "Blue Dream", and also starred in the horror movie "Tom Holland's Twisted Tales" in 2013. The last project that he did was in the 2016 horror-crime film "The Chair".
Personal life, wife Sameerah Hoddison
Noah Hathaway is married to Sameerah Hoddison. There is no date of the nuptials, but their wedding rings were tattooed on their fingers; they have two children. Noah and Sameerah manage their business Wild Child Tattoo. It was reported by 'The Blast Staff' that Hoddison filed for dissolution of marriage from Hathaway, however, there were no exact details about this matter. In 2018, Noah started dating Elizabeth Medlin, whom he accused of harassment, and claimed that Medlin kicked his dog. The Blast spoke with Medlin in May 2018, who strongly denied the accusation. In June 2018, Hathaway filed a restraining order, wanting Medlin to stay 100 yards away from him.
In 2017, a neighbor of Noah started a fundraising campaign called 'GoFundMe', to help the actor raise funds to pay his medical bills. The actor underwent major spinal fusion surgery, which left him a medical bill of $184,138.67. The goal of the campaign is to raise $200,000, but the total amount raised was only $2,475. He obtained several injuries while doing the film "The NeverEnding Story", as he was doing his own stunts at just 12 years of age.
Some individuals believed that Hathaway was using prohibited drugs; he hasn't confirmed nor denied the issue. According to vipfaq.com, about 70 percent believed that he was using drugs, 10 percent assumed that he was using drugs recreationally, and the remaining 20 percent believed that Noah never tried any form of drugs.
Interesting facts
He is not related to Anne Hathaway – it's just a coincidence that they have the last name. Noah speaks French fluently, which is evident in his film "The NeverEnding Story". His Twitter account @IamNoahHathaway has 3,164 followers, while his Instagram account @noahhathaway666 has 7,070 followers, on which he states that he's an actor, producer, performer, NRA certified pistol instructor, and CEO of Mugshot Entertainment LLC. His Twitter account indicates that he is in Sherman Oaks, Los Angeles, CA.
Appearance, clothing style
Noah has an athletic built and stands 5ft 8 ins (1.73 m) tall, with dark brown hair and brown eyes. He is into casual clothes.
Net worth and salary
Hathaway's estimated net worth is over $2 million, as of early 2021.