• Shoshannah Stern was born in Walnut Creek, California and is of Jewish descent.
• She was raised in a deaf family and learned sign language before English.
• She is known for her role as Bonnie Richmond in the action mystery series "Jericho" and Megan Graves in the comedy crime drama "Weeds".
• She has written and produced 14 episodes of the series "This Close" and is married to Ricky Mitchell with one daughter.
• Shoshannah's net worth is estimated to be over $1 million.
Shoshannah Stern Wiki Bio
Shoshannah Stern was born in Walnut Creek, California USA, on 3 July 1980 – her zodiac sign is Cancer and she holds American nationality. She is an actress who is probably still known best for her portrayal of Bonnie Richmond in the action mystery series "Jericho", which starred Skeet Ulrich, Lennie James and Ashley Scott, and follows the people of a small city in Kansas left in the dark after a mysterious cloud covered the sky. It aired from 2006 to 2008, and won one award while it was nominated for six others, including a Primetime Emmy.
Born in a deaf family
Shoshannah was raised in Fremont, California, in the fourth generation of a deaf family.
She has one sister – Louise Stern is an artist and a writer – and a brother, Brendan Stern who is a political scientist and a former basketball coach. Shoshannah's parents are Hedy Marilyn and Ron Stern, her family is Jewish, and both her grandmothers are survivors of the Holocaust.
Shoshannah became interested in acting while attending the California School for the Deaf, Fremont and there practiced with the school's drama club. Unlike other people, she learned sign language before English, and is today able to read lips without having an interpreter. Upon matriculating in 1998, she decided to focus on her acting career, but also enrolled at Gallaudet University which is popular for being the only liberal arts college for deaf people. Shoshannah graduated in 2002 with a Bachelor of Arts degree.
Roles in movies
Shoshannah made her debut film appearance in 1999, when cast to play Founders' Day Girl in the mystery thriller comedy "The Auteur Theory", written and directed by Evan Oppenheimer, and which starred Alan Cox, Sean Gunn and Daniel Cantor. It follows a student film festival at which the directors of the bad short movies are being killed one by one. It won Evan a Best of the Fest Award for Comedy at Breckenridge Festival of Film.
The year 2003 saw Shoshannah portray First Patron in the comedy drama "Justice", once again written and directed by Evan Oppenheimer, and the following year she appeared in the romantic comedy "The Last Shot", which starred Matthew Broderick and Alec Baldwin, and follows a movie director who learns that his producer is an FBI agent on a secret mission to stop a mob plan.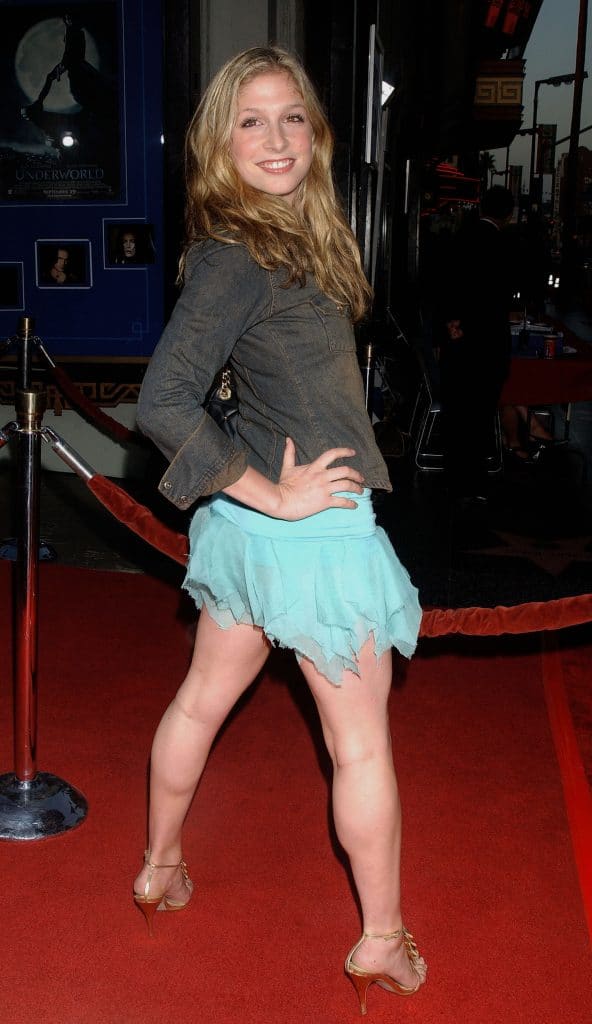 Shoshannah then took a four-year break from acting, before appearing in the musical comedy "Adventures of Power", written and directed by Ari Gold, who also starred in it alongside Michael McKean and Jane Lynch. It follows a young man who wants to become the best air-drummer in the world, and the movie won three awards.
Her three most recent roles in movies have been in the 2008 musical video "Will.i.am: Yes We Can", the 2008 drama "Sweet Nothing in My Ear", and the 2010 biographical sports drama "The Hammer". Since 2010, Shoshannah has been focused on appearing in TV series, although she's recently been cast to appear in the upcoming drama "The Magnificent Meyersons".
Roles in TV series
She made her debut TV series appearance in 2002, when cast to play Rebecca in the episode "Hear No Evil, See No Package" of the comedy "Off Centre". Shoshannah then appeared in single episodes of various series, such as the romantic drama "Providence", the comedy drama "Boston Public", and the mystery crime drama "The Division".
She gained recognition in 2003 after being cast to play Holly Brodeen in the mystery thriller drama "Threat Matrix", which was nominated for three awards, and two years later Shoshannah began portraying Megan Graves in the comedy crime drama "Weeds", appearing in 14 episodes through 2012. In 2017, she was supposed to star in the comedy "Fridays", but the pilot episode wasn't picked up by any network.
The following year saw Shoshannah portray Kate, the lead character in all 14 episodes of the drama "This Close", which also starred Joshua Feldman and Colt Prattes, and follows two best friends who are deaf and are facing life's problems. The series was nominated for two awards winning one.
Two of Shoshannah's most recent appearances in TV series have been in the 2020 episode "The Trap" of the award-winning fantasy horror drama "Supernatural", and the 2020 episodes "A Diagnosis" and "Save the Last Dance for Me" of the critically acclaimed romantic drama "Grey's Anatomy".
Other works
Shoshannah has appeared in two plays performed at the Deaf West Theatre: "Open Window" and "Children of a Lesser God".
She's also acted in various plays which were part of the California School for the Deaf Theatre Program. Shoshannah portrayed Juliet in "Romeo and Juliet", a dancer in "Aladdin", and her following appearances were in the plays "The Cat and the Canary", "A Funny Thing Happened on the Way to the Forum", and "Anne of Green Cables".
She has written and produced 14 episodes of the series "This Close", and has also written the comedy series "Fridays", which wasn't picked up by any network.
Love life and husband
Shoshannah has been married to her other half Ricky Mitchell, a non-celebrity American, for around eight years now. They exchanged vows on 3 June 2012, although it's widely believed that the two have been friends since childhood. In 2015, Shoshannah gave birth to their daughter Mayim Helene, and the family of three seems to be leading a happy life together.
Neither Shoshannah nor Ricky have talked about the people they might had dated before they started going out, but it's widely believed that they were both in several relationships before starting theirs. There are rumors circulating the internet that Shoshannah was once engaged, however, this hasn't been confirmed.
As of January 2021, she is married to Ricky Mitchell and has one daughter.
Hobbies and other interests
Shoshannah used her fame on the internet, to urge people to vote during the 2020 presidential election. She hasn't disclosed whom she voted for, nor tried to convince people to vote for one or the other party.
She enjoys spending her free time in nature with her daughter, and there are numerous pictures of the two taken from various attractive natural locations uploaded onto Shoshannah's Instagram account. Shoshannah and her daughter are often accompanied by their pet dog, while they also had another dog called Puck which died in 2018 aged 18 and a half.
Shoshannah has her own favorite actors and actresses, some of whom are George Clooney, Matt Damon and Sandra Bullock, and a couple of her favorite movies are "Ocean's Eleven", "O Brother, Where Art Thou?" and "The Descendants".
Age, height and net worth
Shoshannah's age is 40. She has long brown hair and brown eyes, her height is 5ft 2ins (1.59m) and she weighs around 110lbs (50kgs).
As of January 2021, her net worth has been estimated at over $1 million.