Reality television shows became such a huge earner for the A&E Network, most especially when they started airing "Duck Dynasty." It became the most-watched reality series in cable TV history by its fourth season, as it premiered in August 2013 with 11.77 million viewers and had an average of 9.16 million viewers for the whole season. It was reported to earn around $80 million for advertising sales alone, and according to Forbes.com, it raked in $400 million from the merchandise. However, after several controversies surrounding its major stars, A&E decided to cancel the show, a move that shocked its loyal fans.
"Duck Dynasty," 11 seasons in five years
"Duck Dynasty" is an American reality-TV series, that featured the personal lives along with the family business of the Robertson clan in Louisiana. It was the first time in cable TV history that a show all about making duck calls, hunting animals, outdoor activities, and everyday family interaction dominated the ratings.
The show premiered on 21 March 2012, with 1.82 million viewers hooked. The creators of the show, Gurney Productions, produced 11 seasons, and A&E TV broadcast an average of two seasons per year for the fans to enjoy. Each season would last for two to three months with 10 to 18 episodes, aired every Wednesday night. It mostly showed the redneck culture of the bible-thumping duck hunters, and each episode ended with a prayer at the dining table, in which all the family members were present for their last meal of the day. However, after creating so much buzz every week, they aired their final episode on 29 March 2017.
The Robertson Family – Cast of the Show
The phenomenal success of "Duck Dynasty" can be attributed largely to the stars of the show. as they all have interesting personalities that the viewers couldn't get enough of.
The family lived in the small town called West Monroe in the northeastern part of Louisiana. All of them looked rugged, with the adult Robertson men sporting their signature long beards and wearing camouflage clothing. They preferred going out to shoot or catch animals, including squirrels, catfish, frogs and ducks.
Patriarch and Matriarch – Phil and Miss Kay
The family's patriarch, Phil Robertson, is a former high school star quarterback, who earned a scholarship at Louisiana Tech due to his football skills, however, he quit football as it hampered his duck hunting activities. His decision surprised many people as he grew up poor, and football could have been his ticket to a better life, He married at the age of 20, to Marsha Kay Carroway, who was 15 years old at that time, and they eventually had children. Life wasn't great back then, as Phil resorted to drinking and went through a dark phase in his life.
Due to his drinking problem, Phil and Kay separated but he realized his mistakes as he found Jesus. They reconciled, and he turned his life around by getting serious in building a business related to duck hunting.
The Robertson's Children – Alan, Jase, Willie, and Jep
Phil and Kay already had a one-year-old baby they named Marshal Alan Robertson when they married. Their second child, Jason Silas "Jase," was born after four years, and Willie Jess "Will" came in 1972 while the youngest, Jules Jeptha "Jep," was born in 1978. All their sons are married and have iven their parents a total of 16 grandchildren. Most of them appeared in the show, but not all of them were part of the regular cast.
The Brother, Partner in Crime, and the Boys' Uncle
Phil's brother, Silas Merritt Robertson, better known as Uncle Si, was a military veteran who fought in Vietnam, and joined Phil's business after being discharged from the military in 1993.
Loyal fans of the show loved his antics, as Si would often take breaks whenever they made the duck calls. Despite saying that it was easy, he had a hard time staying on the job of taking care of the reeds that were placed inside the duck call. One of his unforgettable moments in the show was spending his prize money of $2,000 in an arcade. His spontaneity created so many outrageous scenarios that could annoy some of the members of the Robertson family, but it was what made him one of the most loveable characters in the show.
The Duck Commander – Family Business
In 1972, Phil created the duck call that was used by hunters to lure ducks. He started a business of manufacturing a line of duck calls from all kinds of duck species, and called the company, Duck Commander. These duck calls are handmade using cedarwood, and he taught all his sons how to make them, along with his brother Si.
Aside from their patented duck calls and merchandise, the company also expanded to deer-hunting merchandise, using the Buck Commander brand, along with turkey-hunting merchandise under the Strut Commander label. The third son, Will, was chosen by Phil to be the Chief Executive Officer of the company, after he graduated from NE Louisiana University with a bachelor's degree in Health and Human Performance. His determination and vision have turned his father's small company into a multi-million dollar business empire.
The company became successful after the show reigned supreme in the TV ratings. Walmart was the first major retailer to take notice, and along with the business acumen of Brandgenuity, an agency that takes care of licensing deals, they helped make the Duck Dynasty brand a mega-hit success, as had happened with the Comedy Central cartoon series, "South Park."
Take a trip down memory lane as the Robertsons talk #DuckDynasty memories and how the show has changed their lives. https://t.co/R5boclWqzO

— Duck Dynasty (@DuckDynastyAE) April 6, 2017
They knew how to strike while it's still hot, and it made Robertson's family one of the richest reality-TV stars'. Devoted fans bought their merchandise, including apparel, shoes and books, down to band-aids. Stores have aisles devoted to Robertson-themed merchandise.
Interesting Facts Surrounding "Duck Dynasty" and its Cast
A&E might have been the network that aired the show but it wasn't the network which discovered the Robertson family. The original creators of the show were Marc Pierce and Chris Richardson of Warm Springs Productions. The show was called "Duck Commander" back in 2009, and it ran for three seasons on the Outdoor Channel. However, in 2012, A&E came along and struck a new deal with the Robertson family, leaving them out of it as the network preferred to use Gurney Productions to produce the new show.
The eldest son, Alan, purposely wasn't involved in the family business, because he devoted his time to being a pastor.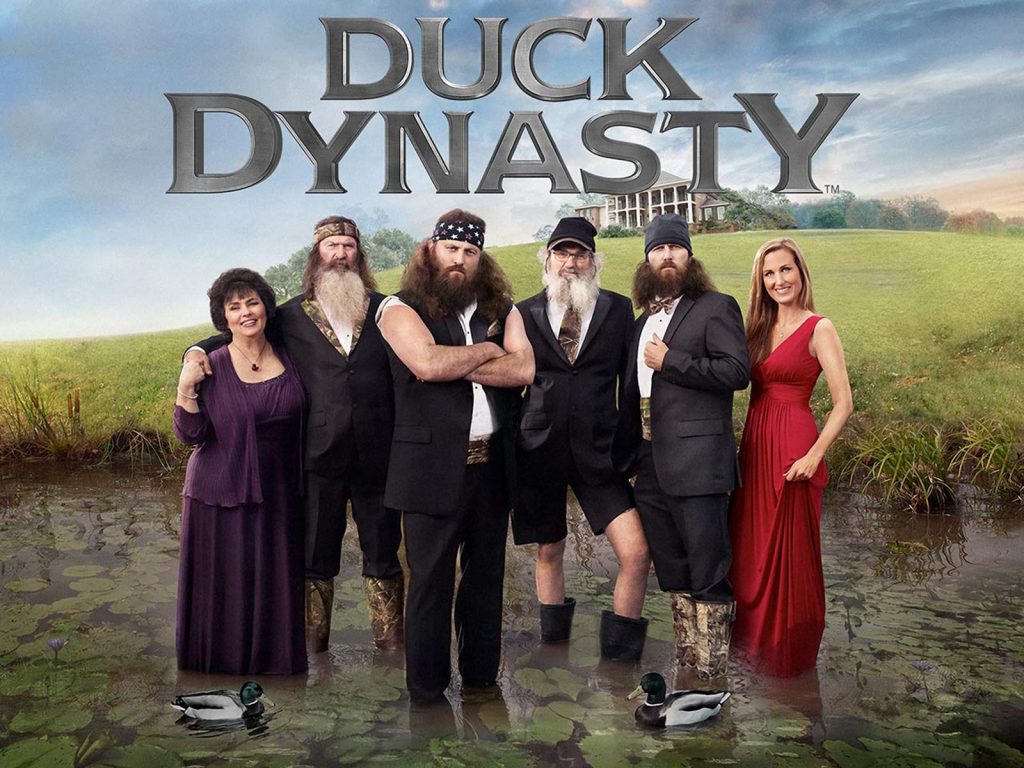 For the first three seasons of the TV show, he was nowhere to be seen, but after realizing that he could spread the word of God much faster and reach a wider audience, he became a recurring character from the fourth season until the last season.
Fans were shocked when the youngest son, Jep, shared that he was sexually molested when he was six years old. The abuser was an older woman, and it happened on the school bus. He first revealed it in a book he wrote entitled "The Good, the Bad, and the Grace of God: What Honesty and Pain Taught Us About Faith, Family, and Forgiveness." It so traumatized him that he didn't want to go to school, but never told anyone at home, so his mother believed that he was only sick at that time. As a result, he resorted to drinking and taking drugs while growing up, but fortunately an intervention helped him turn his life around. He was able to talk about it with his wife, who helped him get past that dark place.
In 2020, Phil revealed that he'd found out that he had an illegitimate daughter named Phyliss Harvey-Thomas, born 45 years ago when he hadn't yet found Jesus in his life. Phyliss, a registered nurse, got in touch with his two eldest sons to see if Phil was really her father, as her mother had told her that they were romantically involved in the past. Initially, Alan ignored the letter that was sent to them, since he was wary of fraud, and found the birthdate to be suspicious, but then they conducted their own research and talked to their father about it. Phil took a DNA test, and it came back with a 99.9% positive match. He then officially introduced her, not only to his family but to the world via his podcast and social media.
Reasons Why "Duck Dynasty" Ended
No television executive would want to cancel any of their TV shows, certainly not one that broke cable TV viewing history, and became the highest revenue-generating show for a time.
When A&E decided to end the show, it left fans disappointed. Here are some of the factors that contributed to the cancellation of "Duck Dynasty."
Decline of Viewership
Just as in any TV shows, whether reality-TV or fictionalized TV, the moment ratings start to decline, expect the producers to step back and see if the viewership can carry the load of the cost of production. When "Duck Dynasty" became popular, the stars naturally asked for a higher appearance fee, and Phil said they did that.
However, the decline in viewership was quite obvious in the three seasons that were aired in 2014. The fifth season was aired from January to March and the premiere episode gained 8.49 million viewers. The sixth season, which aired from June to August, started with just 4.59 million viewers. It seemed that the saturation point which the producers were expecting started to manifest. By the seventh season, which aired from November up to February of the following year, they only had 2.62 million viewers remaining.
Unfortunately, by the time they broadcast the final episode of the final season in 2017, only half a million people were watching the show.
Controversial Statements Made By Phil Robertson
The TV show lost a huge chunk of its viewers very rapidly in the middle of 2014, due to controversial statements Phil made in his interview with GQ Magazine in 2013. His views didn't sit well with the LGBTQ community, and most of the viewers found his pre-civil rights era opinions quite racist. When he was asked what he considered as sinful, he replied, 'Start with homosexual behavior and just morph out from there. Bestiality, sleeping around with this woman and that woman and that woman and those men.' Phil also said that he never saw in his life the mistreatment of any black person, and that 'they' were happy during the pre-civil rights period in Louisiana. When his interview went around social media and more people learned about it, there was outrage.
The A&E network didn't have any choice but to engage in damage control, so they apologized to the public, and issued a statement: 'We are extremely disappointed to have read Phil Robertson's comments in GQ, which are based on his own personal beliefs.' They suspended Phil from the show, but that didn't last long as it was lifted after nine days due to the pressure coming from his devoted fans, along with the support of many conservatives in the government, including Louisiana Governor Bobby Jindal.
The Robertsons said that their family is rooted in their faith in God, and added, 'While some of Phil's unfiltered comments to the reporter were coarse, his beliefs are grounded in the teachings of the Bible.' Phil then explained what he meant, when he appeared in other shows including "Good Morning America."
He said that there is just one race on Earth, and that everyone belonged to the human race, and color has no place in it. He also declared that he wasn't homophobic, that he is as much of a homophobe as Jesus was. However, the damage has been done, and the ratings kept going down.
His controversial statements didn't stop there, as he talked about so many other things that many people found disturbing, with topics including but not limited to the handling of ISIS, transgender public bathroom law, and Nazis. He also believed that sexually transmitted disease (STD) was a punishment. The most offensive statement people heard from the duck hunter was from an old video of him speaking at a rally in 2009 – Phil insinuated that it would be better if men would marry girls as young as 15 or 16 years old.
He further said, 'Look, you wait 'til they get to be 20 years old the only picking that's going to take place is your pocket.' Phil spoke from experience, as he married his Kay when she was 15 years old. It's legal in Louisiana as long as there was parental consent for the underage bride. His statements were a public relations nightmare, and eventually, the show lost the majority of its audience, hence the cancellation.
Where Are They Now?
During the peak of the popularity that the Robertson family was enjoying, fans would brazenly knock on the door of their homes in the wee hours of the morning, just to meet them. Thousands of people would line-up in their warehouse to see the Duck Commander operations. The interest in them became less as the years went by, as some of them went back to becoming private citizens, although some family members went on to do spin-off series including Si's "Going Si-Ral," Jep and Jessica's "Growing the Dynasty," and Phil's "In the Quarantine with Phil."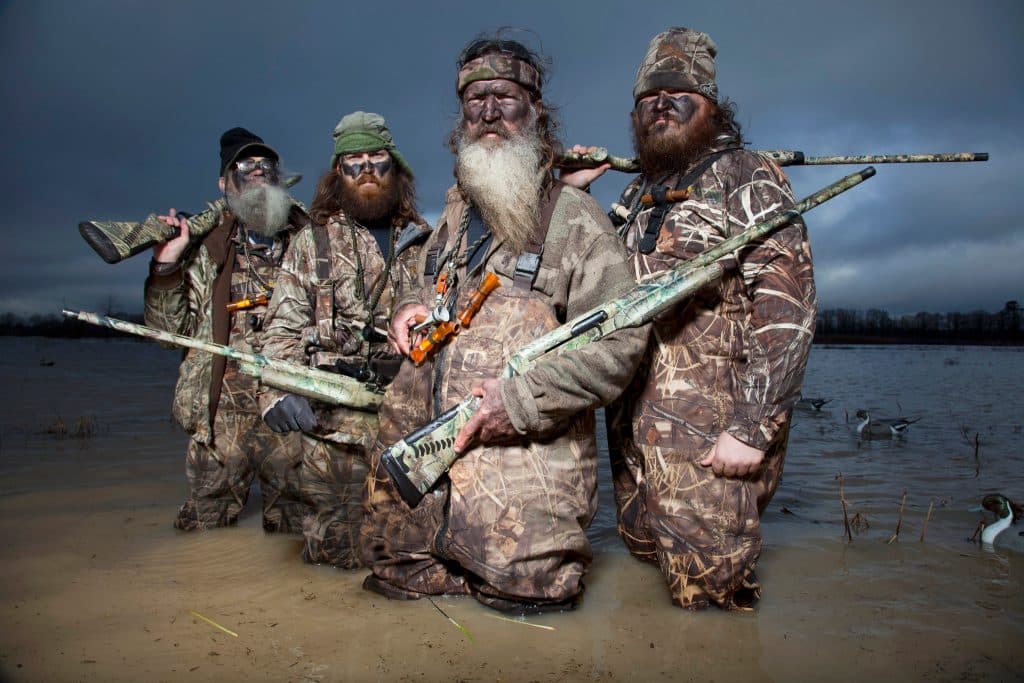 Willie and Korie reopened their diner called Willie's Duck Diner in West Monroe and also hosted Duck Commander Sunday tours. Si was also busy with his singing career, as he joined his daughters-in-law Bridgette Tatum and Marsha Robertson as well as his own band called Uncle Si & the Si-cotics, performing in out-of-town gigs. Jase launched his own podcast entitled "Unashamed" with older brother Alan. Phil hosts his own podcast, "Unashamed with Phil."
The family was successful in writing and publishing 29 books, some of which made it onto "The New York Times" best-seller list, such as "Happy, Happy, Happy: My Life and Legacy as the Duck Commander" in 2015 by Phil, "The Duck Commander Family" in 2012 by Willie and Korie, "Si-cology 1: Tales and Wisdom from Duck Dynasty's Favorite Uncle" in 2014 by Uncle Si, and "Live Fearless: A Call to Power, Passion, and Purpose" in 2018 by Sadie who is the eldest daughter of Willie.
So despite the cancellation of the series, a legacy exists which fans of the show may continue to enjoy.