• Preston Roberts starred in the History Channel series "Mountain Men" but passed away in July 2017 due to a liver tumor.
• Preston was a teacher, neuroscientist, and skilled craftsman.
• He and Eustace Conway founded the Turtle Island Preserve in 1987 to share their environmental and naturalist interests.
• He was married to Kathleen DuPont McGuire for over 40 years and had three adult sons.
• Following his death, the Preston Roberts Family Scholarship was created to provide financial support to high school seniors pursuing a career in the arts.
Ever since "Mountain Men" premiered on History Channel in 2012, its audience have enjoyed its genuinely rare and unfeigned form of TV show, especially compared to other series of the reality genre.
While producing a series centered on people who live in the mountains might not be the ideal success formula for a TV show, the concept served well for "Mountain Men", most of all its cast's inspiring stories are what has kept the audience enthralled with the show for nine seasons so far.
Knowing this, it's not surprising that viewers noticed with worry that Preston Roberts stopped appearing in the show in 2017, leaving a big empty spot in it even regardless of the fact that he wasn't part of the main cast.
So what happened to Preston Roberts? Why did he stop appearing in the show and what happened to the Turtle Island Preserve? This and more we will tell you in this vid, so take a seat as we recount the life of this inspiring man.
What Happened To Preston Roberts?
If you were a fan of Preston Roberts in "Mountain Men" and somehow lost track on what was happening in the show, then we have some bad news for you. Preston Roberts unfortunately died back on the afternoon of 24 July 2017, as a result of complications related to a liver tumor.
The news of his death was announced by his family back then, and it was shocking to say the least. His health had taken a downturn quite quickly, to the point that in only a few weeks he went from actively working on the Boys Camp at the Turtle Island Preserve, to passing 'peacefully away in the arms of his wife', as was officially stated on the organization's website. As also stated, the treatment he was in wasn't enough to save his life, as the tumor proved to be inoperable.
In order to cover costs related to medical expenses, funeral services and an ongoing home project Preston never got to finish, his friend and fellow "Mountain Men" cast member Eustace Conway organized a fund collecting campaign in his honor.
Although the goal was to collect $25,000, the campaign ended up collecting over $100,000, thanks to the generous hearts of Preston's fans and people who got to know him on Turtle Island.
At the time of his death, Preston had been happily married to Kathleen DuPont McGuire for over 40 years, and had three adult sons Joseph, Travis and James.
Who Was Preston Roberts?
Born on 17 June 1957, Preston Roberts was native of Westfield, New Jersey, but spent his early years living in the western North Carolina town of Brevard, which is located very close to the Pisgah National Forest. Living so close to a protected natural area obviously ended up influencing Preston, who started acquiring knowledge in everything related to surviving in the middle of harsh environmental situations.
Due to this, it's not surprising to find that he developed skills such as hunting and riding horses, along with specializing in craftsmanship and woodworking.
However, despite his likeness for outdoors activities, Preston also pursued a formal education, attending the North Carolina-based Barton College, which at the time went by the name of Atlantic Christian due to its connection to the local church. Following his matriculation, he joined the Appalachian State University in Boone, on his way to pursuing a career in Art Education.
Career
Besides obtaining his university degree, Preston Roberts also pursued a career in the US Air Force, IN which he served for four years. Later, he joined diverse organizations such as the American Indian Cultural Association, which allowed him to travel the country as part of its traditional dance group for over 12 years, both as a dancer and instructor.
His career as an art teacher was prolific as well. Working for North Carolina's district Wilkes County's school system, Preston was twice rewarded as "Teacher Of The Year".
More than that, Preston furthered his knowledge in fields such as carpentry and construction, having allegedly built dozens of buildings by himself.
As if that wasn't enough, he was a big fan of backpacking and paddling, hobbies he shared with his wife Kathleen, who travelled with him throughout the US, and even accompanied him to Costa Rica, where the couple joined a volunteer program aimed at saving Sea Turtles in the region.
You probably think that all of those are enough hobbies and occupations for any man, but there's more. While his passion for horse riding started early in his childhood, it continued to be one of his hobbies later in life, leading him to undertake long trips to other states, such as Nebraska and Wyoming.
Debut On TV
Contrary to popular belief, Preston Roberts didn't make his debut in the entertainment world through "Mountain Men", but in the documentary "Reconvergence" aired in March 2012, just months before he appeared for the first time in the History series.
As expected from a documentary film, Preston's role in "Reconvergence" didn't have anything to do with acting, as his appearance was meant to provide an insight into the movie's self-fulfillment and existentialist theme as a neuroscientist, which impressively enough was one of his many careers as well. Although "Reconvergence" didn't achieve huge box office success, it received positive critiques from cinema experts, and was rewarded at the George Lindsey Film Festival as the Best Professional Documentary and Best Score, besides receiving the Memphis Indie Film Festival's Excellence in Filmmaking Award.
Mountain Men
If you ever watched "Mountain Men" in detail, you surely know that Preston Roberts and Eustace Conway were a team. Their strong friendship remained in place for years, to the point that it was showcased in "Mountain Men" since its premiere season.
Although Preston wasn't credited as part of the main cast, most people considered him a vital member of it, and Eustace's right hand by excellence for helping him out with his mountain-life endeavors, and with the Turtle Island Preserve. In total, Preston appeared in almost 100 episodes of the series, encompassing from the first to its sixth season.
Although sites such as the Hollywood Reporter reviewed "Mountain Men" negatively, asserting that it didn't manage 'to blend its disparate elements into a satisfying whole', the show has always attracted a warm reception from the audience. Having on average three million viewers per episode throughout the eight years it's been on air, it's not surprising to find out that Preston and his now former-fellow cast members always had a big following on social media as well.
Friendship With Eustace Conway
Preston Roberts and Eustace Conway's friendship started way back in their twenties, when they met while attending Appalachian State University.
Although by knowing the interest both men had for nature and their respective lifestyles, it's not hard to imagine why they became friends, their mutual love for horse riding was what ultimately strengthened their bond, and eventually led them to team up to travel the country.
After so many years of friendship, it was only natural that both men wanted to create a project together which could showcase their mutual ambientalist and naturalist interests. That's how in 1987 they founded Turtle Island Preserve, a Summer Camp focused on educational activities meant for people of all ages.
Interestingly enough, Preston's and Eustace's appearances in "Mountain Men" proved to be positive in an unexpected way. The popularity the pair gained thanks to the series, allowed them to collect funds for their Turtle Island's Summer Camp Scholarship, by selling and auctioning Preston's hand-made knife creations.
Post-Mortem Legacy
Following Preston's death, Eustace Conway posted a heart-warming statement on his Facebook page, on which he stated that his late friend had been incredibly supportive and committed to the things he loved. In his words, Preston 'helped many thousands of students and friends, always improving their life'.
More than that, Eustace described Preston as the most 'manly man' he ever met, also pointing out how dedicated he was to his wife Kathleen, describing their love as 'not knowing boundaries'.
While you might think that such positive declarations are expected from someone who was Preston's best friend for decades, it seems that he wasn't the only one who held the late man in such a high regard.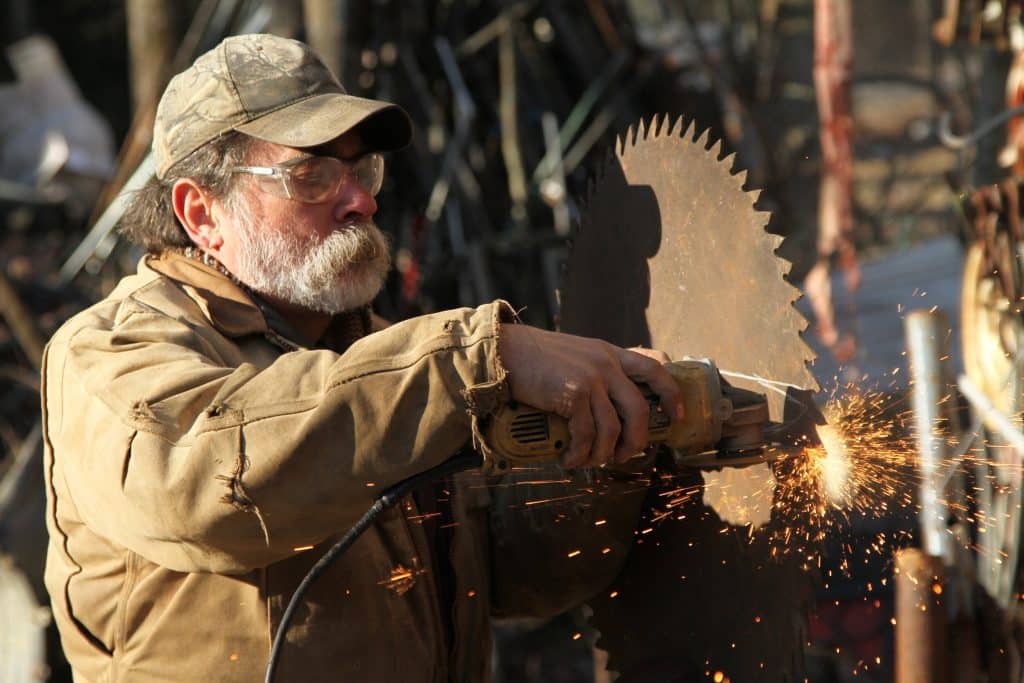 As stated by Eric Barker, who was one of Preston's former co-workers at East Wilkes High School, Preston was a man who brought the best of the best out of everyone, whether it was the students or his colleagues. In Barker's words, if Preston 'had something to say, you wanted to listen'.
In honor of Preston and his unrelenting work for the Turtle Island Preserve, Eustace Conway, the production staff of "Mountain Men", and his family set up the Preston Roberts Family Scholarship, in an effort to provide financial support to high school seniors who wanted to pursue a career in the art field.
Family
Preston Roberts married Kathleen DuPont McGuire very early in life, long before he even enrolled in the Air Force. It's due to this that it's not surprising to find out that they were married for several decades, especially considering that their shared and strong love for nature and outdoor activities led them to travel together, forming a very wholesome and adventurous team.
Just like her late husband, Kathleen is also a woman of many talents and occupations. She is an avid musician and song writer, an expert in life-skills activities, and as if that wasn't enough, is an art teacher as well. She also works for Turtle Island Preserve as the Girls Camp leader, and actively collaborates with many other activities of the organization.
Although none of their three sons actively works for Turtle Island Preserve, Preston and Kathleen's granddaughter Emily followed her grandparents' steps, and isn't only a naturalist as well, but also has a career in education.
Turtle Island Preserve
While the main reason Preston and Eustace founded the Turtle Island Preserve was to put their long-term acquired survival skills and knowledge into a productive project, the camp became more than just a business.
It's not only the fact both men and their families dedicated a big part of their life into making it profitable enough to keep afloat for decades, but that it gives people of all ages, careers and interests a place to share valuable time together, and reconnect with nature in its truest essence.
Just by checking out Turtle Island Preserve, you might notice that the options they offer are several. From corporate to academic and casual visitors, the camp has a wide variety of programs such as retreats, an Academy of the Natural World, survival and skills-enhancing courses. However, probably the most inspiring of all of the options is the Volunteer Program, which offers opportunities for those people interested in helping others whether it is through their knowledge, skills or manual work.
Following Preston's own life philosophy, which was strongly led by his ability to teach and pass on knowledge, the Turtle Island Preserve has maintained itself loyal to its mission of providing people with the necessary skills, manual and socially-speaking, to make the world a better place.
Is The Show Still On Air?
Fortunately for you, "Mountain Men" is still on air, and in June 2021 premiered its tenth season on History Channel, marking it as its eighth consecutive year.
Going to places such as Montana, Idaho and Arkansas, the show has showcased a variety of lifestyles of men and women, who live in the mountain regions of the US since its premiere in March 2012. However, while the only ones who have appeared throughout the entirety of the series' airing are Eustace Conway and Tom Oar, the rest of the cast have either left the show, or joined in later seasons.
Following Preston Roberts' death in 2017, the show has gone through some changes as well. For example, Jake Herak and Mike Horstman joined in season seven, while the long-time cast member Marty Meierotto left during the eighth season. More recently during the tenth season, Martha Tansy joined the show, becoming the second woman to do so.
While it's obvious that Preston Roberts was irreplaceable both in the show and in the Turtle Island Preserve, it's heart-warming to see that he hasn't been forgotten by his "Mountain Men" fans, and the people who loved him.