• Jessi Combs tragically died in August 2019 in a car crash in Oregon.
• She was posthumously recognized as the title holder of the land speed record in the female category.
• She had a passion for adventure and cars, and worked as a car builder, host and actress.
• She won several races and set many speed records.
• Her legacy lives on through The Jessi Combs Foundation, which supports women who wish to pursue careers in the race field.
Whether you know Jessi Combs from the times she appeared on TV, or her feats as a race driver, it's undeniable that she was deeply admired by many people due to her personality, her professional skills, and the awards she collected.
That's why it's not a wonder the news of her tragic death in August 2019 left people both surprised and deeply saddened, also raising many questions such as the exact cause of her passing, and how it happened.
In this video we're going to answer all your questions, not only regarding her death but also her life and many professional achievements. So take a seat as we resume the impressive life of this inspiring woman!
What Happened To Jessi Combs?
The life of any race driver might be full of adrenaline and achievements, but also entails a lot of danger. While the percentage of deaths in this profession is not as high as for other dangerous careers, tragedies still tend to happen from time to time.
Happy 4th of July everyone! May our independence allow us to experience life at different speeds 😉 Proud to be a part of this nation. #starsandstripes #4thofjuly #patriot #freedom #independenceday #fireworks #northamericaneagle #fasterthanfast #fastest… https://t.co/xxP3sTYqtg pic.twitter.com/89znfoPCIm

— Jessi Combs (@TheJessiCombs) July 4, 2019
Unfortunately, Jessi Combs' life came to a tragic end on 27 August 2019 in a terrible car crash in the Alvord Desert, located in the south-eastern corner of Oregon. At the time of the accident, she was trying to break the land speed record previously set by Kitty O'Neal in 1976, when her vehicle suddenly hit an unknown object in the road, so crashing at a high speed and being engulfed in flames just afterwards.
The collapse of the vehicle's wheel assembly was determined as to why the accident happened, though Jessi's death was officially determined to be caused by head trauma, which must have happened during the automobile crashing. The local sheriff's office and emergency services were called immediately following the explosion, but it was already too late for Jessi by then.
Just after her death, Jessi's boyfriend Terry Madden affirmed in an Instagram post that Jessi hadn't meant to continue trying to break the record after that event: 'That was to be the last time she ever got in that car.'
Jessi was survived by her parents and siblings, but she surely also had the love of her friends and people who admired her strength and dedication.
Posthumous Record
In June 2020 it was confirmed that the Guinness World Records had recognized Jessi Combs as the title holder of the land speed record in the female category. While the accomplishment became a source of happiness to any of those who knew how important this goal was for Jessi, the news was bittersweet as well. Just as Jessi's boyfriend Terry Madden affirmed on his Instagram page, achieving such a feat was one of her biggest goals, it didn't stop him from being sad about it: 'no record could ever be worth her not being here'.
As the Guinness World Record states on its website, Jessi was the first person to ever achieve such a thing in over 40 years and did it with an average 522.783 mph speed, clearly surpassing the previous record of 512.71 mph, truly confirming the honor of her being named the world's fastest woman.
Who Was Jessi Combs?
It's not easy to summarise all the things Jessi did in her life. Besides her well-known career accomplishments as a driver, she had many other talents that led her to be recognized off the race track as well.
Jessi was a South Dakota native, having been born in Rockerville. However, she along with her parents Jamie and Nina Combs and siblings moved to Piedmont when she was still a child. Jessi has several siblings and stepsiblings resulting from her parents' subsequent marriages after divorce.
If you wonder what led Jessi to pursue a career as a race driver, the answer is simple but still interesting. Ever since she was a child, her love for adventure was well supported by her parents, and as stated on her website, besides her well known hunger for adventure and anything new, Jessi's also wasn't easily defeated by failure, and instead kept trying until she achieved whatever she wanted.
If you don't believe it, you might peruse her curriculum vitae.
She actually rejected a scholarship to study design in favour of trying to become a professional snowboarder. Then she moved to Wyoming to enrol into a steel fabrication degree at WyoTech. Very loyal to her love for automobiles, she even built a car for an auction exhibition at the end of her career, something which is clearly impressive and admittedly quite uncommon.
Early Career
After graduating from WyoTech, nothing could stop Jessi Combs. She started working as a car builder an,d sooner than later found her way into the TV industry when she joined the crew of SpikeTV's show "Overhaulin'" as a builder. From then, it wasn't long until her talent and charisma stood out, and she was selected to join the then-new series "Xtreme 4×4" as a host, along with Ian Johnson.
"Xtreme 4×4" premiered in early 2005, and was set to become sort of a show-guide about creating or improving existing cars into better-functioning driving machines.
In addition to that, the series also showcased the US motorsports' scene by pointing the spotlight to race events, and those who were involved in them.
Maybe her job was only as a host, but Jessi clearly liked to do more than that. In "Xtreme 4×4", the audience had the opportunity to see her either in the studio or driving big cars around in her hometown, or on the racetrack.
Unfortunately, Jessi had to reconsider her life choices severely when in 2007 a bandsaw fell over her and severely injured her spine during the filming an "Xtreme 4×4" episode. The diagnosis wasn't very promising at first, and it was expected she would have to use a wheelchair, but never a woman to give up easily, she spent several months going through surgery and therapy until she was totally recovered. However, that was the end of her appearances in the show a,s she decided to chase other professional opportunities.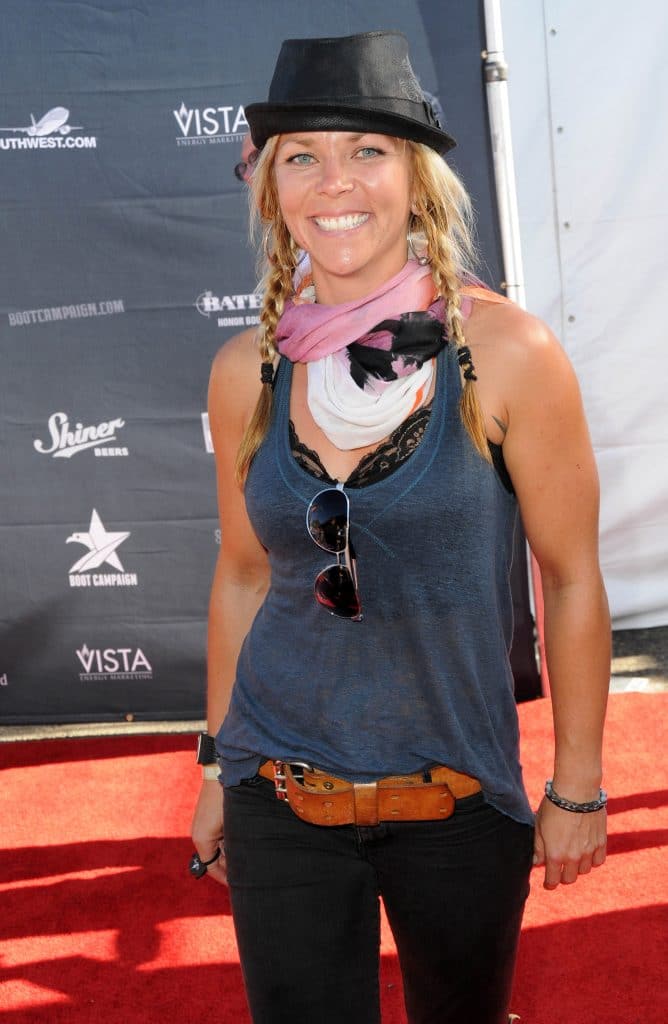 "MythBusters"
Her departure from "Xtreme 4×4" was the right thing to do at that point, especially considering the many work opportunities which were awaiting her. Following her recovery, Jessi Combs made several appearances as a guest in race events and other car-centered TV shows, however, her next big opportunity came in 2009, when she joined the cast of Discovery channel's stellar show "MythBusters", filling in for the main host Kari Byron during maternity absence.
"MythBusters" is a series quite different from what Jessi had been used to doing. The show wasn't centered only on cars, but entailed a variety of topics related to science and engineering. The interesting part is that in "MythBusters", Jessi also got to show off some of her best abilities as an industrial builder and artist, when required during the year she appeared in it.
"Overhaulin'"
Jessi Combs first appearance in "Overhaulin" dates back to the beginning of her career, when she appeared in it as a car builder, until she left for "Xtreme 4×4" sometime later.
However, in 2012 she would rejoin the show, though this time it was as a host.
Although "Overhaulin'" has had several hosts throughout the years it has been on and off air, each of them brought something special to the show. When it comes to Jessi, not only was she charismatic enough to be a good presenter, she was an expert in the car field as well, and brought a lot of her expertise to the series, something which was easily recognizable even to those who hadn't known about her prior to it.
Her cool and very likeable personality added to her outstanding ability, intrepid attitude and efficacy were well known, but those were just a few of the many good traits Jessi Combs had. As her then co-host Chip Foose affirmed, he had known about her impressive building skills ever since she appeared in the show's premiere in 2004 as part of the "Team A", when she was still studying in WhyTech. The impression she left on him was obviously good, as he even gave her the nickname "Godspeed Jessi".
She ended up leaving "Overhaulin'" in 2013, but that wasn't the end of her TV career by a long shot.
"All Girls Garage" & More
As if it wasn't clear enough, Jessi's biggest passion was always working on cars. That's why it's not surprising she decided to leave "Overhaulin'" in 2013 to join Motor Trend's "All Girls Garage", which was clearly a series that allowed her to showcase her car building abilities in a better way.
As you might imagine by only hearing the show's name, "All Girls Garage" was solely centered on a group of women and their car fabrication skills, forming a well-equilibrated team that didn't leave behind details of the building process for the sake of TV time.
Though unfortunately Jessi ended up leaving "All Girls Garage" not long after its debut, she continued appearing in "1001 Car Things To Do Before You Die", which was a project she had been on board with since 2011, and which lasted for several years.
Caught daydreaming about the next #adventure… and what I should build to make it fun-er. Back in my shop for one night before I hit the road again… #whatshouldibuildnext https://t.co/zKwQCYEpfl pic.twitter.com/fPXPkljbfJ

— Jessi Combs (@TheJessiCombs) June 22, 2019
In 2015 Jessi joined "How To Build… Everything", a series focused mostly on science and anything to do with it. However, the show was far from being too technical, as it was known for showcasing and proving several types of facts and theories, with experiments which let the audience appreciat the insight on how things actually function in a simple but entertaining way. Jessi's role in the series was demonstrating some of the experiments involving cars, and those were surely a sight to behold.
Other TV Appearances
Throughout her career, Jessi Combs appeared in a handful of TV shows dedicated to car fabrication and upgradings, out of which "Break Room", "2 Guys Garage" and even in "Jay Leno's Garage" can be mentioned. She also made her debut as an actress, in the comedy film "Interviewing Monsters And Bigfoot", which ended up as her TV project before her death.
Though Jessi's prowess as a car builder and metal artist is something she clearly learned to do with a lot of effort, it's undeniable that her career on TV helped her push those abilities onto the big leagues, and gain more of her well-deserved recognition through it. Though her easy-going personality was the definite trait that ended up winning her the hearts of many people.
Race Driver Career
We already mentioned Jessi's adventurous personality led her to become a race driver, but if you're wondering if there's someone who inspired her to do so, the answer might surprise you. She actually followed her grandmother, Nina Debow's steps, who back in the 1920's used to race Stanley cars, and modeled for Goodrich Tires.
While Jessi Combs always knew that cars were her biggest passion, she certainly had to train in several fields such as drifting, evasion and stunt driving before taking the big step and debuting in the race world.
Though that didn't happen until 2011 when she placed second in the Baja 1000 race, and later, in 2014, won the Ultra 4 Stampede's first spot. The following years, she was placed in the top positions of several race events, such as the Ultra 4 American Rock Sports, Rallye Aicha des Gazelles and Gambler 500 Mini Moto Enduro.
Besides all of those impressive feats, Jessi Combs also set a variety of speed records throughout her career. In 2013 she officially became the fastest woman on four wheels by setting a land speed of 398,954 mph during the American Eagle Supersonic Speed Challenger, breaking the record set by Lee Breedlove in 1965.
In September 2016, Jessi broke her own previous landspeed record by running at 477.59 mph during the Other American Eagle event. Also in 2017, Jessi was the Grand Marshall of the rally Mayor's Ride, which was an impressive feat on its own as she was the first woman to ever do so in the event's long 70-year history.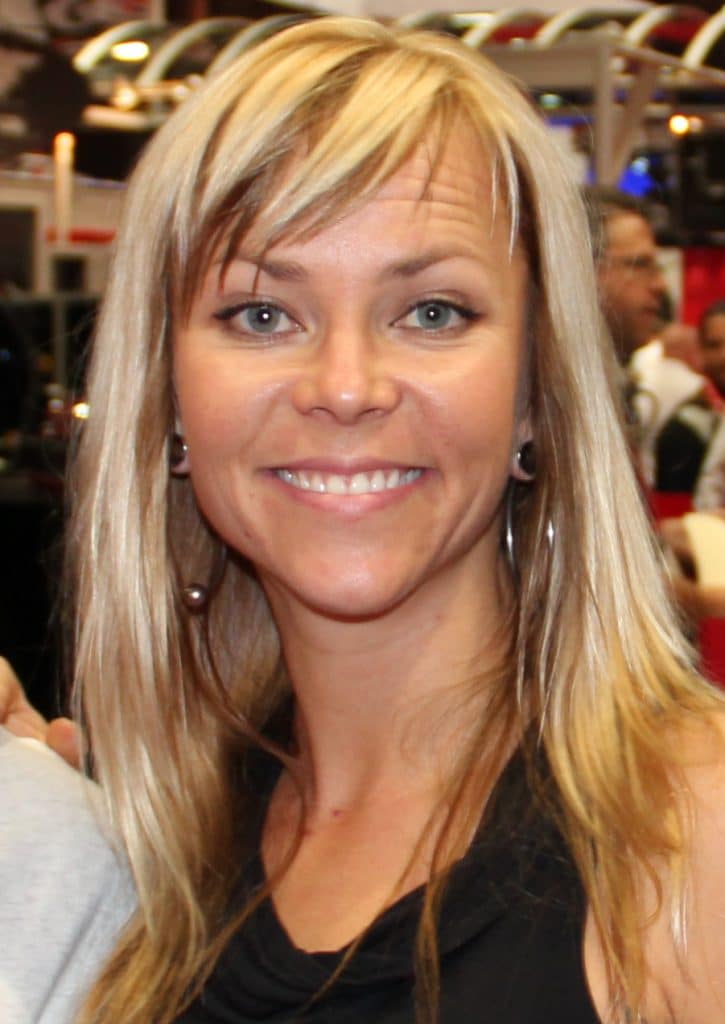 Legacy
There's no way we describe Jessi Combs in only a few words, and neither could we summarise her career as simply a race driver. Her contributions to the profession go well beyond titles, as she set a precedent for other people and especially women to follow her footsteps, and do what they're truly passionate about, regardless of its complexity, or if it was in a previously male-dominated industry.
To honor such an icon, in 2019 The Jessi Combs Foundation was launched to support women who wish to pursue careers in the race field. As its website states, the mission is to 'educate, inspire and empower the next generation of female trailblazers & stereotype-breakers.'
This proves once again that Jessi Combs will be remembered as the legend she truly was, and by how much she inspired those who got to see her both on the race track and off it.