• Ben and Erin Napier are a married couple from Laurel, Mississippi who have starred in the home renovation show "Home Town" since 2016.
• They have also starred in a few spin-off series, and season six of "Home Town" is scheduled to air in 2022.
• Ben and Erin have no formal education or experience in construction and home design.
• They have two children and believe in being thrifty and giving tithes to the church.
• They worked together to restore the town of Laurel, Mississippi, renovating homes, businesses and even the main street.
Around 2.2 million people watched the pilot episode of HGTV's "Home Town", aired on 24 January 2016 – its stars, Ben and Erin Napier, thought that this was due to a snow storm on the east coast at that time. However, as the home renovation show continued to enjoy consistently high ratings with the succeeding episodes, they realized that it was indeed a certified hit. The public fell in love with Laurel, Mississippi, and how the couple revitalized the town, one house at a time.
As season five finished airing in 2021, and the famous couple starred in a few spin-off series, fans have been wondering if "Home Town" has been canceled.
Ben and Erin
Ben Napier grew up with parents who were United Methodist ministers, and he became a youth minister for 10 years after his college days.
Erin was born and raised in Mississippi; her dad's a retired physical therapist. She grew up thinking her mom was a professional artist, who did painting and art stuff, but she's actually a realtor. Her family is Baptist, and she became a Methodist when she married Ben.
He was a 19-year-old freshman when he first noticed Erin at the campus cafeteria, sporting a pixie haircut, and was attracted to her. According to Erin, Ben was the most popular guy there; he was the president of every organization, and was friends with everyone. He was her crush, and she wanted to be in his circle. The two first met at MacDonald's that freshman year, during moving out day. He was an acquaintance of her roommate, and when they were introduced, he felt rebuffed by her, but she said that she just didn't know how to talk to him, because she really liked him.
Erin was a yearbook editor and when the staff decided to feature the 10 most interesting persons in the yearbook, Ben was a unanimous choice, as they all agreed that he's an awesome guy. She volunteered to write his story and take his photos. After six days of being inseparable after he went into their office for an interview, they supposedly decided to marry, as he said to her, 'I'm in love with you and I'm gonna marry you one day.'
The proposal took place in a book store called Square Books in September 2007. The two supposedly went there to get a book for class. As per Ben's instruction, one of their friends handed her a leather-bound book which he'd made. He wrote their love story and on its last page, it was written, 'Come upstairs for the rest of the story.' Ben was waiting for her at the balcony and whispered to her, 'You know how much I love you? And you know I will always take care of you,' and then he got down on one knee and asked her to marry him.
Erin said it was the 'most shocking and beautiful moment' of her life, and she couldn't cry or say yes enough.
They were married on 22 November 2008. For their anniversaries, Ben gifted her with a book of notes he wrote for a year, and he made the cover based on the traditional anniversary gift theme such as paper for the first one and cotton for their second year.
Erin was surprised at how easy marriage has been for them. She knew it was not the case for most couples, who described it as hard work. For her, 'Marriage is our comfort zone and support system,' and added, 'It's as natural as breathing, and just as necessary for making my way through life with all its good and hard times.' She further shared that belonging to Ben and never having to deal with life on her own made her love being married to him. She fondly calls him "Big" as he's 6ft 6ins – two metres – tall to her 5ft 5ins frame, about 1.6 metres, but later said that it was because of the size of his heart.
Ben said, 'As far as our marriage goes, it's me and Erin and God. We work everything out together, and everything has worked out so far.' They didn't keep secrets from one another, so there were no surprises that could cause misunderstandings. They did things together, sharing the work to lighten the load, and never let their partner feel taken for granted. When it comes to their finances, Ben and Erin believed in giving tithes to the church. They were thrifty, making sure they saved money, and invested in mutual funds.
The couple has been blessed with two kids, Helen and Mae Napier.
Journey to stardom
After college, they moved into Laurel, Erin's hometown, and she said that one of the great things about this place is that one can 'live the American dream for the most modest amount of money in the world.'
She and her husband restored a 1910 building in downtown Laurel with the idea of making a loft similar to what one would find in New York City, and it became their first home. Later on, in 2011 they bought a 1925 yellow craftsman cottage, and renovated it room by room, which became their second home, using their loft for their business. They didn't have a lot of money when renovating, so they had to be creative and 'do a lot with a little.' They did things on their own.
Interestingly, neither had formal education or experience in construction and home design before embarking on these projects. Erin graduated in 2007 from the University of Mississippi with a Bachelor's degree in graphic design, while Ben has a Bachelor's degree in history, also from Ole Miss – he developed his woodworking skills through the years.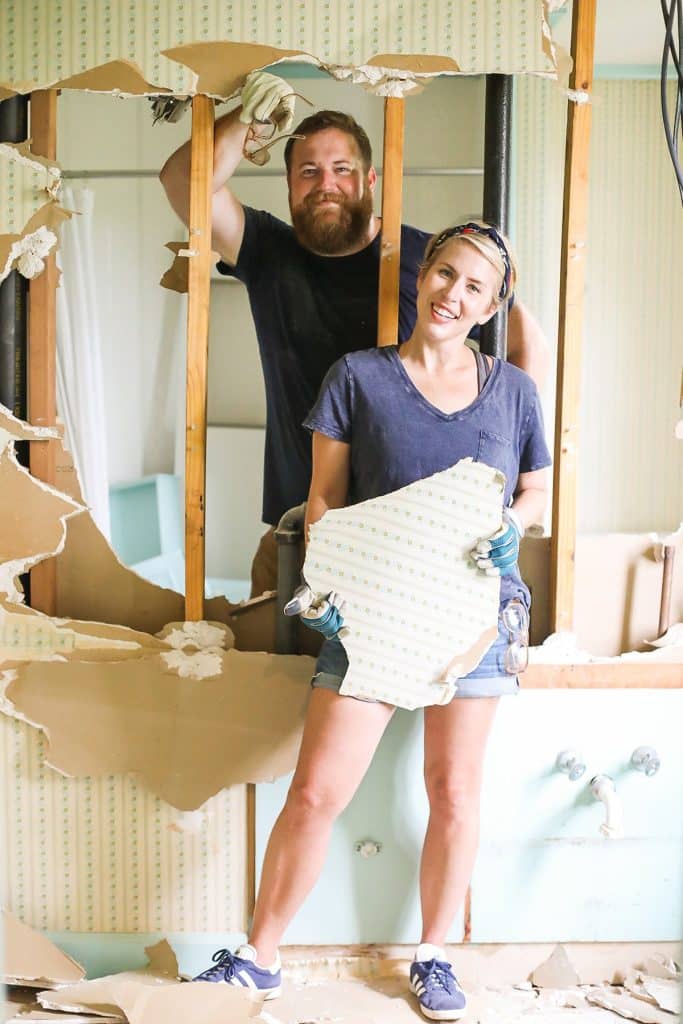 In college, when Erin needed frames for her artwork, he would make them for her. When they were married, Erin said that she once saw a $3,000 antique armoire at the flea market but couldn't afford it, so she took its measurements as well as photos of every angle, and then asked Ben if he could make one just like it for her, and he agreed, even if he still had to figure out how to do it.
The renovations were documented in her blog called "Make Something Good Today" in which she wrote about the best things that happened each day. Her blogging started in January 2010 as a way for her to count her blessings, and combat her fear of leaving the security of a day job to launch an event and wedding stationery boutique called Luxury Luxe. It paid off, as they soon began shipping their invites all over the world. It was even featured in "Martha Stewart Weddings" and "Brides Magazine."
Ben set up a furniture shop called Scotsman General Store & Woodshop, with his younger brother working for him. He ran for the city council, but lost with 44 percent of the votes.
"Home Town"
As the business became successful and her blog started to become popular, a writer for "Southern Weddings" magazine became a fan, as she was inspired by Erin and featured her and Ben in an article about Southern newlyweds and their home renovations, published in June 2014. The producer, Lindsey Weidhorn, read it, and became very much interested in her and 'stalked' her on social media. By July, she sent Erin an e-mail about the possibility of doing a home renovation television show, with a touch of romantic comedy, for the HGTV network. They certainly didn't see this coming, but it was an opportunity they couldn't pass up as it would feature their hometown.
The small southern town of Laurel, Mississippi was founded in the 1880's, and used to be an industrial town, which Ben described as 'very blue-collar, very lunch-pail, bootstraps town.' The founders were successful, educated, and creative people, and the architecture of the houses there reflected that. The 'wealthy lumber barons' set up huge sawmills, and whom Erin said used their wealth to do a lot of good in the community, such as setting up education for African-American children, the first in Mississippi, with the intention of having workers at their mills educated and safe. After the sawmills closed down, people began leaving, and then Hurricane Katrina devastated the town.
In Laurel there were empty streets, as a lot of the houses were torn down. The couple wanted to change this, and the show helped bring attention to the beauty and joy of living in a small town. Ben and Erin along with their team, renovated an old house for a couple or family with the big reveal at the end of each episode.
Erin would ask the future home owners things that would reveal something personal about them, including their favorite music, book, childhood memory, and it helped her in designing the house so that it would reflect the person's interest and personality. She would also re-use or re-purpose the client's old items, as she said that it was all about taking whatever modest thing you have and turn it into something good; the motto of the hometown is "scrappy not crappy." There were those who criticized her design for being 'cluttered', but she countered 'It's real life. We all have stuff…and those things are the pieces that comfort us…and welcome us home when we walk in the door.' However, it should be noted that some of the furniture and décor in the house were only put on display for a better way of presenting how good a room would look like with these items. The homeowner was given a special price should they want to keep them.
For five seasons from 2016 to 2021, they renovated or restored around 70 homes, and revived the town in the process. There has been an influx of tourists, because they fell in love not just with the place but also with Ben and Erin. New stores and restaurants popped up, and the town became so much busier than it was before the series was launched.
Most people in the town welcomed the change, but there were those who didn't like the filming taking place in their neighborhood. The team usually did four houses at the same time in seven weeks, so there would be quite a number of workers including carpenters, plumbers and electricians in the area. Some neighbors would complain about the inconvenience, and cops were even called in when their driveway was blocked or their usual parking space was taken. There were also neighbors who were inspired by what they were doing, and would clean up, paint, or do small improvements in their front yard, making the street or neighborhood better.
The couple admitted that they were given too much credit for how their town was revived, because it took everyone sharing their skills in making things happen; they were just the 'art department.'
Shows about home renovations attract loyal audiences, but the Ben and Erin played a huge part in the success of "Home Town." It was evident that they worked perfectly together, and this was because they communicate constantly so they were always on the same page; they respected each other's opinions.
"Home Town" Spin-offs
"Erin'spired"
Erin has a digital web series called "Erin'spired" aired on HGTV.com, showing the design process for the homes featured, starting in season three of "Home Town."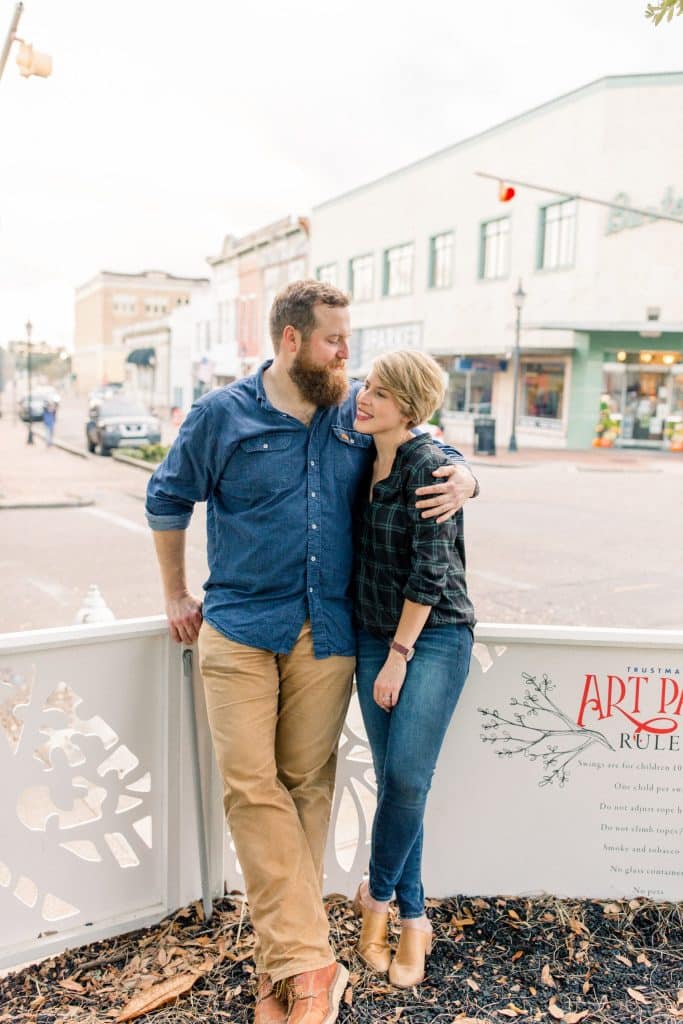 It gave the viewers more insight into how Erin and her team customize the design of each room that they renovate to the client's satisfaction. The design team includes her and two design producers and their assistants.
"Home Town Takeover"
Around 6.5 million watched the premiere of "Home Town Takeover", as viewers were excited to see how the Napiers would change the small Alabama town called Wetumpka. Movie buffs would find it interesting that the house seen in the 2003 American fantasy "Big Fish," directed by Tim Burton, was located there. With Erin loving the movie, it was not surprising that the house gets the make-over for the show. The Napiers team renovated homes, businesses and even the main street in the six-episode series.
"Hometown: Ben's Workshop"
With this new series, Ben has been given the chance to share his passion, and show more of his craftsmanship as he said, 'Showcasing the patience and detail that goes into woodworking with fans who wanted to see more of that process is a dream come true.'
Celebrities including country singer Chris Lane, comedian Loni Love, tennis legend Martina Navratilova, and retired astronaut Scott Kelly were featured in the four-episode series. Each one teamed up with Ben, and worked on a customized wood project with the finished piece donated. Season one premiered in January 2021 on the Discovery+ streaming platform, and has been renewed for season two with ten episodes.
Show cancellation
As the husband-and-wife team became popular, and with their audience clamoring for more, it opened more opportunities for them, such as starring in the spin-off series'. As these became successful as well, it left their fans curious as to the status of "Home Town." Fortunately for its loyal viewers, the couple will continue to make beautiful houses for people who choose to settle in their beloved town. On Erin's blog, she shared that season six is in production, and scheduled to air in 2022 – fans could look forward to 20 episodes.