• Aaron Kaufman is an American auto mechanic and TV personality who specializes in F-100 pickup trucks.
• He was self-taught in the automotive industry, and received his first toolbox at age 1•
• He worked at Gas Monkey Garage and starred in two reality-TV series, "Fast 'N Loud" and "Shifting Gears."
• He established his own company, Arclight Fabrication, specializing in Ford trucks and parts.
• He is estimated to have a net worth of over $8 million.
The American auto mechanic and TV personality, Aaron Kaufman, has been raking-in big money since the time he established his name as one of the best in the automotive fabrication industry. He founded an auto customization and repair shop in Dallas, Texas, called Arclight Fabrication, which specialized in F-100 pickup trucks. His brilliant résumé in auto restoration started with Gas Monkey Garage, and continued with his stint in two reality-TV series – "Fast 'N Loud," and "Shifting Gears."
Aaron Kaufman's early life and family
Aaron was born on 26 January 1982, in Crowley, Texas, to David Gerald Kaufman, a self-taught mechanic, and Lisa Hestilow Stewart. He and his younger brother, Jared Brett Kaufman, grew up on a farm where he first learned to drive a vehicle, which was a 1968 short-bed baby blue Ford F100 with white bumpers and grille, used in feeding the cattle on his grandfather's farm. After he got his student driver's permit at the age of 15, Aaron volunteered to drive his mom to and from work.
His mother never drove her 1993 Toyota Camry again, as he would offer his services for any errand just to drive the car. He was so in love with driving that their pantry never ran out of stock, and they even had an oversupply of dog food. Aaron also became familiar with his father's white Jeep Cherokee, which was some sort of family heirloom handed down in their family, and with more than half a million miles on it. Even after Aaron's parents divorced, his father nurtured the love of car building with his son.
His first car
The moment that Aaron received his driver's license at 16 years old, his father bought him a four-cylinder single-cab 1990 Ford Ranger with a long bed and a camper. While it wasn't his dream car, it worked pretty well for him and his friends, as they used it to stack their BMX bikes whenever they had the chance to sneak off somewhere.
It was only when he was about to graduate from high school that they decided to put his truck up for auction, because it had some problems. However, instead of buying a new one, his mother passed on to him her 2000 Chevrolet Impala.
His first car modification
A 1984 Jeep Cherokee worth $900 was the first vehicle that Aaron purchased, from his savings from working odd jobs. The Jeep was also the first vehicle he customized, due to its locked-up transmission. He found a transmission part from a junkyard but it wasn't the right one for his Jeep, so he figured out a way to make use of it by modifying some parts in his vehicle, ran his idea with a guy from an auto shop, and got his Jeep running. Aaron then bought a lift kit, but after successfully lifting the Jeep, he noticed a vibration in the Jeep's driveshaft so he called the store from where he got his lift kit. The store then sent him another kit to fix the problem but it was just a couple of tubings with holes on them.
His frustration with the tool led him to learn more about cars, and vow that he would make sure not to depend on others when he needed something fixed on his car. It turned out that he had a talent for figuring things out, and thinking outside the box.
His hobby of modifying cars started as a little kid, from watching his father tinker with numerous types of cars. It soon developed into a passion after Aaron received his first toolbox as a Christmas gift from 'ad, and since then, he's been fixing troubled cars for his friends and the people in his neighborhood. He offered free services including lifting/lowering of cars, brake adjustments, and wheel replacements. Aaron did all those repairs and modifications diligently to gain experience to prepare for a career in the automotive industry as he had always been aware that 'education has a price.' Most of his spare time in high school was spent dismantling and building car parts in their driveway.
He said in an interview that his father probably didn't have an idea back then that the toolbox would help his son in shaping his future in the automotive industry.
Aaron Kaufman's career
How he started in auto customization
After high school, Aaron worked at his friend's machine shop called Pep Boys, cutting and building frames for trucks along with some suspension adjustment work. When he knew he needed to upgrade his knowledge, he approached the garage owner of a rival shop called Hack Shack and asked for a job. To convince the owner to hire him, Aaron said that hiring him would eliminate the competition as he was a very good employee. For two years, he learned more about customizing vehicles as the shop didn't repair broken cars, only working with good working cars and turned them into something else. After spending two years with the shop, he left it and his hometown to pursue a college degree in Lubbock, Texas.
As a lead mechanic in Gas Monkey Garage and reality-TV star in "Fast 'N Loud"
Aaron, being a straight A-student since high school and all through college, made a difficult decision to drop out of college as his mind would often go back to building cars. He along with a good friend just opened an auto shop, and worked on it to establish their dream garage. However, it was easier said than done, so when businessman Richard Rawlings came knocking on his door in 2002 with an opportunity of a lifetime, he grabbed it. As the garage's lead mechanic and fabricator, he helped Richard build Gas Monkey Garage, a Dallas-based customization automotive shop. He also brought his friend along with him on the condition that the friend would work solely for Aaron and not for Richard.
The garage specialized in buying worn-out old classic cars and restoring them as hot rods; it went under twice before the garage became one of the most successful auto restoration shops in the industry.
Aaron Kaufman. #MasterMechanic #FastNLoud pic.twitter.com/9dBdZZYMeK

— Fast N' Loud (@FastNLoudTV) November 19, 2013
In 2012, Aaron became part of the reality-TV show "Fast N'Loud,", aired on Discovery Channel. The series featured the Gas Monkey Garage team as they bought, dismantled and restored classic cars. The TV show lasted for 16 successful seasons, although Aaron left the show in its 12th season, having an emotional episode in which he announced his exit to his co-stars. During an interview with "Arts of Gears," Aaron said, 'I wanted to build cars that were that big or bigger, and then TV needed cars that were much smaller than that.'
His own company – Arclight Fabrication and his own reality TV series "Shifting Gears"
Fans of the TV series "Fast "N Loud" were shocked when Aaron left the show to pursue other goals, which he felt he wouldn't be able to do if still with the show. He established his own company called Arclight Fabrication in 2017, specializing in the F-100 series and Ford trucks in general, providing parts for them, despite a huge void in the market as most auto shops only offered parts for Chevrolet trucks.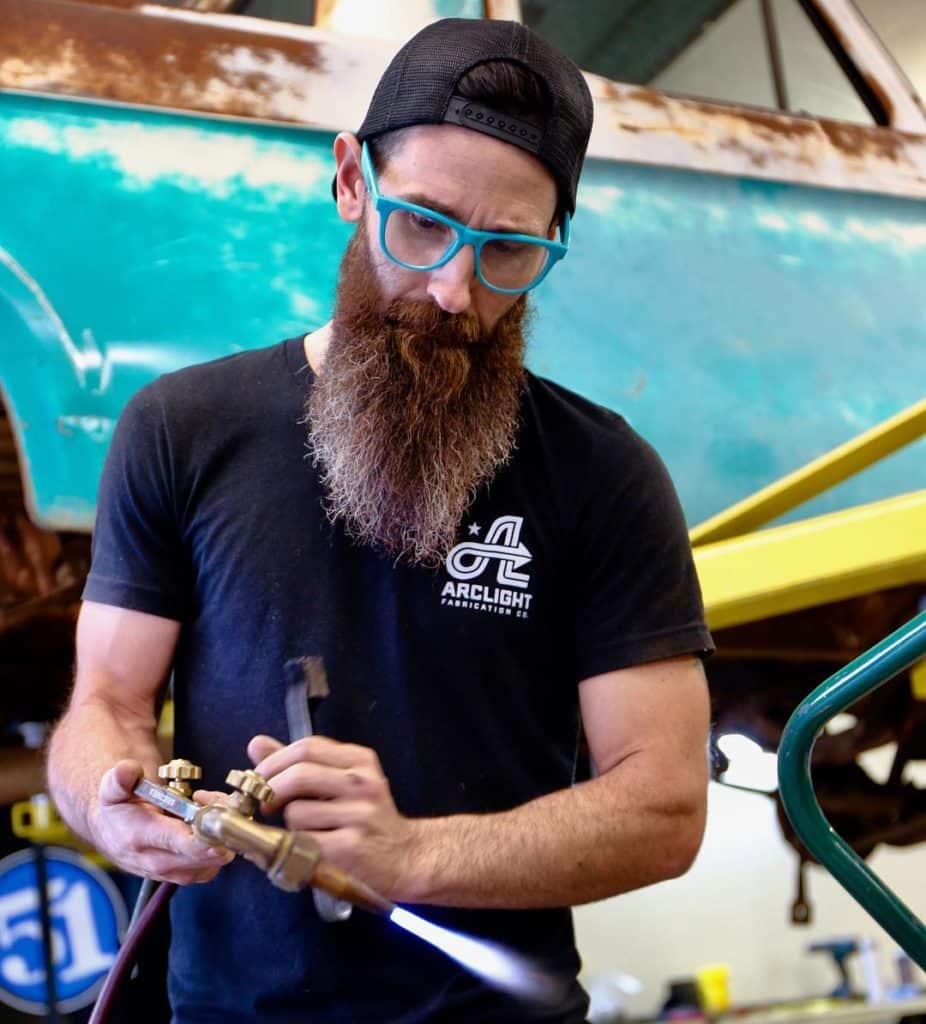 He had always been a fan of Ford trucks since it was the first car brand that he drove and owned.
Discovery Channel didn't want to let go of him, knowing that he also attracted a huge number of international fans due to his brilliance in auto fabrication. The cable TV network convinced him to host the new reality-TV show, "Shifting Gears," without the restrictions that he had with "Fast 'N Loud." Aaron not only appeared as the star of the series, but was also responsible for its content as he was given the role of the producer of the show. It featured bigger vehicles and all kinds of trucks that he dreamed of rebuilding. It premiered on 5 March 2018 with him building something more powerful out of an Ultra4 truck which he was able to drive successfully on both off-road terrain and asphalt. However, Aaron felt the TV series took a toll on his personal relationships, as producing the show took much of his time away from his family. The TV show only lasted for two seasons.
Interesting things about Aaron Kaufman
Compared to his former boss, Richard Rawlings, Aaron may have come out as bland and boring, but that was due to Richard's enigmatic personality. Aaron also had some of the most interesting stories, and here are just some of them:
He had no formal education to be a mechanic
Aaron never enrolled into any special school or workshop classes in auto mechanics; he was all self-taught, by practicing on his own car. He continuously learned more about the craft after he worked diligently for various auto shops. Being an A-straight student helped in figuring out automation, and his creativity knew no bounds, although He said that it was years of trial and error.
his second car stood the test of time
The 2000 Chevrolet Impala that was given to him by his mother stood the test of time. From his teenage years to his adulthood, the car was well-maintained, and kept in his garage. By the time he already had his own auto shop, his crew also borrowed it whenever they needed to ran errands while their own cars were being built or repaired. Eventually, he sold it to one of his guys, and it's still in good condition up to this day.
12 Cars built within 24 weeks
Aaron never backed away from any challenge particularly when it was about his expertise. As the main fabricator and mechanic in Gas Monkey Garage, he was asked by its owner Richard Rawlings to restore 12 classic cars in the span of 24 weeks for their reality-TV series "Fast 'N Loud." While it was such a tall order, Aaron was able to deliver it with the help of his team of excellent mechanics, technicians and painters. The team spent not less than 110 hours every week just to meet the deadline.
His modified 1963 Ford Falcon sold for $65,000
Fans were totally in awe of Aaron's restored 1963 Ford Falcon, which was featured in one of the episodes of the TV show, "Fast 'N Loud." He even used it to participate in the Pikes Peak International Hill Climb in 2016. He was busy with work, so he didn't have enough time to practice and memorize each of the 156 turns.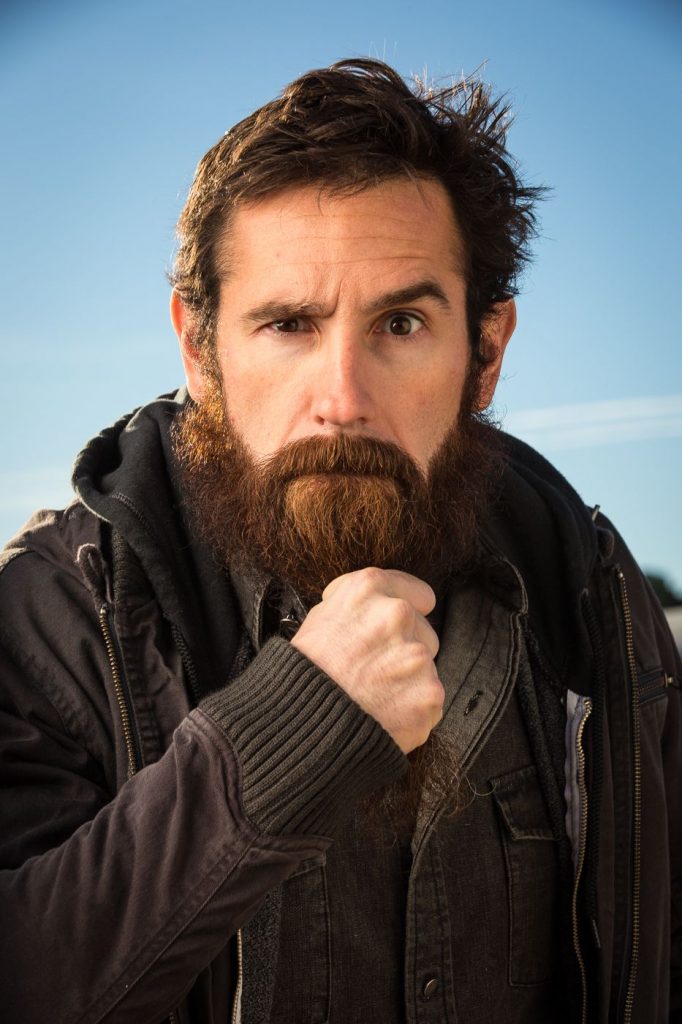 In his third attempt to join the race, he bested his previous time by five seconds. He put it up on eBay and eventually sold the classic race car with a 363 ci V8 engine for a whopping $65,000.
The controversial Bikini ad with Richard Rawlings
During the early years of Gas Monkey Garage, he and Richard pulled so many questionable marketing strategies that might have helped them promote the business, but left many people scarred at their antics. One of them was the controversial bikini ad that they both participated in. The two wore only two things on the advertisement photo – sunglasses and string bikinis. People said it was something that could not be unseen up to this day, and they would give so much just to forget the photo. Fans believed that the two tried to remove it from the Internet but were unsuccessful….unfortunately!
The rumored Aaron Kaufman-Richard Rawlings feud
For quite some time, fans believed that Aaron left Gas Monkey Garage because he had a beef with Richard Rawlings. Some even said that they had irreconcilable differences, and that he couldn't take his former boss' domineering personality. Aaron had established not only a new company but also a new TV show, which only fueled the rumors. However, when Richard promoted Aaron's new business venture and show, it proved to everyone that the two parted ways as friends. Richard even said in an interview that he understood and accepted that Aaron also needed to fulfill his own dreams.
What is Aaron Kaufman doing today?
After his TV show "Shifting Gears" ended, he focused on building his brand, Arclight Fab. He closed his shop in Dallas and moved to Grand Prairie, Texas; his official website has been under construction for quite a while now. They announced that the shop would soon open.
This 2021, Aaron will be back to reality television, as he will soon star in the new season of the TV show called "Aaron Needs A Job", scheduled to be aired on Discovery Channel. This time the series will focus on Aaron's attempt to get hired on other technical jobs, or anything related to motors and machines; these jobs may or may not involve building cars. The show premiered back in 2019, and fans were waiting for the second season, but nothing happened. Initially, his fans thought it was axed, but the cable TV network hasn't announced the cancellation of the show, but that it was only delayed due to the Covid-19 pandemic.
Aaron Kaufman's net worth
According to authoritative sources, Aaron has an estimated net worth of over $8 million.  Some of it he earned from restoring hot rods in the garage, rebuilding and providing parts for vintage Ford trucks, and some from his reality-TV shows, for which he reportedly got paid not less than $50,000 per episode.