• People like classic cars for their style, exclusivity, and experience they bring
• Wayne Carini originally wanted to become an art teacher, but ended up taking over his father's autoshop
• Wayne contributes to autism organizations, and was awarded as an Honorable Member of the Klingberg Vintage Motor Car Series
• Wayne's story was showcased in The New York Times, inspiring the creation of the show "Chasing Classic Cars"
• Roger Barr and Wayne Carini have been longtime friends, and a funds campaign was created for Roger due to his health issues
Why do people like classic cars so much? The answer may vary depending on who you're asking, though the most common response is that despite older cars often being notably expensive, generally not too fast, and hard to drive, they bring their drivers an experience no new car can.
Classic autos lack a lot of things, but the sense of style and exclusivity they give to their owners makes it up for everything. It's for this reason that despite not containing the expected drama of a reality show, "Chasing Classic Cars" has been fascinating audiences throughout its 16 seasons.
Are you interested in learning more about the show's cast and the beautiful, old cars they restore? Keep up with us to discover these unknown facts about "Chasing Classic Cars".
The Show's Name Origin
If you have watched "Chasing Classic Cars" at least once, you already know that the show's name speaks for itself. Though what actually inspired the show's title is not its concept, but its main star Wayne Carini's mesmerizing decades-long search for a car.
Everything started in the mid-1960s, when Carini was working in his father's autoshop and caught sight of a Hudson Italia owned by a man named Raymond Robinson. Though said car was unaffordable for the then 16-year-old Wayne, he never forgot about it, and even kept in contact with Robinson, who unfortunately died in 1984.
Then in Robinson's sister Hazel's hands, the Hudson was worth thousands of dollars. Though the price didn't deter Wayne, for several years Hazel refused his offers to buy the car.
Fast forward to a few years later, when Hazel asked Wayne to change the Hudson's tires. When Wayne arrived at her house, he was welcomed by an upset Hazel who had changed her mind about the tires. Surprisingly, she had determined to sell him the Hudson and after a brief negotiation, Wayne finally acquired his biggest car obsession.
The Hudson Italia's anecdote is remembered with fondness by Carini, and he's most likely very pleased his show was named in its honor.
Wayne Carini Wanted To Be An Art Teacher
Spending several years in the same job could either make you hate it or love it. For Wayne Carini, things turned out differently.
As is well known, Carini worked his entire childhood in his father Bob's car repair shop Pratt & Whitney, located on the family's Connecticut farm.
Although the time spent there helped Carini to learn the basis of cars and restoration from an early age, the relationship with his father wasn't necessarily good.
As Carini said in an interview with the website Courant, his father's perfectionism and lack of openness about receiving critiques was detrimental to their early relationship.
By the time Wayne matriculated from high school, his interest in his father's profession was at rock bottom. It was then that he set his goal of becoming a teacher, and started studying for an art-related career at Central Connecticut State University.
When Wayne graduated in 1974, the job opportunities for his career were unfortunately few, pushing him to take back his job as a mechanic. Years later he met his mentor, Francois Sicard, who taught him the art of car restoration, and inspired him to open F-40 Motorsports.
Thanks for the past 14 years! All the best in the future! #salutetoscan pic.twitter.com/AEYbPb0gru

— Chasing Classic Cars (@cccars) July 29, 2019
Life really has its strange ways, but fortunately for Wayne and his father, they were able to fix their relationship, and reconnect through what they loved the most.
Wayne Carini Contributes With Autism Organizations
Carini is renowned for his expertise in mechanics, restoration, and classic cars in general. However, less known is his facet as a dedicated father and husband. Wayne married his wife Laurie Carini in the 1980s, and not long afterwards they welcomed their daughters Lindsay and Kimberly – the latter was diagnosed with autism when she was a child.
His daughter's condition inspired a change in Wayne, who felt the responsibility to bring awareness about autism with the thing he knows best: classic cars.
It's for this reason that Wayne constantly participates in events benefiting a variety of organizations for autism.
In 2009 he donated a Ferrari Bimbo Racer from 1956 to Autism Speaks, ultimately raising $17,842 at auction.
In 2017 he participated in the Racing For Charity event, during which he chose to benefit the Autism Families of Connecticut. He also contributed to the Autos For Autism event in 2020, helping to raise $27,000 for the Ted Lindsay Foundation for Autism.
Due to his continued support with the aforementioned organizations, and for openly talking about autism in "Chasing Classic Cars" and on his other platforms, the Klingberg Vintage Motor Car Series awarded him as an Honorable Member.
How Everything Started
Not only is Wayne Carini recognized as a mechanic and restorer, his various businesses F-40 Motorsports, Continental Auto LTD and Carini Carrozzeria have allowed him to participate in various races throughout the years.
This is what ultimately put him on the The New York Times' radar, leading them to showcase him in the 2006 article "Your First Love, and Your Last Love".
The article describes the story of Wayne Carini, how he fell in love with a Hudson Italia at 16, and how that fascination led him to pursue the car, and follow his father's profession.
Said story was so attractive that it took the attention of the former journalist Jim Astrausky, owner and executive producer of Essex Television Group. He was convinced it would be interesting to produce a show about classic cars, and about Wayne.
The rest is history, and two years after the New York Times article was published, Wayne Carini's show "Chasing Classic Cars" premiered in June 2008, and nowadays is still watched in over 100 millions homes worldwide.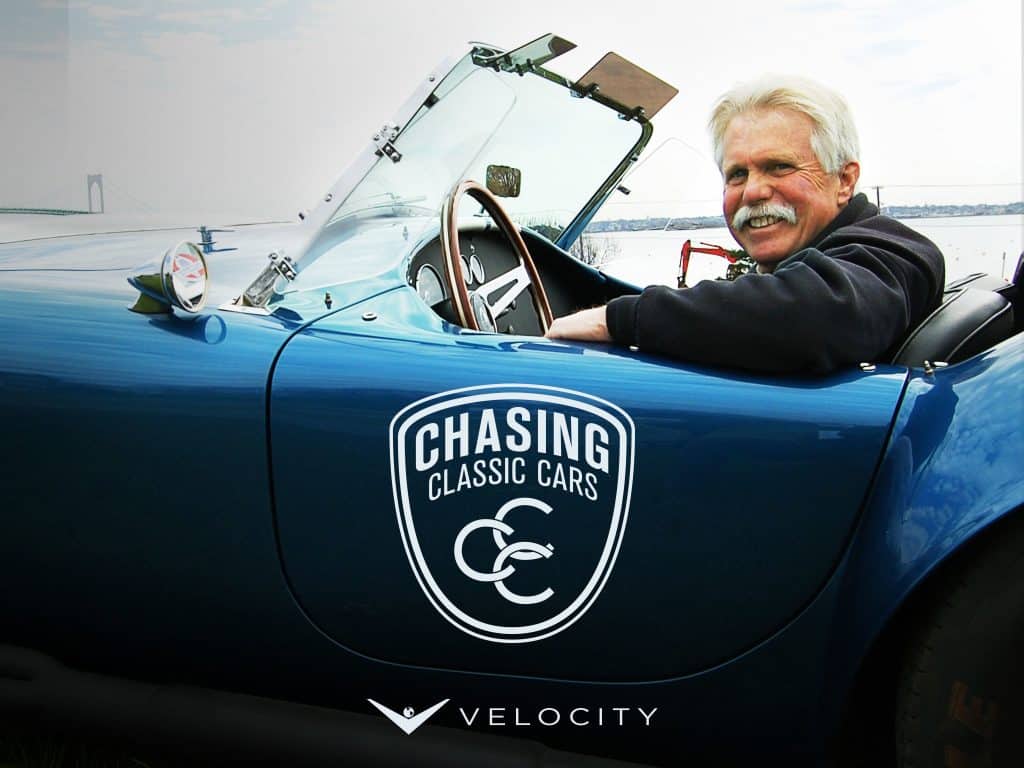 The Decades-Long Friendship Between Wayner and Roger
Well known as the star mechanic of "Chasing Classic Cars", Roger Barr's story is fascinating. He started his career as a mechanic while serving in the US Air Force, specializing in a variety of foreign autos during the time he was stationed in Germany. When his time in the military ended, he returned to the US and had several car-related jobs, while also excelling at national racing competitions.
By the 1970s, Roger had established his own foreign car repair shop in Glastonbury, close to where Wayne Carini's father had his body shop. Though they weren't necessarily friends, both Roger and Wayne's father Bob got along well, and often collaborated. On his part, Wayne was fascinated by the strange but beautiful foreign cars in Roger's shop, which he often visited during his teens.
Happy Birthday Roger! https://t.co/KB5hIGyoHz

— Chasing Classic Cars (@cccars) February 15, 2019
Despite the age gap between Roger and Wayne, they remained friends and reconnected in the late 1990s, when Carini hired him as his shop's master mechanic. Fast forward to present times, it's undeniable that Roger not only plays a big part in "Chasing Classic Cars"s success, his expertise and vibrant personality is an inspiration for many people as well.
A Funds Campaign Was Set For Roger Barr
Unfortunately, Roger Barr has had various health problems in recent years which have led him to undergo several surgical processes. The first of these health issues occurred in 2017, when he suffered a leg infection which took a toll on him, and kept him away from work for several months. Though the cause of his infection hasn't been entirely disclosed, he supposedly got it from working on a 1930's Minerva AK for F-40 Motorsports.
Although Roger went back to work with Carini part time, he was financially struggling due to his prolonged work absence and inability to obtain Workers' Compensation. This led his friend Steve Cripps to start a fundraising campaign to help Roger cover his medical expenses.
Roger Barr's fans and friends have been generous with their donations, to the point the funds' goal has almost been reached. However, Roger's continuing health problems no longer allow him to work, the reason why he doesn't appear in "Chasing Classic Cars" anymore.
While not seeing him in the show might be disheartening for fans, Roger's health has been improving steadily since his latest knee replacement surgery in 2018.
Wayne Carini's Favorite Cars
Although it must be hard for a car expert to choose his favorite car, Wayne Carini's wide knowledge of classic cars and years of expertise allow him to know which are the best autos from each period of time.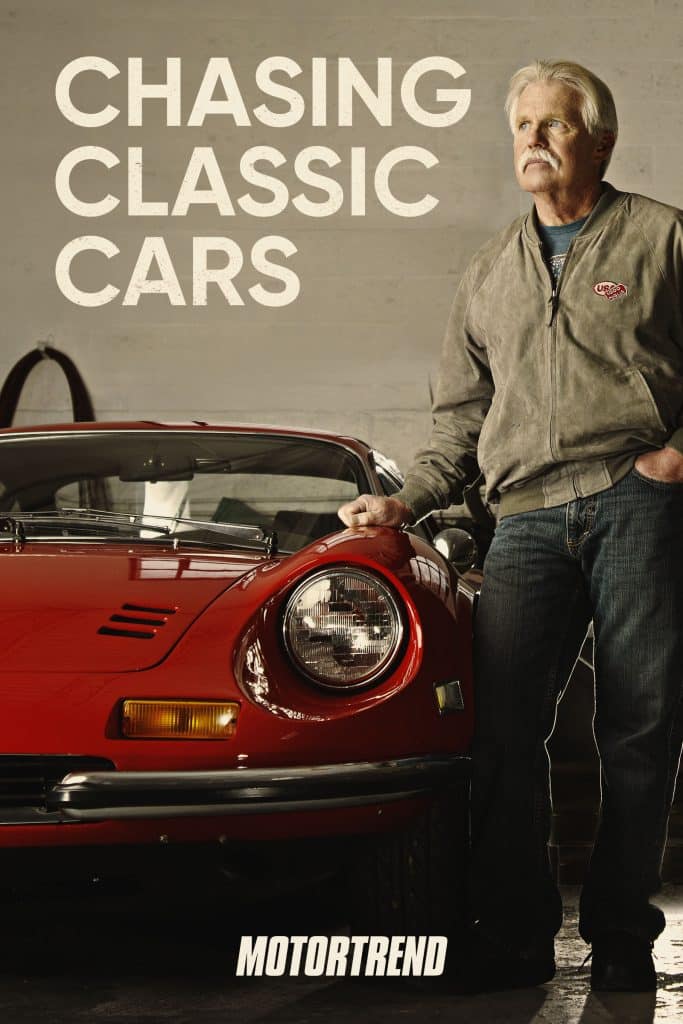 In Wayne's opinion, the Walter Owen Bentleys made in the 1920s were the best cars fabricated prior to WWII, and he's not alone when it comes to this opinion. Bentley's are known for winning the legendary Le Mans race five consecutive years from 1923 and 1928. In addition, the Stutz Bearcat from 1931 is also one of Wayne's favorite models from the pre-war period.
When it comes to the post-war era, Wayne perhaps surprisingly prefers the iconic Volkswagen Beetle, because its very simplicity of design and its durability makes it an outstanding car. (Of course the original concept was pre-war!)
Although it's assumed Wayne's favorite car is the Hudson Italia he spent several decades pursuing, it surprisingly isn't. Actually, the Ferrari 365 P Tre Posti is the one Wayne considers the car of his dreams, and the one he has been the happiest to restore.
The Real Cost Of Every Car
Not everything you see on TV is real, they say. It's a well known fact that even if reality TV can be a gold mine of entertainment, not every show it's true to their genre's premise.
This applies to "Chasing Cars" too, because even if everything seen in "Chasing Classic Cars" is real, and there aren't any staged situations, some things are changed during post-production to make the show more understandable and simpler for the audience.
The cost of every car showcased in the series is one of those aspects not portrayed realistically enough. Beyond what is seen on screen, there are many aspects such as shipping fees, paperwork to consider, before participating in an auction such as those seen in the show.
Though the aforementioned costs are somehow expected from these kinds of deals, there are other unexpected expenses, including security deposits, storage, website fees and premium percentages which are part of car auctions.
Even if buying a car is portrayed in a very exciting way in "Chasing Classic Cars", it's important to note the series shouldn't be taken as a guide on how to behave, and how much to offer during an auction.
An Unexpected Significant Car Restoration
Whether it's the car your parents used to drive you to school, the first car you owned or even the one which accompanied you through a difficult time, no matter what, cars are a significant part of some people's lives for more than materialistic reasons.
This is the case of a 1949 Buick Roadmaster, which in 2015 was brought to Wayne Carini, who instantly recognized it. Turns out the Buick is known for appearing in "Rain Man", a 1988 Oscar-winning movie directed by the car's actual owner, Barry Levinson.
Said movie is significant for being one of the first pieces of media to raise awareness about autism, something Carini knows well, through his daughter Kimberly, was diagnosed years prior to the movie's premiere.
As Carini told the website Hagerty, knowing the car's story inspired him during the restoration: 'I put extra love into it, because the car means so much to my family.'
It wouldn't be surprising if Carini tries to buy the car some day, but for now he's just content with convincing Levinson to use the car to raise funds for autism organizations.
At the end of the day, Wayne and his crew have taught us that it is not important how expensive or beautiful a car is, the stories behind each of them is what makes them truly special.