The Swedish-American Lizzy Musi, has been making waves in the man-dominated world of drag racing, as she became the first woman to win in the Pro Nitrous Professional Drag Racers Association US Drags at the Virginia Motorsports Park in 2014, and earned PDRA's 2014 Rookie of the Year Award.  She made it to Drag Illustrated's "30 Under 30 Who Make a Difference" list in 2015, and kept setting new Pro Nitrous records, currently holding the speed record of 209.23 MPH in that class. In 2019, she appeared in "Street Outlaws: No Prep Kings", and has proven to be a tough contender.
Early life and family
Elizabeth Musi was born on 1 January 1991, in Carteret, New Jersey, and was named after her mother who hailed from Stockholm, Sweden. Her sister, Patricia, was named after their father, Pat. Her interest in fast cars and drag racing came from having parents who were drag racers – her dad was legendary in the drag strip having won eight PDRA Pro Street World Championships.
When Lizzy was a little girl, her dad would sit her on his lap and behind the wheel, as he took her around the block.
His first car was a '55 Chevy, which he used to race on the streets of Queens, and lost his license because of that. He then switched to drag racing. In 1970, her father out of high school, ran a small store called Pat Speed Shop in Carteret and as he became successful in his business, so did his career as a drag racer. He became a top engine builder, despite not receiving formal education for it – John Hoffman, a machinist, was his mentor, and he learned the trade from him.
His shop has evolved into a 'one-stop shop for sportsman engines with a Pro Mod pedigree', known as Pat Musi Racing Engines. His experience as a race car driver enabled him to build top-of-the-line engines that win championships on the drag strip. He went into partnerships with Lucas Oil and Edelbrock, a manufacturing corporation specializing in motorcycle and automotive parts, to produce great products.
His business celebrated its 50th anniversary in 2020, and Pat said 'My wife and daughters have been at my side since we started, and hopefully we can keep this rolling.' The shop is now based in Mooresville, North Carolina, to be closer to the action and give full support to his daughter's career. His dream is for her to win the championship. and he's going to do everything he can as a crew chief and engine builder to achieve that.
Drag racing career
According to Lizzy, there was never any doubt that she would follow in her dad's footsteps as a professional drag racer as she grew up watching him race and win. Pat shared his experiences with her as they would talk about racing at home and at the shop, and that Lizzy just soaked it all up.
At the age of eight, she began participating in junior drag racing, along with her sister until she was 12, but it was on and off since her dad was still racing at that time, and he would bring them along while he's on tour.
When she broached the topic of wanting to race, her dad said she had to put in the work, so she did that at her father's shop, starting with menial work such as sweeping floors and cleaning car parts.
First crash
In April 2012, 21-year-old Lizzy had the chance to race at the Top Sportsman class at the American Drag Racing League (ADRL) Spring Drags III in Bristol, Tennessee, and experienced her first crash. She didn't want to make excuses for it, but explained how it happened. Apparently, they didn't expect that the 1968 Camaro she was driving was going to be that fast, as they assumed it was a 430 class, so being a new driver she wasn't able to control the car, and it went over the wall and crashed. Fortunately, she got out of the car under her own power, and didn't sustain serious injuries, and it was a learning experience for her. The owner bought another car, and she went to the next event and even made it to the semifinals.
First Pro Nitrous win in 2014
At the inaugural PDRA US Drags in Dinwiddie, Virginia, she drove "King Kong 5," a 2009 Dodge Stratus owned by Frank Brandao and built by Jerry Bickel. Frank offered her the opportunity to drive this car and she was beyond thrilled as her father drove it in the past. Her dad said that the car could be a handful, but Lizzy did an amazing job controlling it and winning the round. 'She can drive, there's no doubt about it. She proved it there. She doesn't get rattled. She's the real deal.'
In the final round, she went against Jason Harris driving a Robert Hayes-built and Musi-powered '68 Pontiac Firebird that brought him four consecutive wins at the Pro Nitrous in the past. She dreamed of winning Pro Nitrous, so she was quite overwhelmed when it happened, and it took her a moment to compose herself after the race was over. Her team worked so hard in making sure that everything was great, and she's happy that she's able to deliver.
The team was also ecstatic when she set a new Pro-Nitrous record at a 3.740-second elapsed time in the eighth-mile run by a doorslammer without using a supercharged engine for the qualifying round. Her dad said, 'She's going to be a force to be reckoned with for a long time.'
Biggest setback in her career
With her success, Frank Brandao commissioned Jerry Bickel Race Cars to build the 2015 Dodge Dart for the eighth-mile Pro Nitrous racing style. It featured a body similar to a Pro Stock but could accommodate a 110-inch wheelbase, and under its hood one would find a Musi 942 cubic inch EFI nitrous engine; this car was going to be lighter and more aerodynamic. Her team had such high hopes for her in qualifying and winning the Pro Nitrous at the PDRA Texas Nationals, but unfortunately it crashed and the car was destroyed, leaving her sidelined for the next four events.
When they were testing it, she knew something wasn't quite right, but her team couldn't figure out what she was concerned about.
Setting the Pro Nitrous ET world record in 2017
It was a great year for Lizzy, as she kept setting new records for Pro Nitrous. As she competed at the Arabian Drag Racing League Pro Series in the Middle East, she recorded a 3.663-second elapsed time, the fastest in Pro Nitrous history at that time, in round three at the Bahrain International Circuit in January 2017. She became the first female driver to win in the history of the series when she competed for round four at the Qatar Racing Club in February. She said, 'To get a win here, as a woman, was a big deal and I'm honored to be a part of this team,' and hoped that it would inspire other women there. For her record-winning performance, she was driving the Frank Brandao-owned, Jerry Bickel-built 2015 Dodge Dart, backed by Al-Anabi Performance.
— Lizzy Musi (@Lizzy_Musi) December 13, 2019
Back in the US, at the Maryland International Raceway's Haltech Door Wars, Lizzy again set a new record as she clocked in a 3.631-second ET at 205.85 MPH behind the wheel of the "King Kong 6" Dodge Dart.
Broke the national record for MPH in 2018 and ET in 2019
During the PDRA World Finals at the Virginia Motorspa orts Park in October 2018, Lizzy recorded an incredible 209.23 MPH pass in the eighth-mile doorslammer nitrous race with the "King Kong 7" 2018 Dodge Dart, a record she holds to this day.
In early October 2019, during the PDRA Fall Nationals at the Darlington Dragway in Hartsville, South Carolina, Lizzy made a record-breaking pass of 3.615 seconds at 208.62 MPH, still driving "King Kong 7" as she ran against Billy "The Kid" Albert. In the semi-finals, she made a pass of 3.618 seconds at 208.72 mph.
Her father said that setting a record was a big deal, and that 'Lizzy did a great job driving… the team gave her an awesome car to make those two runs.
To have back-to-back .61s, that's pretty remarkable.' However, the Maryland-native Jim Halsey set the national ET record at 3.613 seconds with his '68 Camaro, clinching the championship at the Pro Nitrous finals at the Virginia Motorsports Park before the month was through.
Movie and TV Series debut
"Adrenaline"
Lizzy appeared as herself in "Adrenaline" in 2015, directed by Joseph Quinn Simpkins. The movie was about a street racer who became a paraplegic after a near-fatal crash, and starred John Schneider, Michael Rosander and Charlene Amoia; it was available on-demand service platform.
"Street Outlaws: No Prep Kings"
Discovery Channel's "Street Outlaws: No Prep Kings," the latest in the "Street Outlaws" franchise, premiered on 28 February 2018.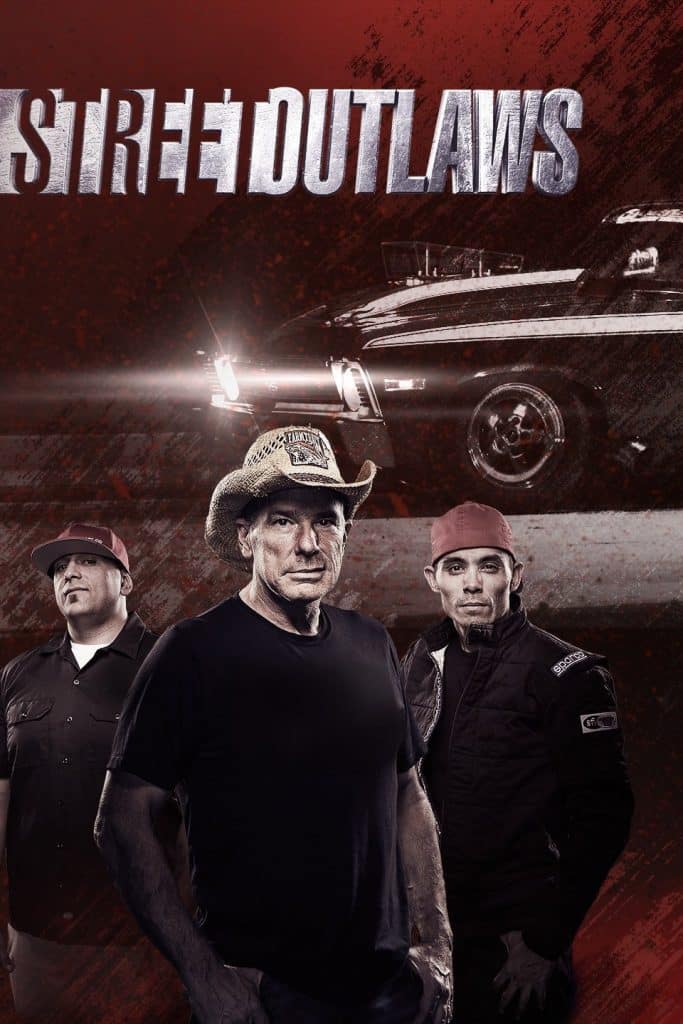 No Prep race means running on a track that hasn't been prepared for the event on the day itself or prior to it. It was said that 'traction leads to action' when it comes to drag racing, so the track is prepped and it would involve scraping and cleaning the track then spraying a traction compound and dragging old tires over it. Without prepping, the road would be rough, posing a bigger challenge to the drivers as it made the race more unpredictable.
The top 32 racers would compete on various tracks across the nation, with each win worth five points, and just showing up at the event worth another five points. The one with the most number of points by the end of the season would be crowned "No Prep King." There's a cash prize of $40,000 for each event, and there are nine of them in one season.
Favorites from the "Street Outlaws" series were also featured in this spin-off, including Chuck Seitsinger from the 405 crew as the race master for season one. Boosted GT joined him in that role for season two.
When asked why she joined No Prep racing, she said, 'I love challenge — that's really a big thing for me. I always want to keep pushing my goals…I just want to expand what I'm doing.'
Three Consecutive NPK wins
Lizzy became the first female driver to win in the "Street Outlaws: No Prep Kings" series. Driving the Edelbrock-equipped "Aftershock" 2012 Camaro with a 737 cubic-inch nitrous engine built by Musi, she competed against her boyfriend Kye Kelley during the final round of the second event at the New England Dragway in Epping, New Hampshire in 2019, and won the prize money. The win was made even more special, as it was the first time her parents came to watch an NPK event. She revealed that her dad wasn't fond of the no-prep deal, but she believes that he's coming around. She also shared how being together with Kye in the finals was like a dream.
Some people were not happy about her winning, and she took to Facebook to explain the rules of the NPK race. She lost the third round to Doc, but got a lucky draw that gave her the chance to compete again.
Lizzy scored her second NPK win at the World Wide Technology Raceway at Gateway in Madison, Illinois, and her third win was at Firebird Raceway in Eagle, Idaho.
Controversial race against Boosted Ego
It was Lizzy's first time to race in Route 66 Raceway in Joliet, Illinois, for season three of NPK. She was excited as she remembered coming here with her dad when she was very young. She was off to a great start, winning against Disco Dean Karns and Jerry Bird. However, her race against Boosted Ego ended in controversy.
After the initial burnout, Boosted Ego's car had been leaking fluid, and when some time had passed and the leak hadn't been fixed, Lizzy was motioned to go and it was a win for her.
Boosted Ego's team complained that they weren't given enough time to fix the problem, a re-race was called, and he won; her fans didn't think it was fair.
2021 NPK crash
For the first round of "Street Outlaws: No Prep Kings" at South Carolina's Darlington Dragway in August 2021, she was behind the wheel of "Bonnie," an Edelbrock-equipped, Lucas Oil-backed, Robert Hayes-built 1969 Chevrolet Camaro with the 'latest and greatest 959 cubic-inch Musi nitrous engine' when she struck the guardrail and crashed. She said the car was 'super aggressive' and she lost control of it. Fortunately, she was just sore but uninjured, but taken to the hospital for routine evaluation, and Bonnie was taken to Robert's shop for an assessment of the damage. Lizzie said, 'The car did its job. Robert Hayes builds not just a badass racecar, but a really safe one.' After she was medically cleared, she returned to the track to cheer Kye in his race.
Getting engaged with Kye Kelley
Lizzy was emotional when she shared the good news on her Instagram account that Kye had got down on one knee and proposed to her at the starting line near his race car. 'My answer to him was 'YES!' I want to marry my best friend!' The proposal couldn't have happened at a better time, as she was perhaps still reeling from the shock of the crash at the Darlington Dragway, and needed a dose of happiness that day.
She hadn't watched "Street Outlaws" in the past, and had never heard of Kye Kelley. It was her father who introduced them, as Kye was a customer at his shop. They started talking more and more, and became friends. She said, 'He was pretty down-to-earth, seemed pretty cool, and it just started from there.'
Before they started dating in 2017, Kye was married to Alisa Mote for two years from 2015, and they have a daughter named Kenadeigh Alexa Kelley. He has another daughter named Haleigh from a previous relationship.