• Nicolas Cantu is an American actor from Austin, Texas, born on 8 September 2003
• He launched his acting career at age 7 and has since appeared in various TV series and films, as well as voiced characters in many animated series
• He is also a YouTube content creator with close to 440,000 subscribers on his channel "Junky Janker"
• Nicolas is currently single and is believed to be too young to date
• He is 17 years old, 5ft 6ins (1.67m) tall and has an estimated net worth of over $300,000
Nicolas Cantu Wiki Bio
Nicolas Cantu was born in Austin, Texas USA, on 8 September 2003 – his zodiac sign is Virgo and he holds American nationality. He is an actor who might be known best for his portrayal of Elton Ortiz, the lead character in the horror science fiction series "The Walking Dead: World Beyond", created by Scott M. Gimple and Matthew Negrete, and which also stars Julia Ormond and Alexa Mansour. It has been airing since mid-2020, and follows the first generation growing up during a zombie apocalypse.
Childhood, parents and education
Nicolas was raised in Austin alongside his two brothers Sebastian and Matias, by their mother who is a social worker and their father who is a lawyer.
This is little me at a primate sanctuary that needs YOUR HELP join me in donating for these apes to have the SICKEST homes ever https://t.co/nVGULFWCUR pic.twitter.com/oYOkKd8P2V

— Nicolas Cantu (@JunkyJanker) October 13, 2020
Nicolas became interested in acting at the age of seven, and appeared in various school plays, with the first being "The Bear Went Over the Mountain". He was interested in various other things such as playing soccer and baseball, but chose to focus on acting, and went on to launch his career with his appearance in the 2017 episode "In Security" of the comedy series "Teachers". Nicolas was just about to finish elementary school, and after appearing in three commercials, his mother took him to Hollywood in Los Angeles, California, so that he could work on his acting career.
He is currently attending a local high school, and should be matriculating in mid-2021.
Roles in TV series
Nocilas made his debut voicing performance in 2017, for the lead character Rowan Freemaker in the animated action adventure series "Lego Star Wars: The Freemaker Adventures". Eight people were needed to create the series, and it also starred Vanessa Lengies and Matthew Wood, while it follows the family Freemakers who make starships and then sell them.
Also in 2017, Nicolas appeared in two episodes of the reality comedy "Walk the Prank", and a single episode of the family comedy "Raven's Home", then in 2018 he voiced Paco in six episodes of the animated family comedy "Future-Worm!"
The same year he could be heard voicing Prince James in the animated adventure family series "Sofia the First", while he then appeared in single episodes of various series, such as the fantasy comedy "The Good Place", the family comedy "Bizaardvark", and another family comedy "Sydney to the Max".
Between 2016 and 2019, Nicolas voiced various characters in 102 episodes of the animated action comedy "The Powerpuff Girls", while he also voiced several characters in 70 episodes of the animated adventure comedy "The Amazing World of Gumball". A couple of his following voicing roles were in the short animated adventure "Middle School Moguls" (four episodes), "Darwin's Yearbook" (the episode "Teachers"), and the animated adventure comedy "Dragons: Rescue Riders" (26 episodes).
Two of his most recent roles in TV series have been in the 2020 episodes "No Matter What the Future Brings" and "Pilot" of the family comedy "The Unicorn", and the 2020 episode "A Welsh Trick and Treat" of the animated adventure comedy "Where's Waldo", in which he voiced Rhys.
Roles in movies
Nicolas has been credited with roles in four movies. He made his debut film appearance in the 2017 romantic comedy "Vikes", written and directed by Tenney Fairchild and which starred Aidan Alexander, Sydney Sweeney and Noah Munck. It follows a teenager named Thorvald who wants the change his school's Viking mascot because his crush believes it to be offensive to the people of Scandinavia.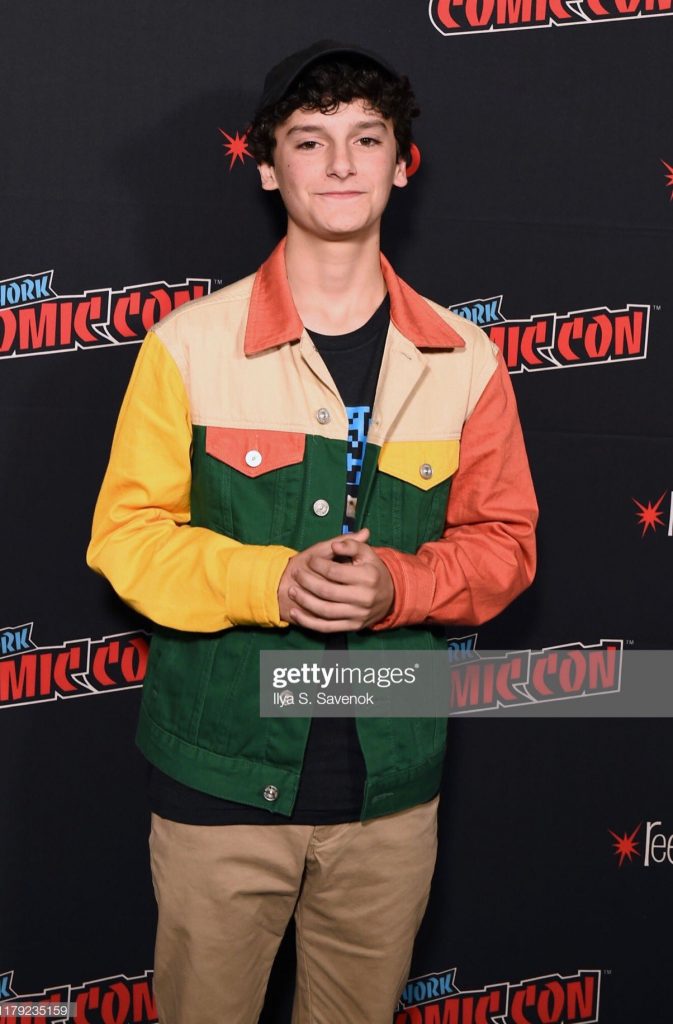 The same year saw Nicolas play Tomas in the short drama "The Impossible Joy", written and directed by Karl Richter, and which starred Shelly Kurtz and Valeria Vallejos. The film follows an 11 years old illegal immigrant who is trying to make his crush like him; it won two Festival Awards for Best Short Film Drama and Grand Jury Prize.
Nicolas then voiced Curly in the animated adventure comedy "Hey Arnold: The Jungle Movie", which was a hit winning seven awards including a Primetime Emmy, while it was nominated for four other awards. His only other film role has been in the 2020 animated adventure comedy "Dragons: Rescue Riders: Secrets of the Songwing", in which he voiced Dak.
YouTube channel
Nicolas is also a YouTuber, having launched his channel "Junky Janker" on 1 August 2016. He mostly uploads comedy content, and has gathered close to 440,000 subscribers, and amassed over 3.6 million views of all his four videos combined. His most popular video – "The Minecraft Revival of 2019" – has been watched close to two million times since 30 March 2019.
Love life and girlfriend
Nicolas is very secretive when it comes to his love life, and hasn't shared any details concerning his past and present affairs. It's widely believed that at 17 he's too young to be dating, however, there are several rumors circulating the internet. Some people have claimed that Nicolas is gay, and this is the reason why he hasn't talked about any girls, nor been seen spending time with any.
No proof has been provided to support these claims and Nicolas hasn't commented, but he occasionally jokes about being gay. Just recently, he uploaded a video onto his Instagram account which featured his PlayStation 5 displaying the message 'GayStation' instead of 'PlayStation'.
As Nicolas hasn't talked about his love life, he is single as of January 2021.
Hobbies and other interests
Nicolas likes to play video games on various consoles including PlayStation 3, PlayStation 4 and Xbox, while he's recently bought himself a PlayStation 5. One of his favorite games is "Minecraft".
He is a lover of animals, and his favorites are monkeys as he believes them to be very funny.
Nicolas is physically quite active, as he spends most of his free time outdoors in sports such as skateboarding, soccer and basketball. He also occasionally runs, and plays tennis with friends.
Nicolas has his own favorite actors and actresses, some of whom are Adam Sandler, Joaquin Phoenix and Natalie Portman, and a couple of his favorite movies are "Happy Gilmore", "Joker", and "V for Vendetta".
Age, height and net worth
Nicolas is 17 years old. He has short curly brown hair and brown eyes, his height is 5ft 6ins (1.67m) and he weighs around 135lbs (62kgs).
As of January 2021, his net worth has been estimated at over $300,000.